Hi Richard,



Thank you for answering my email enquiring about my grand father, Frank Taylor. Who was in the Royal Marines Band until his death in 1937 (age 36), while he was based at Chatham in Kent.

My mother was only three when he died, so we know very little about him. I would be extremely grateful if you could possibly ask people who use your site if they might possibly know something about him, or maybe even remember him? I have enclosed the only pictures we have of him in his uniform. The one of him with the band (he is on the far left with the large bass drum), was taken in 1925.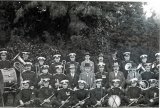 My mother thinks he may have served in India, and also possibly played at the King of Belgium's funeral sometime in the 1920s? I would be extremely grateful for any infomation you may be able to give.
Thank you.