HMS Glory 1951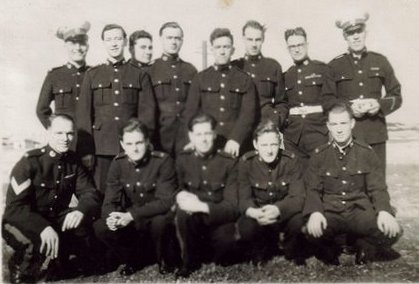 Rear row standing, Left to Right:
Roy FORSDICK (died 2007), Brian WHITEHEAD (died 1972), Dennis BROWN, Richard WRIGHT, John MILLIKEN (died 2005), Albert HALL, B/Cpl Tommy DONE, Len INGRAM.
Front Row kneeling, Left to Right:
B/Cpl Ron ROWSON, Terry FREESTONE, Ged EMERY (died c 1982), Frank WILLIAMS (died 1995), "Pintle" RILEY.
On an historical note the band in GLORY was the first formed band to leave Deal in January 1951 dressed in the present day dress of broad red striped trousers and collar-dogs, following the amalgamation on 1 September 1950 of the RNSM bands with the remaining two Group bands at Portsmouth and Plymouth, Chatham RM barracks having closed on that date. Until then, all band ranks wore a lyre collar badge, and the same thin stripe in the trouser as still worn by Buglers.

You can imagine the caustic and ribald comments from bands from other ships on our first appearance on a run-ashore in Sasebo Fleet Canteen. We may have had the last laugh though, as we heard later that these bands arriving back in Deal up to two years later in these antique rigs were to give the RSM and Adjutant apoplectic fits.....with resultant "unpleasant attitudes" to the Bandies.
[Editor] Thank you Terry for a great story.