I had the wonderful honour of attending the funeral of my late
great friend and colleague yesterday in Truro. The Chapel was
full to overflowing, and I could not possibly relate or recall all
of the names of those who attended, but, Mick Hutton was taking
pictures even in the Chapel, so he may send copies of them to you?
Bill Hartland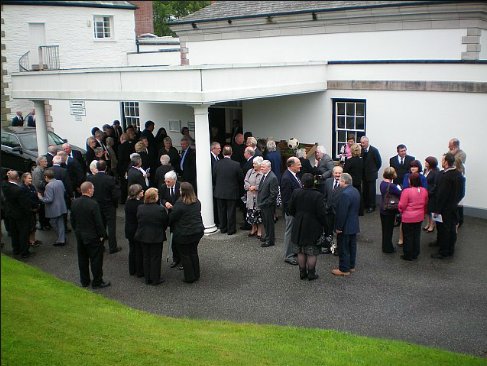 Farewell to Peter Westaway
former WO2 Bandmaster Royal Marines.
A great send off for Peter at the Crematorium in Truro on Wednesday 29th June.
Many friends and family present plus a great number of colleagues from the Royal Marines Band Service.
Some lovely words and music during the service incuding Nimrod, Bruch's Violin Concerto, Somewhere Over The Rainbow
and finally the Trombone Feature from the Mountbatten Concert of 2006.
Here are just three pictures from the gathering.
Farewell Peter. 'See you in the countermarch' Michael Hutton.