I thought that at age 76, all the excitement had gone from my life, but this wasn't to be, as out of the blue came an email from somewhere at sea off the NZ Coast inviting Katherine and myself to an evening on the cruise ship 'The World' presently berthed in Auckland. This was........... you guessed it, from Lt/Cdr Alan Webb, ships security officer.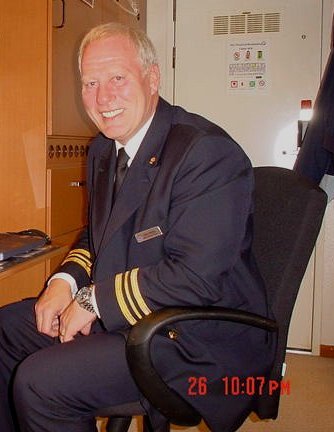 Alan of course is well known to members of our Band Service, having served his time at Deal and beyond. The invitation was accepted of course and this included yet another Ex, in Garry Brownrigg, so we all arranged to meet at the Gangway, together with ID and Corps tie, Kath produced a 1990 Passport, and the photo did her no justice whatsoever! It was however passed. Up the gangway through security doors with x-ray equipment, into the huge Hotel like lounge, what a magnificent feeling for all to be placed in such regal surroundings. At this stage it will be worth noting that only a selected few have been invited into this domain and if any one gets the opportunity, accept it with humility for all the apartments are taken, and I may mention that each one was priced at a mere $1.75m US. We were, after the initial "drinkies" taken on an extended tour of the World, viewing some of the most extravagant property I've ever seen, not withstanding I was a member of H.M Royal Yacht, and even the engine room was a sight for sore eyes!

Having trotted up and down stairs and lifts it was time to retire to the bar, where we were feted by some of the ships crew, who unknown to us were very highly qualified in their respective fields, like Chief Electrical Officer, Chief Engineer, Chief IT person and so on. I had the pleasure of chatting with the resident pianist who, hails from New York, and explained to me the music scene in that part of the world, very hard to access but once in, you were there for life! He played for a continuous 6 hours, and to my ear didn't repeat himself once.

We sat, enjoyed the treat, dined in the best possible way, trays of Hors d'œuvre from the Capt's table. After many drinks and a few laughs with the present company we sadly had to leave, leaving the staff to clean up, and get ready for the same routine a few hours later. We said our final goodbyes and Alan allowed us to be photographed at the bottom of the Gangway, which I shall attach for your perusal. Yes friends if you ever get the chance DO IT! A life on the Ocean will never be the same.
Cheers Bernard S, Maxie Beare