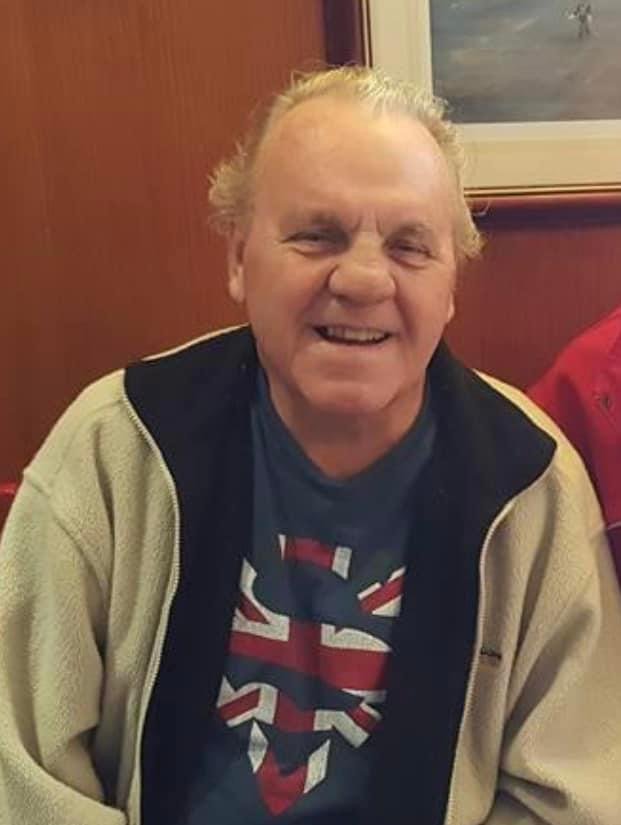 Raymond John Walters was born in Bramshott Hampshire on Monday 23rd February 1942. He was the only child to his mother Eileen who was employed in the catering business, his father was lost in the war. Raymond was only seven when he was taken by his mother to live at Raynes Park near Wimbledon in London where she moved for work reasons. In 1949, he was placed in Reedham Orphanage.. an asylum for fatherless children where he took up boxing.. he remained at the institution until 1956. From there he travelled to Deal on 10th April 1956 to enlist as a Boy Musician into the Royal Marines Band Service, where he joined the 3/56 New Entry Squad. The juniors began their journeys in East Barracks back in the fifties, the regime was very rough going in those days, but they simply had to get on with it. Ray studied at the School of Music as an oboist, but also spent much of his time in the boxing ring.
Wally's first draft as a trained musician in January 1960 was to the Royal Marines Band Commander in Chief Mediterranean Fleet based at HMS Phoenicia in Malta, becoming one of just eighteen ranks under the direction of Lieutenant Pete Sumner. On completion of his Mediterranean jolly in August 1961, Wally returned to Deal to take his place in the Staff Band of the Royal Marines School of Music. Throughout the early part of his career, Wally was involved in many of the Massed Bands events that gathered to play at Royal Tournaments, Horseguards, Mountbatten Concerts and Edinburgh Tattoo's, but it was while he was amongst the ranks of the Massed Bands at the 1962 Edinburgh Military Tattoo that twenty-two year old Wally met Scottish lass Irene McRae. Ordinarily these types of courtships last just a few days or even less.. theirs lasted somewhat longer.
In October 1964, Wally was selected to attend the Infantry Training Centre Royal Marines at Lympstone for the Junior Command Course, before he secured a draft a month later to the Portsmouth Group Band, where he went on to serve for ten years under successive Directors of Music: Paul Neville, Pete Sumner, Tom Lambert and Jim Mason. One of his first engagements with the band was at the solemn occasion of the state funeral of former Prime Minister Sir Winston Churchill on 30th January 1965. This was preceded with bitterly cold rehearsals at 1am in the mornings in the lead up to the ceremony, which was broadcast live around the world. His highlight with the band, also broadcast worldwide, was playing at the famous World Cup Final at Wembley Stadium on 30th July 1966.
Wally was promoted to BCpl on 12th September 1967 and following a lengthy courtship, Wally and Rena married during a freak blizzard in Edinburgh on 2nd April 1968.. their daughter Eileen was born in Portsmouth on 8th January 1969. Wally featured in the Portsmouth Band Recording of 9th-10th December 1969, before he was afforded one of many trips onboard the Royal Yacht. On 19th January 1970, Wally was amongst the travelling contingent as HMY Britannia sailed from Portsmouth on the five-months trip to the Southern Hemisphere. The Yacht sailed via Madeira, Barbados and Panama through the Pacific visiting Fiji, Tonga, Rarotonga, and many other beautiful places, en route to New Zealand and Australia. On the way back the yacht called at Bermuda, where half the band decided to hire motorcycles to explore the island.
In September 1970, Wally returned to Lympstone, where he successfully passed his Senior Command Course (B), and the Walters family was extended in 1972, when their son Graham was born in Portsmouth. BCpl Walters was promoted to BSgt on 12th April 1973 and in July he was entrusted with the role of Oboe Instructor at the Royal Marines School of Music. Wally was nicknamed 'Don Revie' after taking over the running of the Training Wing Football Team, turning them into his very own Leeds Utd.. a formidable force. BSgt Walters was presented with his Long Service & Good Conduct Medal on 15th April 1975. Wally was Instructor to many young juniors, more importantly a father figure to the likes of Joe Sharp, Jim MacGregor, Dave Reid and many other young talented oboists that went on to have successful careers in the band service. It was only then, that he embarked on his two greatest passions.. He discovered he had a natural talent for golf when he became a member at the Walmer & Kingsdown Golf Club, which is perched high on the white cliffs virtually halfway between Deal and Dover.. over the subsequent years he became a very good player. He was also a gifted entertainer.. Wally took great pleasure appearing in the Sergeant's Mess Pantomimes held at the Globe Theatre in North Barracks, turning out every single year: The Pantomimes raised around £20,000 each year for various charities locally and nationally, which included donations to the 1989 Clapham rail crash and the M1 aircraft disaster.
During their time at Deal, the Walters family featured in numerous pantomimes, Wally was an ever present onstage, along with Rena, who was always involved in a variety of other supporting roles and daughter Eileen, who has provided expertise in the makeup department over the years.
1977 Humpty Jack & the Beanstalk
1978 Snow White & the Seven Dwarfs
1982 Treasure Island (Ben Gunn)
1983 Ali Baba & the 39 & Half Thieves (Batman)
1984 Cinderella
1987 Aladdin
1988 Three & Half Musketeer (Quasimodo)
1989 A Christmas Carol (Spirits of Past, Present and Future)
1990 Jock and the Beanstalk
1992 Cinderella (Ugly Sister Lilly)
1993 Pistachio (Pepy)
1994 Aladdin
In August 1980, Wally was further promoted to the rank of BCSgt and just eighteen months later on 23rd February 1982.. Wally's fortieth birthday, he retired from the Royal Marines Band Service following a glorious twenty-six years' service. As a civilian, Mr Walters took up the position as a Steward at Walmer and Kingsdown Golf Club, where he was also responsible for organising many charity golf tournaments. He then went onto gain employment as Chief Clerk at the headquarters of the Queen's Regiment in Canterbury. Rena was School Secretary at Deal Secondary School for fifteen years until her retirement in 1997.
It is well documented that the 22nd September 1989 was the darkest moment in the history of the Royal Marines Band Service. Earlier that dreadful morning, Wally had taken Rena to Dover where she checked in to hospital for a scheduled operation and Wally resumed his commute to Canterbury for work as usual. Following news of the atrocity, Rena, who was a member of the St John Ambulance, was informed that her operation wouldn't go ahead as planned as they needed the beds to accommodate possible casualties from the barracks. Wally returned and collected Rena from hospital and they both made their way to the centre of operations which was in the Sgts Mess in South Barracks. There, they were both on hand to look after and to reassure the gathering families and friends who'd congregated there. As a consequence of the bombing at Deal, a large number of former Royal Marines including Wally, gathered from all over the world for the charity concert held at Margate Winter Gardens in 1990 under the direction of former PDM Lieutenant Colonel Paul Neville, the inaugural 'All Stars Band Concert' took place to raise funds for the Deal bombing disaster. The All Stars decided to perform each year thereafter which benefitted other various local charities including The Royal Marines Charity and The Deal Memorial Bandstand Trust.
Wally was also on the stand when 'The Old Comrades Band' got together for a one off unrehearsed performance on the Deal Memorial Bandstand on Sunday 21st August 2005. The concept of presenting the concert performed by forty-three ex Royal Marines Band musicians who still lived in Deal was the idea of former WO Bandmaster Stephen Misson. "Forming a band of the appropriate size to fit on the bandstand was quite easy, but finding the time and place to rehearse was much more difficult. So, the obvious answer was to make this an extra special event by playing entirely without rehearsal.. 2500 people awaiting the downbeat by former Corps Bandmaster Phil Hughes. Following an absence of seventeen years the Sgts Mess pantomime was revived with the 2013 production of 'The Wizard Who's Odd,' held at the new venue, the Astor Community Theatre in Deal. Wally excelled that year in the role of Royal Maureen. Wally it seems was never short of things to do.. he was also a committed brother of the Globe and Laurel Masonic Lodge and a member of Deal Bowling Club. Wally spent his remaining years of retirement on the golf course.
In August 2016, the family were devastated to learn that Wally had developed lung cancer. Treatment however was complicated further by his ongoing heart problems, pacemaker and diabetes but they attempted a low dose chemotherapy in the hope of shrinking the tumour.
Wally always thought it was bad that the person who has died never gets to enjoy his wake.. So, a party was held on 24th February 2018 to allow him the opportunity to celebrate his birthday, to honour his and Rena's upcoming Golden Anniversary and more poignantly to say his goodbyes.
Raymond 'Wally' Walters sadly passed away following his lengthy illness ten days later on 6th March 2018 aged 76. Wally's funeral service was held at Barham Crematorium on 29th March.
There was a fantastic turn out, a very moving service with many tributes from Rena and the family, the chapel was full with many standing throughout.
The RMA Club Deal hosted a gathering after the service to raise a glass or two in recognition of a dear friend. Wally was much loved by all and a great family man with a great sense of humour. A port toast to Wally was made before a rendition of "There's only one Wally Walters." Donations were gratefully accepted on behalf of the Royal Marines Benevolent Fund.
RIP Wally