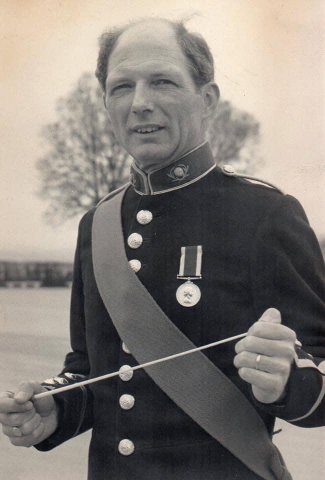 Barrie Clive Sylvester was born in Folkestone, Kent on Monday 30th December 1935. He and his older brother Brian.. who went on to serve in the Royal Artillery, were raised by their parents, Rosamund and James.. their father was in the military police and had the responsibility of driving Field Marshall Montgomery's jeep in the desert. Both their parents had previous relationships that produced older half siblings.
Young Barrie along with Brian and half-sister Nora were evacuated together from Folkestone at the outbreak of World War II.. Operation Pied Piper was a campaign to evacuate over one million people.. mostly children, from British cities who were at risk from bombing by the Luftwaffe. When they left, they didn't know where they were going or how long they'd be away… they were relocated to Abergavenny in Monmouthshire. It was during this time that Barrie learned how to play the tenor horn and piano with the Salvation Army Band.. a great introduction to his future in music. The war came to an end and children were sad to leave their temporary home in Wales.. they moved to their Great Aunt's home in St Albans Hertfordshire for a short time, before returning to Folkestone. Their father also returned home following his discharge from the Army and the family relocated once again to Hertfordshire where he'd gained employment as a chauffeur and general handyman. They lived in a tied cottage owned by his employer at Stagenhoe Park.. an area of St Pauls Walden, near Hitchin and the birthplace of Her Majesty the Queen Mother. Barrie became a chorister in the local church that was occasionally attended by King George VI, The Queen and the two Princesses.. Elizabeth and Margaret. Barrie attended Whitwell Junior School before moving on to Old Hale Way School in Hitchin.. even at such a young age, it was evident that he a natural talent to become a very good musician.. Barrie played cello in his school orchestra, cornet in the Junior Town Band and fife with the Army Cadets.
On 24th May 1950, aged just fourteen, Barrie joined the Royal Naval School of Music at Deal as a Band Boy, where he studied to be a euphonium and cello player. His squad was the last entry before the transition to the Royal Marines School of Music. While he was in the boy's wing, Vic earned the position of Senior Section Leader. He once travelled home on leave.. only to find his parents had moved.. without telling him ! As was the norm.. Vic earned his nickname in the wing.. and inherited it from Victor Silvester, who was an English dancer, author, musician and bandleader from the British dance band era of the 30's & 40's. One of Vic's first engagements was at the Coronation of Queen Elizabeth II on 2nd June 1953. Following his training period, Vic was rated to Musician 2nd Class, before being rewarded with a draft to HMS Pembroke, Chatham in February 1954. This was to be the beginning of a memorable adventure for Vic, who went on to serve on many ships and visit many countries throughout the late 1950's. He was only at Pembroke for six months before returning to Deal in July, where a band was formed to embark upon the light cruiser HMS Superb. The ship was based in Bermuda the home of the West Indies Station. During Vic's time onboard.. the Superb sailed all over the western side of the USA and South America for the 1955 Spring Cruise: Nassau Bahamas, Kingston Jamaica, Panama Canal, Callao Peru, Valparaiso Chile, Falkland Islands, Montevideo Uruguay, Santos & Rio in Brazil, Trinidad, Grenada, Antigua and a return to Bermuda three months later.
Back on dry land in January 1956, Vic was posted to the twenty-two strong Royal Marines Band HMS Ganges at Shotley Gate in Suffolk, which was the Royal Navy's premier training establishment. It was at one of the band dances that he met his future wife Betty.. He introduced himself as Victor Sylvester.. Betty replied, "In that case I'm Rita Hayworth"!
Vic wrote that he played at the wedding of Prince Rainier and Grace Kelly in April 1956 and was also involved in the 1956 Suez Crisis, (Operation Musketeer), even though at the time he was a member of the band at HMS Ganges.. it's a mystery...
Vic was only at Ganges for a year before returning to Pembroke for six months. He was drafted overseas again in August 1957, this time to the RM Band Commander in Chief Mediterranean Fleet, based at HMS Phoenicia in Malta. Against the wishes of his parents, Victor flew Betty Jackson to the island, where they married on 1st November 1957. Betty was a divorcée and already had a son (Jim) from her previous turbulent relationship.. the couple spent just over two years in the Mediterranean. In 1958, Victor was honoured to be able to speak to the Pope in Rome.
Musician Sylvester was promoted to BCpl in April 1960, before he was afforded a return to HMS Ganges in October 1961. The couple's daughter Claire was born in Ipswich in January 1962. Later in the year, Vic was drafted to the Portsmouth Group Band at Eastney, under the direction of Captain Paul Neville and was in addition a proud member of the Royal Yacht Band. His time onboard Britannia included leaving Portsmouth in December 1962, bound for the Pacific via Kingston Jamaica, where the ship remained over Christmas. The yacht then proceeded on the 28th for the Panama Canal, before spending New Years Eve at Rodman US Naval Base at Balboa. The Britannia called at Tahiti on the 15th January before Her Majesty and Prince Philip embarked for their 1963 Royal tour of Fiji, New Zealand and Australia. The second major trip for Vic was the Royal tour of the West Indies and Western Canada in 1964. Vic also told of his pride in giving a young Prince Charles cello lessons while onboard Britannia. In May 1964, Victor became a Senior NCO with promotion to BSgt.
BSgt Sylvester was on duty for The state funeral of Sir Winston Churchill on 30th January 1965, before returning to RM Deal to spent a short period as an instructor. Vic also had the distinction of playing when the Portsmouth Group Band and the Staff Band of the Royal Marines School of Music entertained the crowd during England's finest moment.. the 1966 World Cup Final at Wembley Stadium. Vic was awarded a place in the 1967 Bandmasters Class and in January 1969, BSgt Sylvester was presented with his Long Service and Good Conduct Medal. While stationed at Deal.. he and his family resided on the married quarter patch in Freemen's Way, until 1969, when they decided to purchase their own property in nearby James Hall Gardens.
Vic's next venture was a posting onboard the amphibious warfare ship HMS Intrepid in February 1970, as the Volunteer Band Instructor (VBI). The ship was based in Singapore and sailed throughout the Far East. HMS Intrepid was the command and control ship for the major disaster relief operation in East Pakistan in 1970. The Bhola cyclone was a devastating tropical cyclone that struck East Pakistan (present-day Bangladesh) and India's West Bengal on 11th November 1970. It remains the deadliest tropical cyclone ever recorded. At least half a million people lost their lives in the storm. HMS Intrepid along with three other British ships proceeded to the distressed area to aid with the rescue effort. While he was onboard in March 1971, Vic was rewarded with his crown and promotion to BCSgt, continuing as VBI until May. On his return to home shores, Vic was assigned to the role of Assistant Supply Officer Music and Secretary of the 'Blue Band Magazine'.. the journal of the Royal Marines Band Service. Early in 1972, Vic was promoted to Staff Bandmaster, before a change in the rank structure in July 1972 converted him to the rank of Warrant Officer Bandmaster 2nd Class.
In April 1976, Vic was off to Devon when he took over the position of Bandmaster with the Royal Marines Band Commando Training Centre (CTC) at Lympstone, under the baton of Lt Peter Heming. (Main photo was taken when he was the Bandmaster at CTC in 1977). While he was there, the band carried out many engagements in London during the Jubilee year. He also presided over a school's tour, which included a concert at his very own.. Old Hale Way School in Hitchin. He was only at CTC for fifteen months though, before returning to his previous role as Assistant Supply Officer Music, a position he relished and made his own for the next eight years. He was the ultimate right hand man and lynchpin to successive SOM's Lieutenants: Terry Freestone, Peter Heming, Jim Ryder and David Rogerson. He also returned to his previous role with the Blue Band Magazine, while having his title elevated to Assistant Editor.
Vic was coaxed by Stan Glasspole into appearing in many Sgts Mess Pantomimes over the years.. really he wasn't coaxed at all.. he loved participating in them.. especially if he was a baddie, such as the part of lead villain.. Cardinal Richelieu in the 1974 production of 'The Three and a Half Musketeers'. Vic was very well respected in the instrument store at Deal, he would always do his upmost to help everyone. In October 1980, WO2 Sylvester was awarded the Meritorious Service Medal, which was presented on the north barracks parade by the US Under Secretary (Navy) Robert J Murray. Victor was awarded a bar to his LSGC Medal, presented by the Commandant General Royal Marines Sir Steuart Pringle in January 1984. Vic was the Chairman of the Deal Horticultural Society.. and later in the year, Victor and Betty were invited to a Buckingham Palace garden party, Victor jokingly wrote.. "We met Her Majesty and Prince Philip, again"!!
Vic was a keep fit fanatic.. often joining in with the trainees on the dreaded Monday morning runs. He ran marathons and half marathons.. including four local races around Deal in the summer of 1984. Vic was a true gentleman and a credit to the band service, a great father figure to many young musicians and buglers when they joined up at Deal. He was a quiet man, kind and friendly, who would always be eager to share a cup of tea and a fag! He never shouted or swore and would do literally anything for anyone and treated the trainees with respect, in total contrast to the hard treatment usually shelled out by the training team.
WO2 Vic Sylvester's time in the service concluded in 1985 following a wonderful thirty-five year career, he was presented with a silver tea set on his retirement from the Royal Marines Band Service. When Vic retired.. Betty made it clear that she wished to move to Peterborough where daughter Claire lived… Victor wasn't that keen, but reluctantly agreed to sell their home in James Hall Gardens and move north.
AN ODE TO UNCLE VIC
Have you heard? Uncle Vic is leaving the Mob and is off to Peterborough to start a new job.
Births, Deaths and Marriages will be his new trade and with all that pension he'll have it made.
Its been 35 years since he first joined the Corps, yet our Uncle Vic would like to serve more.
"But Mr Sylvester" the Paymaster cries, you're costing too much, I must economise.
The time has sadly come, now you must retire, please hand in your Cello, Euphonium and Lyre.
To the store return, all your items of kit,
We'll send that to Eastney, the Museum could use it.
So let us bid a fond farewell, take care and cheerio, a character through duty runs, we all have come to know.
A neat and tidy music store, for paperwork a stickler, we'll miss his cheerful, smiling face, puffing at his tickler.
When travelled far from your Band to Deal.. and tasks they have been many.
Just recall Vic's famous words,
'Sticks, Reeds, Strings, Mutes?
Sorry I haven't any!'
Mr Sylvester took up employment in civilian life as a registrar in the town. He later moved on to become part of the security team at Tesco's. Still very much into his music, Vic offered his service by leading the 115 Squadron Air Training Corps Band in Peterborough.. a role he undertook for eight years. He was one of the instigators and a founders of the 'Bushfield Joggers Club' in 1985, the only running club in Peterborough. Victor ran in many events for charity, including participating in the 1989 London Marathon. In 2002, the Peterborough Evening Telegraph presented Victor with a 'Pride in Peterborough' award, for his dedication to local sport.
The family.. which also boasted five grandchildren and eight great-grandchildren, was heartbroken when Betty passed away in November 2004, She'd had a fall at home, and while she was in hospital, she was diagnosed with cancer and died soon after. In 2005 the National Blood Donation Service presented Victor with the 'Emerald Award' for donating seventy-five pints of blood, he only stopped donating when he'd reached his maximum age to be a donor (70). As pictured in 2007, Vic was still donning his trainers and clocking the miles at seventy-two years old.
Vic suffered extremely difficult times following Betty's passing.. his own health began to deteriorate around 2008. In December of the same year, Vic featured in the ITV documentary 'Evacuees Reunited'.. Michael Aspel met evacuees as they revisit the places they were sent to during World War II. The mini-series followed a number of evacuees in their 70s and 80s, as they retraced their steps to their old billets and a reunion with long-lost friends and foster families.
As time elapsed.. Victor eventually became housebound and unable to walk following four strokes and a heart attack, he also suffered from mild dementia, so he sort of gave up. He had to pay for his own care, but due to lack of time and professionalism, the carers didn't properly afford Vic the precise care that he needed. Vic found himself being admitted to the Edith Cavell Hospital on a couple of occasions, before being moved into the Star Nursing Home in Peterborough. Whilst he was there.. his own home was not only burgled, but completely ransacked and all his valuables taken, including his coveted medals.
Barrie 'Vic' Sylvester sadly passed away on 13th February 2016 aged 80. He'd developed Sepsis.. the body's extreme response to an infection you already have, which in turn triggers a chain reaction throughout your body. It was a sad ending for Victor to what had been a wonderful life.
Vic's funeral service was held at Peterborough Crematorium on 29th February 2016. Royal Marines Bugler Bryn Hawkins gave him the ultimate tribute with the sounding of the Last Post & Reveille. His ashes were interred at Holy Trinity Church, Orton Longueville, Peterborough.
RIP Vic