Hi Richard,

I wonder if this little tale will interest some of the older members of our fraternity. It was only a few weeks before Lt. Dick Place passed away while we were having pub grub together, and as usual reminiscing about old times, when he asked if I still had my "Geneva" lapel badge. I'm afraid to say mine had got lost before I left the service, but Dick assured me he still had his.

The Staff Band at Deal, plus some augmentation were on a visit to Geneva in August 1952 for the Battle of the Flowers week. (We had done a similar job in Jersey) It was quite a hectic week one way or another, and during a reception at the Town Hall we were presented with a little lapel badge and a book all about Geneva.

On arrival back at Deal someone suggested we wore the badge on future engagements, so it was pinned under the flap of our tunic pocket. Anyone not wearing his badge had to pay for the next cup of tea when we were on the road and stopping for our usual toilet stop. I can't remember getting caught, but once on the way to South-end for a Carnival etc. Capt. "Dizzy" Lang paid the forfeit!

Why I am bringing this story up is that Dick's wife June, while sorting out Dick's belongings came across his "Geneva" badge, and remembered our conversation and has kindly sent it to me. I am wondering now if there any more kicking around in some ones Ditty box.

I have enclosed a photo of the Badge, also a picture of the band during one of our many appearances. The band photo hasn't copied very well so it may not be worth printing. The other should be OK.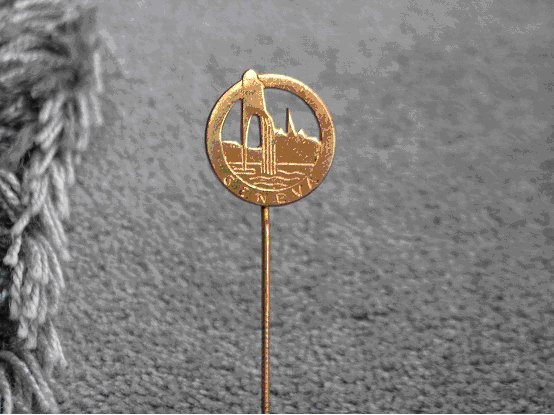 The Geneva Lapel Badge