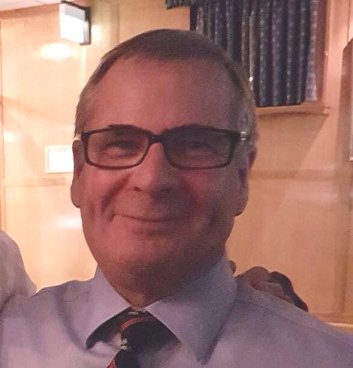 Trevor John Attwood was born on Saturday 11 March 1950 in Bradford West Yorkshire. Upon joining the Grammar school he joined the Bradford Boys Brass Band and then the Carlton Schools Band. It soon became clear that he had a natural musical talent with his progress into the Bradford Schools Band, the Yorkshire Schools Band and ultimately the National Youth Brass Band.
The director of the Bradford Boys Brass Band recommended that Trevor apply to join the Royal Marines Band Service as a musician. His band mate and school friend Bill Robinson, who had already joined at Deal a few months earlier reported back to him that you could actually get paid for playing your cornet every day!
Trevor thought that joining the Royal Marines sounded like a marvellous idea, so at the tender age of fourteen he boarded the train on 27th April 1965 at Bradford with his suitcase in one hand and his cornet in the other and ventured south from Yorkshire to the Royal Marines School of Music to begin a long career with the Royal Marines as a cornet & violin player.

His aptitude for leadership and responsibility was recognised early on with him being rewarded with the role of Number 1 Diamond of Gloucester House, a responsibility which he embraced fully.
After completing his training, Musician Attwood was drafted to Plymouth. While stationed there, the band conducted a recruiting tour of schools in the Midlands, which included performing a concert at a school in Sutton Coldfield. One of the female students got chatting with one of the Royal Marines Musicians.. Taff Pearce. A conversation took place along the lines of, "My friend likes your friend". The two friends being spoken about were Alyson & Trevor and as a result.. they became pen friends.
After a few months of exchanging letters, Trevor visited his penfriend for the first time on his way home on leave to Bradford. However fate intervened and his green mini van broke down at Alyson's parents' house, meaning that he had to leave it there to be fixed, returning the next weekend to pick it up. After two visits in the space of just one week, Trevor and Alyson's friendship blossomed. They were engaged in 1971 and married in 1972. They began their married life in Plymouth before moving on to Portsmouth Band.
In 1975, Trevor was drafted back to Deal, a move which at the time neither of them were too pleased about. He even promised Alyson "We won't have to be here that long.. eighteen months at the most". Over the following forty plus years, not only did they firmly settle in Deal, but so did most of his family, with his mother and step-father, Alice and Geoffrey, his brother Malcolm, and his sister Val, all moving to Deal from the north in the years that followed.
In 1976 Band Corporal Attwood was awarded the coveted Silver Medal of the Worshipful Company of Musicians.
The armed forces including members of the Royal Marines Band were deployed nationwide in 1977 to provide emergency cover beginning on 14th November as Operation Burberry was launched during the first UK firefighters strike. Many of the band including Trevor were dispatched to Glasgow.
Family life blossomed in 1980 with the birth of their daughter Catherine.
"As his daughter, I have many happy memories of growing up with Mum and Dad. Many of these memories include bike rides in the countryside in the summer, learning to swim at the Royal Marines pool, learning to map-read on country drives in the winter, Dad teaching me to drive, and many walks along the beach with ice creams".
Trevor was promoted to WO2 on 1st March 1982 and subsequently appointed as the Bandmaster of Royal Marines Band Flag Officer Third Flotilla, replacing WO2 Gerry Long.
On April 17th 1982, the Band of twenty-three ranks under the Direction of Trevor flew to Gibraltar and embarked on board the transformed hospital ship HMHS Uganda and sailed as part of the South Atlantic Task Force.
Following the Band's Stirling efforts in Falklands, normal service resumed in October 1982 with a trip around the Mediterranean onboard HMS Fearless.
On completion of Christmas leave it was back on the Fearless for an exotic trip around the Caribbean and New Orleans.
HMS Hermes was then home to the Band in 1983 when she sailed to New York, Sweden and Oslo.
One final jolly on FOF3 Band for Trevor was back on the Fearless and back to the Mediterranean, before his replacement arrived in the shape of WO2 Bandmaster Phil Fryer.
The annual march competition was won by Trevor for his composition of QUARNS March, it was dedicated to the Queen Alexandra's Royal Naval Nursing Service and performed for the first time at the Mountbatten Concert in 1985.
Prior to Trevor leaving the Band Service in 1986 he was the Bandmaster of the Royal Marines School of Music Staff Band that embarked on the amazing 68-city tour of the United States. He latterly became the Secretary to the Principal Director of Music.
WO2 Bandmaster Trevor J Attwood was deservedly awarded an MBE in the 1991 New Years Honours List.
For many years Trevor turned out for the annual All Stars Band Concert at the Winter Gardens in Margate until the final gig in 2017.
He was also amongst those who received a standing ovation given to the Old Comrades Band following their unrehearsed performance on the Deal Memorial Bandstand on Sunday 21st August 2005, performed by 43 ex Royal Marines Band musicians who still lived in Deal.
Trevor was a passionate musician throughout his life, he was a life-long fan of Beethoven, but in more recent years he developed a more contemporary musical taste, enjoying the music of modern talent such as Amy Winehouse, Adele and even Kylie Minogue.. although it probably wasn't only Kylie's musical talent that he so admired! One band always featured in his record collection was Abba whose music he really enjoyed, he said, "Because it makes me feel happy".
Trevors approach to life was to always give everything... at the age of 52 he graduated with a Bachelor of Arts in Business Studies and Social Science from Canterbury Christ Church University. Every role that he held throughout his life, both his professional roles and his personal roles he fulfilled to the absolute best of his ability.
Sadly Trevor passed away suddenly on 13th November 2017 as a result of a heart attack at his home in Walmer aged 67.
His Funeral Service was held Monday 4th December at Barham Crematorium and afterwards at the RMA, where he was a former branch secretary.
He was a gentleman, he was a great friend, a great neighbour, a great musician, and a great man. One of the nicest men you could wish to meet, small in stature, huge in heart, and many people looked up to him.
RIP Trevor