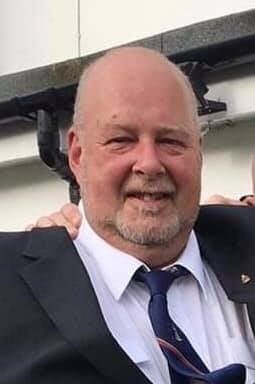 Peter Taylor was born and initially named as David Mark Lecaplain on Wednesday 14th March 1962 in Kingston Hill Surrey, at just six-weeks old he was adopted by the late John and Doreen Taylor from Sittingbourne Kent. Young Pete attended the Salvation Army along with his mum and younger brother Colin, it was there that he gained his musical knowledge by learning how to play the trombone.
At the age of sixteen.. Pete went to Chatham to see a careers advisor about joining the Royal Navy but when he arrived, he was asked if he'd ever thought about joining the Royal Marines..
He enlisted into the Royal Marines Band Service as a Junior Musician on 11th September 1978, he joined as a trombonist and member of 3/78 Troop... No one called him Pete again, in fact not many people knew his first name at all.. from then on it was always 'Tiny'... the nickname given by his fellow K Block troopers.
In May 1981 and following his successful M3 exam, Musician Taylor was drafted for a short eight-month stay with the Commander in Chief Fleet Band based at HMS Pembroke.
The Royal Marines Band FOF3 was the next chapter for Tiny.. embarking on HMS Fearless for the three months excursion to the Caribbean.. visiting Puerto Rico, Trinidad, Curacao, Aruba and St Vincent.
The band had only been back in the UK for a short period before being recalled early from Easter leave.. and on April 17th 1982, the Band of twenty-three ranks under the leadership of Warrant Officer 2 Bandmaster Trevor J Attwood, including twenty-year-old Tiny flew to Gibraltar and embarked on board the transformed hospital ship HMHS Uganda and sailed as part of the South Atlantic Task Force. Their duties were numerous.. mainly revolving around the receiving, processing and moving casualties around the ship, into the Operating Theatre, into Intensive Care and even assisting with minor operations such as dressing wounds after surgery. The Uganda returned to a hero's welcome at Southampton on 9th August, the band subsequently received their South Atlantic Medals.
Following the Falklands Victory Parade in London, the band then flew out to Naples and returned to HMS Fearless for a very welcome trip to the Mediterranean with visits to Split in Yugoslavia, Salonika, Istanbul, Venice and Brest. The Fearless tied up back in Portsmouth on November 26th.
Following a well deserved Christmas leave it was back on the Fearless and Tinys' second trip to the Caribbean and Florida: Tortola, San Juan, New Orleans, Louisiana and Grand Bahama.
On return from Easter leave it was all aboard the carrier HMS Hermes bound for New York and Florida, the ship then experienced a three-week transatlantic crossing where they docked in Gothenburg, Sweden.
In August 1983 Tinys' sea time with FOF3 Band came to an end when he returned to the Band of the Commander in Chief Fleet based at HMS Pembroke/RAF Northolt, under the baton of the popular Director of Music Captain Ted Whealing.
Tiny met his future wife in Pompey at the Homeleigh Hotel, Tiny proposed to Michelle (Taff) Walker from Cardiff and they married in August 1984. They lived in married quarters at RAF Ruislip and went on to have two children.. Dionne and Shane.
Tiny would have undoubtedly performed at many prestigious engagements and massed bands throughout his time with Fleet Band, more sea-time ensued in 1985 when he was selected to travel on HMS Invincible to Amsterdam.
Pete 'Tiny' Taylor left the band service for civvy street on 10th June 1986 and the couple settled in Michelle's hometown of Cardiff. He had several jobs.. scaffolding, window cleaning and working as a labourer, eventually in 1991 his Dad suggested they move up to Kent as he'd found Tiny a job at UK Paper in Sittingbourne, this job lasted until he took his HGV 1 & 2 and took to the roads as a lorry driver.
Tiny moved his family from Sittingbourne to Deal in 1999 as he successfully passed the selection process for the Prison Service and as a result he became an officer at HMP Swaleside. Tiny went on to become a Senior Officer within the Prison Service, he was the Control & Restraints Instructor, Drugs Coordinator and also Hostage Negotiator at heights, even accounting for his fear of them!
Tiny gave up his time on four occasions in order to perform at the annual Sergeants Mess Pantomime held at the Astoria Theatre in Deal, all in aid of charity.
In January 2010 Tiny suffered serious health problems when it was discovered he had a split along the whole length of his aorta, he was in a critical condition and was blue lighted from QEQM Hospital to Kings College Hospital, a few days later and he was transferred to St Thomas's Hospital where he remained for three weekswhile they stabilised him in intensive care.
Tiny was diagnosed with cancer of the bladder and in 2013 tests revealed that the cancer had returned. He endured three years of treatment before finally being given the all clear. A few months later after one of his routine check-ups it was noted that someone had missed a scan that showed the cancer had returned, as a consequence he had to have a kidney removed in February 2018 at Kings Hospital in London.
Following chemotherapy... Tiny received another all clear in May 2019 and a long journey seemed to be at an end. It soon became apparent that things weren't as they should be and Tiny began losing lots of weight... in October 2019 Tiny was given the devastating news that his illness was terminal.
Tiny lost his brave battle with cancer and sadly passed away on 19th November 2019. His funeral service took place on Wednesday 11th December 2019 at Barham Crematorium with the wake at the RMA Deal.