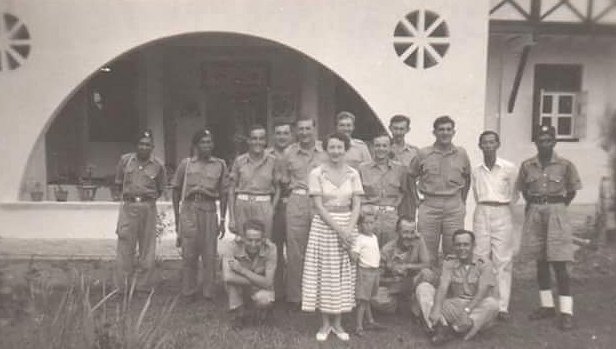 Found this photo on a Facebook site, posted by Clair Williamson, who is the daughter of the late Bill Williamson.
Clair thought it was of the HMS Tiger band. However I can confirm it is of the HMS Terror band
circa. 1952-1954. I can't remember where it was, but I can put names to all the faces of the band.
I am standing next to the right of the lady (looking at the photo) I reckon I am the only one surviving.
Note the armed police or soldiers.
Left to right looking at the photo.
Standing. Jock Middleton (sax/violin)
Wally Walton (euph/cello)
Freddie Mills (sax/clar)
Keith Turton (trumpet/violin)
Gerry Taylour (piano)
Wally Shillito (trumpet/ violin)
Bob Swan (percussion)
Kneeling. Bill Williamson (sax/violin)
'Smudge' Smith (oboe)
Sitting. Maxie Beare (trumpet)
The lady and child unknown, but seeing the armed guards, the photo may have been taken at somewhere
like the High Commissioners residence in Singapore where we often played.
Best wishes, Gerry Taylour