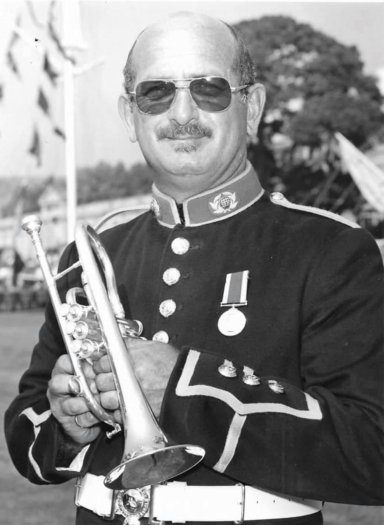 Frederick Bernard Pearce was born in Gorseinon Swansea West Glamorgan on Wednesday 18th March 1942 to Fred and Cassie. He was the fourth of six children. He had four sisters, Glenys, Gill, Jennifer and Elizabeth and an older brother Colin. The family were raised as Salvationists and all very musical. Frederick learned to play in the Salvation Army Band and was a pupil at Tre-Uchaf Secondary School in Loughor, near Swansea. While at school he performed and starred in several musicals including 'The Mikado' where apparently he stole the show.
Bernard travelled to Deal and joined the Royal Marines Band Service almost certainly in 1958, where he studied cornet in East Barracks. He was the winner of the Cassell Prize in 1959 and awarded the Silver Medal. Two medals (a Bronze and a Silver) have been awarded to a student from the Royal Marines School of Music every year since 1947. Taff was attached to No31 GC Squad and rated to Musician in April 1960. In June 1960 he was drafted to 3rd Commando Brigade.. at the time based in Malta, before the band re-located to Singapore in the Nov/Dec1960. They were stationed at Rowcroft Lines up the road from the hospital and fairly adjacent to the Tiger brewery!!
He had great fun at the 1965 Edinburgh Tattoo and Canada/USA tour in September of that year. At Colinton Barracks Edinburgh.. their accommodation while the tattoo was taking place… there was an awful noise outside the lodgings and many went to look, there was Taff in full Scotish regalia.. kilt and all, bright red face trying desparately to get some sound out of a set of Pipes. What a character he was.. a brilliant musician, and he loved to party wherever he was. The United States tour in 1965 was eventful.. It was the United States Marine Corps birthday and a group of the lads got an invite to a party provided they went in No1's... early in the morning the late Charlie Bowden (Drum Major) received a call from a member of the hotel staff stating that there was a guy asleep somewhere in the hotel... he was wearing a lion tamers costume "We think he is one of yours",... it was indeed Taff, happy as Larry unable to find his room so he just went to sleep !
His trumpet playing was captured on the 1966 'Art of the Military Band' recording. His majestic solo was in the piece 'Music for a Festival' by Gordon Jacob. He was also in the Band that played at the end of the 1966 film 'Thunderbirds Are Go'.. recorded on the main parade ground at Deal. Staff Band toured the UK that summer with the 41 Commando Display Team... visiting many of the country's seaside resorts. It was during that tour whilst in Scarborough that Jock Brown the Bandmaster announced that he was the Bandmaster designate for HMS Eagles' next commision in 1967. The band included Taff and formed up in Deal in January of that year prior to joining the ship in Devonport around March. Taff quickly became the joker in the band and was great fun, had moved his wife and kids to a married quarter in the Granby Estate, so the Marquis of Granby became the band pub! Following sea trials the Eagle sailed for the Far East, Australia, Hong Kong and Aden where the Band played for the withdrawal ceremony after 129 years of British Rule. The ship returned home to Devonport in 1968 after a year away. The band disbanded in late 1968 after nearly two years.
Taff had another great talent.....he knew the words to almost all of the Gilbert and Sullivan operas and would often sing them perfectly.
When he was in Staff Band Band at Deal, he lived with his first wife Marjorie with whom he had a son, Jonathan and two daughters Francesca & Maria. They had married quarters on Freemen's Way.
Taff was easily one of the finest trumpet players that graced our uniform, he once stood in for Diana Ross' trumpet player.. his was the only white face amongst all the musicians, her band all had massive respect for him and his playing.
He was stationed in Plymouth for many years.. firstly at RM Band HMS Drake in the 70's before the band moved and became the Band of HM Royal Marines Flag Officer Plymouth based at HMS Raleigh over the water in Torpoint. While he was there he was awarded his Long Service & Good Conduct Medal. Taff was indeed a great musical talent.. and such a fabulous character.. he never had any cigarettes... he just smoked everyone else's! Taff played in the Jazz Band at the Duke of Cornwall Hotel near to the Barbican, he went on to marry the landlord's daughter.. Haidee.
Musician Bernard 'Taff' Pearce sadly passed away aged thirty-nine on 17th November 1981, he died shortly after suffering a heart attack while attempting the bi-annual battle fitness test (BFT).
His funeral service was held at HMS Raleigh on 24th November 1981 followed by cremation. Representatives from across the Band Service were in attendance, with pall bearers and music provided by Raleigh Band. There is a plaque and photo dedicated to Taff on the band room wall there.
He was great father figure in the Band and a great musician and one of the finest cornet and trumpet players ever to have served in the Royal Marines. He continues to be a great miss to all that knew him, like many others.. Taff Pearce sadly left this world far to early and is always remembered with a smile.
RIP Taff