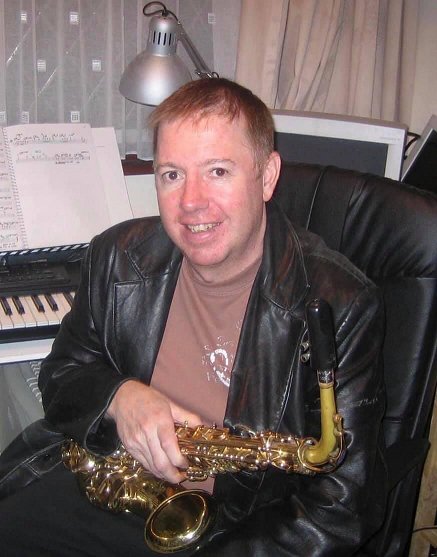 Stuart Macleod was born in the Moray town of Lossiemouth, Scotland on Tuesday 20th February 1962, along with his sister Donna, they were raised by loving parents Norman & Flo. Young Stuart attended both Lossiemouth Primary and the High School and his interest in music began with piano lessons at the age of nine.
From school.. Stuart joined the Royal Marines Band Service on 10th September 1979 as a member of 3/79 Troop. He initially joined as a clarinet and violin player, but he hated the violin and managed to change to solo clarinet around term four.

He was lucky enough to board the plane to Canada with a select group of trainees in 1980.
Stuart's quality was evident in training as he was presented with The Clarinet Cup in 1981 by K Mettyear MBE who was Professor of clarinet from 1949-80.
Following training and success in his M3's, Stuart was rewarded in January 1982 with a draft to the sea-going Royal Marines Band Flag Officer Third Flotilla (FOF3). His first trip with the band was onboard HMS Fearless for a three month jolly to the Caribbean, enjoying the delights of Puerto Rico, Trinidad, Curacao, Aruba and St Vincent, arriving back in the UK for Easter.
Little did the band know what was about to unfold when they all departed the separate ways on leave... the band had their leave cut short due to the Argentine invasion of the a Falklands. FOF3 Band will forever be a part of the history books when on April 17th 1982, the band of twenty-three ranks including Stuart, under the direction of WO2 Bandmaster Trevor Attwood MBE flew to Gibraltar and embarked on board the cruise ship SS Uganda, which had be rapidly transformed into a hospital ship and renamed HMHS Uganda and sailed as part of the South Atlantic Task Force. The Band returned to a welcome for heroes at Southampton on August 9th, where they indulged in their well deserved two months leave.
The band returned to normality on October 12th when they proudly marched in the Falklands Victory Parade in London.
The following day the band flew to Naples where they rejoined the Fearless for a six-week sail around the Mediterranean, calling at Split in Yugoslavia, Salonica, Istanbul, Venice and Brest.
They enjoyed short trip to Brest on HMS Hermes, before once again boarding their familiar surroundings of HMS Fearless in Pompey. On January 6th the ship sailed and Stu and the crew enjoyed a second cruise around The Caribbean and USA: Tortola, San Juan Puerto Rico, Pensacola Florida, New Orleans Louisiana, where they played at three consecutive Mardi Gras parades, before heading off to finish the trip at Freeport Grand Bahama.
Stuart's final seagoing excursion came onboard HMS Hermes, leaving Portsmouth on April 6th 1983 for a two-week Atlantic crossing to New York, where the ship spent ten days before sailing south to Mayport Florida where the Band were afforded nine days station leave. The Hermes sailed on to Norfolk Virginia before embarking on a three-week transatlantic sail to Gothenburg, Sweden. Stuarts FOF3 adventure came to an end on July 21st 1983 when the ship returned to Portsmouth.
Stuart returned north of the border following his time at sea, he was based for some time 1983-88- with the Royal Marines Band Flag Officer Scotland & Northern Ireland based at HMS Caledonia.
In 1992 Stuart began studying at Leeds College of Music for the Graduate Diploma in Jazz, Popular and Contemporary Music, he graduated in 1995.
Following his years of study, Stu returned to service life as a solo clarinet player with the Band of the Irish Guards, his total service career lasted twenty-three years when he entered civvy street in 2008.
As a civilian he began teaching and gigging privately and gained a Master of Arts Degree at the University of Salford in 2010, he studied music education and teaching between 2010-2012 at the Associated Board of the Royal Schools of Music (ABRSM).
On Remembrance Sunday 2012, thirty years on from the a Falklands War, Stuart attended the service in Whitehall, he was in the contingent that marched past the cenotaph as a member of the South Atlantic Medal Association.
In 2013 he was one of five former Royal Marines Band personnel who took up an opportunity to instruct at the blisteringly hot Qatar Military School of Music.
Stuart moved from his home in Chelmsford to Bangkok Thailand in March 2015 to teach English and Music and to be with his girlfriend Yok.
Stuart sadly passed away as a result of a heart attack while he was sleeping in his apartment on 29th July 2015. His funeral service was held on Friday 14th August 2015 at St Gerardines Church followed by interment at Lossiemouth Cemetery.
His wake was held at the Rock House Hotel, where Stuart was given a fitting musical send off by his Royal Marines brothers.
In his memory.. the annual Stuart Macleod music prize was created at his old school in Lossiemouth, which recognises the best all round musician for the year.
RIP Stuart