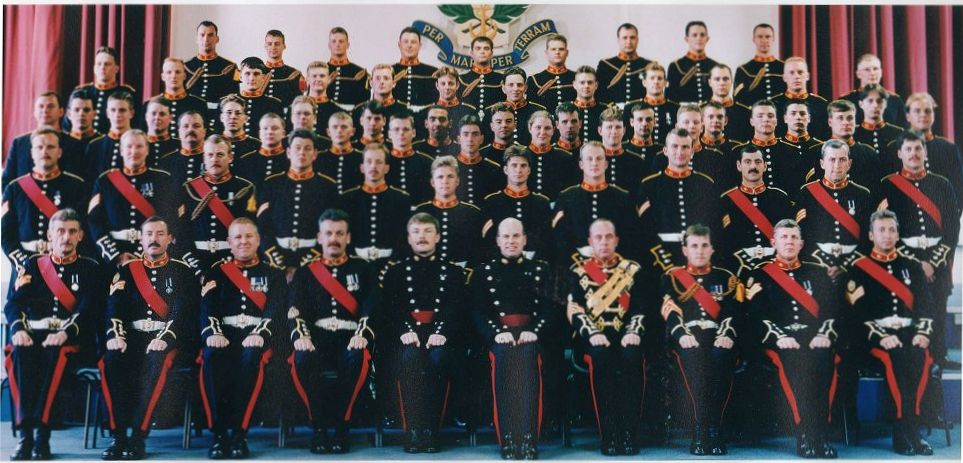 Row Six: Bug Jackson MS, LCPL Bug Boulton CJ, Bug Cosby CW, Bug Mellish MB, Bug Donoghue SP, Bug Lee JA, Bug Green DJ, Bug Johnson MK, CPL Bug Macefield PA
Row Five: MUSNS Gaylard MCK, Lether J, Hart SJ, Aston RI, Hancock MG, ARCM. Trevaskis GC, Sarams RC, Brown CO, Hart PJ, Locke TJ, Thompson G, Simpson BR
Row Four: MUSN Turner GH, LCPL Standeven GG, MUSNS Deacon AQJ, Brompton MJ, Payne CM, ARCM. Brown S, Chalkley CA, O'Kane BA, Dudley MJ, Hockley M, Young DP, Nightingale MA
Row Three: MUSNS Donovan P, Cook JK, Waters T, Clay HG, Brown SC, Bailey MC, Rigotti PMW, Wilcox EJ, ALCM. Thomas IS, Perch AJ, Barnes C, BCPL Embury A, MUSN Neighbour A
Row Two: BDSGT Luford PM, BDSGT Thomas PS, SGTBUG Smith PS, BDCPL Sheen RJ, BDCPL Hill JR, BDCPL Finch JM, BDCPL Macad P, BDCPL Evans PJE, BDCPL Davies I, BDSGT Searle WM,
Row Two L to R #11 BDSGT Warden G, #12 BDSGT Gould GB, LRSM
Front Row: BDCSGT Evans MS, BDCSGT Kelly JA, LRSM. BDSGT Walker BR, WO2[B] Dale ME, LRAM, LTCL, LGSM. BANDMASTER RM. LT Davis CJ, BA (Hons) LRAM RM Ass Dir of Music.
Front Row L to R #6 LTCOL Waterer RA, LRAM. RM. Principal Director of Music #7 WO2(Bug) O'Connell JF. Corps Drum Major F.W. . #8 CSGTBUG Lawton C. Corps Bugle Major RM.
Front Row L to R #9 BCSGT Yates JA, ARCM. #10 BCSGT Peers K