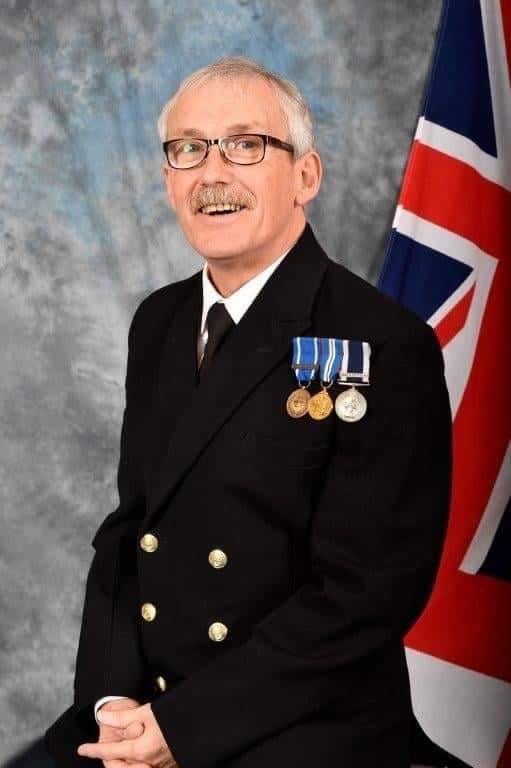 Simon Peter Davis and twin brother Chris were born on Friday 22nd May 1959 in Eastleigh Hampshire. Simon was only seven when he began having violin lessons at his primary school. He was sent to school with his satchel that contained his initials S.P.D.. One day, the curly bit of the P fell off and from that day he was forever known as SID! At the age of nine he joined the 2nd Eastleigh Boys Brigade Company, where his musical talent was enhanced by learning how to play the cornet. Sid's secondary education was taken at the Montgomery of Alamein School in Winchester, from September 1970 until his graduation in 1975. Further musical experience led him to perform with youth orchestras and brass bands.
Sid followed his brother by enlisting into the Royal Marines Band Service on 25th April 1977 as a cornet and violin player. He was an adult entry, joining 1/77 Troop, which consisted of just eleven ranks, under the guidance of Troop Instructor Sgt Danny Blatchford. On completion of training, Sid was sent across the parade ground to the Royal Marines School of Music Staff Band, where his initial task was to learn how to point a hose towards a fire.... Operation Burberry had just been implemented following the first UK Fireman's strike in 1977 and his first taste of life as a trained rank was putting out fires with Red Watch onboard a Green Goddess. The crew was based at Pollokshields Infant School in Glasgow. Musician Davis was in the band at Lord Mountbatten's Funeral, held at Westminster Abbey on 5th September 1979. In August 1980... Sid was amongst the ranks of Staff Band and Britannia Royal Naval College (BRNC) Bands that flew to Toronto for the Canadian National Exhibition.
Twenty-one year old Sid returned from Canada and was drafted to the Royal Marines Band Flag Officer Third Flotilla (FOF3), an adventure that lasted for nearly two years. His first experience of sea time with his new band was in September 1980 onboard HMS Invincible, with a short trip to Norway and Brest before tying up in Gibraltar for three weeks, where he successfully negotiated the gruelling Rock Race. The band was then treated to a brief excursion on HMS Eskimo to Norway, prior to a Mediterranean trip onboard HMS Bulwark. Following Christmas leave it was back to sea…in fact, FOF3 Band were to spend the entire calendar year of 1981 onboard HMS Intrepid. Firstly, a dream jolly, calling in on nine islands of the Caribbean. Then in May following Easter leave, they were off again to the Baltic. The year was rounded off with a Mediterranean cruise. FOF3 Band transferred onboard Intrepids' sister ship HMS Fearless for Sid's' final trip. In January the DTS deployment sailed on his second trip to the Caribbean... life was extremely tough! Sid Davis' time at sea came to an end prior to FOF3 Band's involvement in the Falklands Conflict, when he was drafted back to Staff Band in 1982.
Sid was in the spotlight in Staff Band, under the leadership of the PDM, Lieutenant Colonel James Mason. Over the next ten years he would have been on as many as twenty-two massed bands engagements: Mountbatten Festival of Music, Edinburgh Tattoos, Horseguards and Tournaments. He undertook many prestigious gigs, including as a member of the fanfare team for Prince Andrew & Sarah Ferguson's wedding held at Westminster Abbey in 1986. In April 1988, Sid travelled with the Band to Sydney for the Australian Bicentennial celebrations led by the PDM Lieutenant Colonel Graham Hoskins. Musician Davis' first step on the promotion ladder was confirmed in 1989, when he was made up to Band Corporal... he celebrated with a trip to the Ascension Islands in 1990. Sid was selected to attend the 1991-92 Bandmasters Course and after successfully qualifying in the summer of '92, Sid was promoted to BSgt and an Easter draft to the Royal Marines Band BRNC, just in time to be selected to travel to the Falkland Islands to participate at the tenth anniversary commemorations of the War. BSgt Davis was also the proud recipient of his Long Service and Good Conduct Medal in 1992.
In 1994, Sid headed back to sea when he took on the role of Volunteer Band Instructor on HMS Ark Royal, but not before a Dartmouth leaving run of the highest order... with all the lads distinctly dressed as 'Sid Davis'.. meticulously decorated with false tashes and specs!
A first excursion for Sid on the Ark was a Mediterranean trip taking in Bari, Piraeus, Palma and Corfu, he saw active service when the ship was deployed to the Adriatic during the Bosnian War for which he received The NATO Medal.
In 1995, Sid's role as VBI was complete and he left HMS Ark Royal with a draft to The Band of HM Royal Marines Scotland, under the baton of his twin brother, Lieutenant Chris Davis. Sid gained further promotion to BCSgt in the summer of 1996.
In 1998, he left Scotland Band behind and headed for Royal Marines Band Portsmouth… One of the Highlights of his stay in the Royal Band was the epic trip to play in the Brisbane International Tattoo.
Sid earned promotion once again in 1999 to WO2 and returned to Dartmouth as Bandmaster, some five years after departing for the Ark Royal. He hadn't been back very long before he was thrust into the limelight... narrating 'T'was the Night Before Christmas' during a series of festive concerts in the Caspar John Hall. His time at BRNC was spent working alongside successive Directors of Music... Captains Phil Watson, Andy Thornhill and latterly Mick Dowrick. It was during this second stint at the College that Sid was promoted to the rank of WO1.. a fitting reward for all his years of hard work. He travelled with the Band on the visit to Washington & San Diego in 2000, where they were required to play at the Hungnam Commemorations. He also enjoyed the 2001 outing to play at the Hamina Military Tattoo in Finland, before a trip to Rome in 2002. Bandmaster Sid took over the leadership of the Band following the departure of Captain Thornhill. During 2002/03... Sid and the majority of the Band Service found themselves deployed on Operation Fresco. They were tasked to supply emergency cover during the second UK firefighter strike. Sid Davis had now become a legend of the Green Goddess.. having been involved in both firefighting Operations Burberry and Fresco. WO1 Davis received a Commendation for his contribution to Operation Fresco. He was also a recipient of The Queen's Golden Jubilee Medal in 2002.
Late in 2003, Sid was drafted once again to Scotland Band. This time to work alongside Director of Music... the late Captain John Kelly and a fellow student on the Bandmasters Course twelve years before. Captain Tony Smallwood then took over as DOM before the band travelled to Normandy in 2004 for the 60th Anniversary of D-Day. Then it was a return to one of Sid's favourites... Gibraltar, to commemorate the 300th Anniversary of British rule. The band jetted off to the Edinburgh Military Tattoo 2005.. not in the capital of Scotland... but in Sydney Australia. Sid left Scotland Band early in 2006, to begin a new challenge... Bandmaster of the RMSM Training Company.. commanded at the time by Major Nick Grace.
Recently disbanded.. the BRNC Band was temporarily re-formed in order for WO1 Sid Davis to return the Freedom of Entry scroll to Dartmouth Town Council on Wednesday 20th May 2009. A few months later on 21st August, Sid Davis' fantastic thirty-two-year career with the Royal Marines Band Service came to an end. As a result of the relocation of Dartmouth Band in 2009, BRNC Royal Naval Volunteer Band was formed, Sid Davis was an integral piece of the jigsaw in its infancy and remained so throughout its first ten years.
While he was based in Scotland... Sid began dating Scottish lass Margaret from down the road in Cairneyhill. The couple married on the island of Rhodes on 14th September 2011 at 7.15pm, now that's unique... an evening wedding with Bob Graham as Best Man. Sid also became a Stepfather to Kerry and Ian, who rewarded the couple with four grandchildren. Mr & Mrs Davis settled down in Dartmouth, where they were by now well established and very well occupied... Sid became the General Manager of The Flavel Arts Centre in the town and Margaret, an employee at Dartmouth Fine Foods. For many years.. Sid was seen playing trumpet with a local party group... 'Sax Appeal'... until the band ceased playing, with their last gig on 8th January 2018. Later in the year, Sid was appointed as the new conductor of the BRNC RN Volunteer Band. He was also a leading player in the 'BRNC Big Band' and much of his time along with other former musicians of the RMBS was spent gigging with 'The Dave Hankin Big Band'.
Sid and his family received devastating news when he was diagnosed with Motor neurone disease (MND), this happens when cells in the brain and nerves called motor neurones gradually stop working, the reason why isn't yet known.
Sid Davis sadly passed away following his lengthy illness on 28th May 2021 aged 62. The funeral service for Sid was held at Kirkcaldy Crematorium on 15th June. Members of the Scotland Band formed a Guard of Honour on the approach to the chapel as former band colleagues joined Sid's family and a few friends for the limited service due to government covid restrictions, with many other friends and colleagues of Sid's tuning in to view on live webcast. Chris Davis and Andy Manley provided wonderful tributes and a Royal Marines Bugler sounded the Last Post & Reveille.
A fantastic Gala Ball was held at Dartmouth Golf & Country Club on 12th August in memory of Sid and to raise funds for The MND Association.
RIP Sid, one of life's true gentlemen.