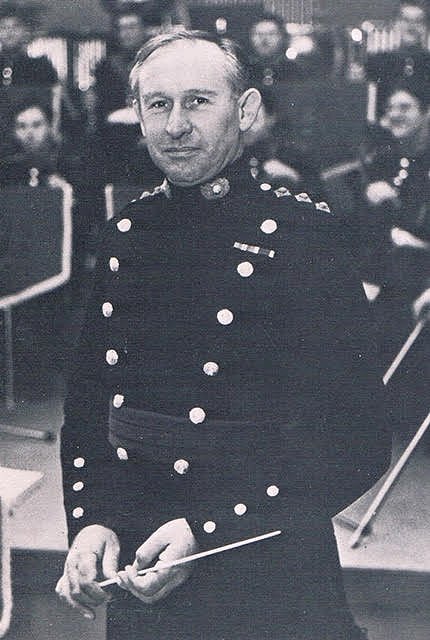 Born in 1928, Wally Shillitto joined the Royal Marines Band Service in June 1943, as a student he was awarded the Ernest Read Prize for conducting at the Royal Academy of Music London. He was awarded the silver medal from the Worshipful Company of Musicians in 1958.

He was appointed Bandmaster at Britannia Royal Naval College in 1960, before his Commissioning as Officer in late 1961. He then took command of Royal Marines Bands Commander in Chief Portsmouth and the Commander in Chief Mediterranean Fleet based at HMS St Angelo in Malta, until the establishment closed in December 1967.
He was then made Drafting Officer until September 1970 when he became Director of Music of the Plymouth Band, which was renamed Commando Forces Band in 1972. In 1973 he took the Band to Malta, Norway and to Berlin for the British Berlin Tattoo, the first RM Band to visit the city since the end of World War II. The Band also undertook three trips to Northern Ireland to entertain the troops.

During his time at Stonehouse, Walter was responsible for at least five recordings under the DECCA label, including By Land and Sea 1972, and The Royal Marines Play Pops & Classics from 1974. He also presided over the recordings 'Focus on the Royal Marines', and 'The Best of British'. Captain Shillitto was tasked with the role of Senior Director of Music, a year later for the 1975 Edinburgh Military Tattoo. His final tour with Commando Forces Band was the 1976 USA bicentennial tour entitled 'The British are Coming'. The sixty strong Stonehouse Band joined forces with the 1st Battalion The Black Watch, completing sixty-three performances in ten weeks. He presided over Trooping the Colour on March 16th 1977 as 41 Commando withdrew from St Andrews in Malta and was also Director of Music for the 1977 Military Pageant at Wembley Stadium.

He should have retired from the Corps after more than thirty-four years' service but took up a two year extension to help the Royal Australian Navy. He took up an appointment on loan from the Royal Marines to become Director of Music in the Royal Australian Naval East Area Band, based in Sydney. The annual cricket match between Commando Forces and BRNC Bands was named the Shillitto Cup.

Walter William Shillitto died on 31st January 2014.
Paul Foley