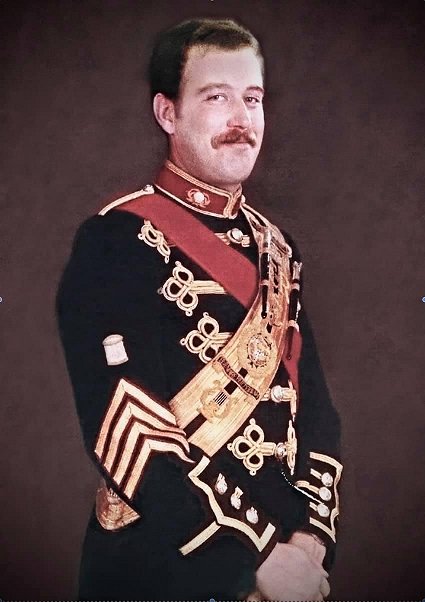 Michael Leonard Saywell was born on Friday 26th February 1954. His parents Molly (Hambly) and Eric.. a sheet metal worker who hailed from Nottingham, however they were later based in Aldershot.. Mick's birthplace and the home of the British Army, they moved following Eric's decision to enlist into the Royal Welsh Fusiliers. Raised as the youngest of four children: John followed by Sue, Lizzie and finally Mick, who in later life admitted that school held little interest for him and that he spent more time looking out of the window than at the blackboard. As such he left school aged fifteen with little education. He learned much more from his time in the cadets, however he didn't start playing a musical instrument until he joined up.
Mick made his way to Deal where he joined the Royal Marines Band Service on 2nd September 1969 as a member of a talented forty-strong 3/69 Squad. He was the youngest of six Junior Buglers of Barham House that included Trev D'Arcy, Geordie Renwick and Dave Butler and for the next eighteen months, they would be under the watchful eyes of Corps Bugle Major Tony Ormonde Dobin and Instructor CSgt Bugler Tommy Handley. Following his successful training period, Bugler Saywell spent a period of time with the RMSM Staff Band Corps of Drums, before he was drafted to the Royal Marines Band Commander in Chief Fleet, based at HMS Pembroke, Chatham.
Mick impressed on his Junior Command Course in 1978, he was a natural leader in his military role, he always knew exactly what to do and he did it well. Soon after his juniors, he was posted for a short time to the Royal Marines Band HMS Ark Royal.. the last permanent band onboard a Royal Navy ship and who were part of the ships company. It was a tearful day when the Ark Royal paid off at Devonport in early December 1978, the band disbanded and all ranks were drafted to other establishments around the country.
Five other members of the Ark Royal Band joined Mick, who was selected to be IC of the three-man (Pete Bradfield & Bomber Mills) Corps of Drums when the Royal Marines Band Flag Officer Third Flotilla (FOF3) was formed at Deal on 30th January 1979, under the direction of WO2 Bandmaster Bob Baker. Following a week of drawing stores and rehearsals, FOF3 Band departed from an extremely cold North Barracks at 05:30 on 9th February, in a pussers blue coach bound for Gatwick. They flew to Gibraltar and embarked on their very first cruise liner.. HMS Hermes. On boarding the carrier, they had to make the mess habitable, as it had been used as the paint store in Portsmouth. It was only then that they could enjoy the delights of Naples, Piraeus and Athens.
The ship then headed north to the Arctic to join the annual Clockwork exercise in northern Norway. Instruments were stowed away and the band moved to their role as assault guides, taking Marines to their landing craft or helicopters as directed by the Ops officer. The role was reversed when troops were coming back on board via sea and air, booking in hundreds of men and taking them to their allocated mess. Following a weeklong trip to Hamburg onboard HMS Bulwark, it was back to the Hermes in June for a three -month jolly over to the United States. From their first port of call at Villefranche, they enjoyed six-weeks at sea while heading across the Atlantic to Mayport Florida, Georgia, North and South Carolina, Philadelphia and Norfolk Virginia. It was during his draft with FOF3 Band that Mick earned promotion to Cpl Bugler.
Following his time at sea, Mick, who was a very good bugler, was drafted for a two-year stint to the Royal Marines Band Flag Officer Naval Air Command (FONAC) based at RNAS Yeovilton, his highlights with the band were performing regularly on the BBC Pebble Mill at One programme, numerous air shows and a trip to Holland.. all that while sharing a flat with Bugler Bob Heath! He was then selected to occupy a place on the Drum Majors Course at Deal, finishing top in the process. Following his success on the course, he was installed as Drum Major of Training Company, a position he enjoyed and for which he's still held in high regard by the juniors under his guidance from 1982-84. Promotion to Sgt Bugler in 1984 led him to become the Drum Major with the Royal Marines Band Flag Officer Scotland & Northern Ireland (FOSNI) alongside Director of Music Lt Mike Goss. Regular trips to Northern Ireland and Iceland were enjoyed by the band. Two years later he collected a medal for service in Northern Ireland and his Long Service & Good Conduct Medal. Mick married for the first time in 1987 to Maureen Duffy in Edinburgh, before gaining promotion to CSgt Bugler and assuming the role of Drum Major of the Royal Marines Band Commander in Chief Fleet.. who were not only settled in their new headquarters at RAF Northolt, but were now under the direction of promoted Captain Goss.. they must have liked each other! Fleet Band was always well-travelled including, Bermuda, Holland, Italy, Hong Kong, Brunei, India, USA and Australia.. not forgetting all the many returns to Deal for various massed bands rehearsals. Mick was promoted to WO2 in 1989 while he was at Fleet Band.
Mick was a great administrator and always ran that side that as well as he did his Drum Major's duties, so it was no surprise when he made it to the peak of his profession and appointed Corps Drum Major (CDM) in 1990. Mick, as you would come to expect, was one of the smartest.. even in civvies, he always starched and ironed a crease in his jeans! He toured with Staff Band in 1991 to Australia, The Falkland Islands and Russia for the 50th Anniversary of the Russian Navy Band. He served as the figurehead on many massed bands engagements including Beating Retreat 1991 in recognition of Prince Philips 70th Birthday. Further trips to Seville and Hong Kong were enjoyed in 1992 as well as fronting the Massed Bands at the Edinburgh Military Tattoo. His swansong as CDM was the 1993 Royal Tournament, before he retired from the Royal Marines Band Service early in 1994, after completing an illustrious twenty-five year career.
Following his discharge from the Royal Marines, Mick took up an opportunity and a completely different way of life. He accepted a supervisory role at a soft-fruit farm close to Deal where he lived with his first wife Maureen. From then on horticulture and soft-fruit farming in particular, was to be his passion. Over the next sixteen years through a series of moves to different farms, he became an expert strawberry grower, eventually basing himself at Boyd Farming near Brockenhurst in the New Forest. Needless to say, crops came in and out of production with military style precision. Through his thoughtful approach and practical experience, he was able to hold his own with world-leading, Dutch agronomists and expert farmers with whom he developed poly-tunnel growing and irrigation techniques that are now industry standard. He was eventually offered the opportunity to invest in a venture based in Southern Spain to produce out-of-season strawberries for the UK. Apart from his financial contribution Mick was to be the main man on the ground in Spain. This involved everything from building a desalination plant for irrigation, to greenhouse construction, planting, growing, picking, packing and shipping. He had over a hundred-thousand strawberry plants under glass from which he was supplying most major British supermarkets. It was quite an achievement to get the process qualified and accepted by the supermarkets in the first place. Managing a cohort of reluctant local workers and recruiting a small army of Eastern European immigrant workers for fruit picking and packing, on a continuous basis, as well as the logistics of supplying packaged fruit from Spain to the UK that still had a useful shelf-life was an example of the dogged determination of which Mick was capable. For a while all was well but unfortunately in early 2011, heavily subsidised strawberry production in countries like Egypt and Morocco meant that Mick's Spanish operation was no longer able to compete. Consequently, his operation was no longer viable and despite having twenty-five tons of strawberries ready for harvest, Mick had no option but to close down. He returned to the UK having lost all his investment and pitched up at his brother in-laws (Douglas) four acre property in Berkshire with nowhere else to go. In the September of 2011, he married Sasha whom he had met while he was in Spain. They married in Sweden where she was completing a master's course. For the last ten years, Mick and Sasha lived in the Annex Lodge on Douglas's estate. Mick retired from full time work and became not only Douglas's head gardener, but the closest of friends. There is hardly a part of the garden where it doesn't have Mick's imprint. The soft-fruit greenhouse, the apple, blueberry and cherry fruit cages, the covered raised beds, the planting schemes, the acer avenue and a pond with fish. Mick also had a great interest in motorcycles.
As a man, Mick was a bit of a loner.. he could be opinionated and sometimes even quite grumpy, but he held strong convictions and was of high integrity. As a child.. circumstances caused him to have a few demons and he would often tell people that he was regarded as the black sheep of the family. Of course, as far as his siblings were concerned, this was far from true and in later life he became reconciled to this. He realised that he was indeed much loved by his family and through this he found inner contentment.
Mick had been living with bowel cancer for some considerable time and it's a mark of his character that he continued to do whatever he could to live his last years as normally as he could, even through the many cycles of chemotherapy, he found the strength to attend his troops fiftieth anniversary celebrations at Deal in 2019.
Following his lengthy battle, Mick Saywell sadly passed away on 3rd May 2021 aged 67 at Frimley Park Hospital. His passing was peaceful and Sasha was with him, as she had been daily during his time in hospital. His funeral service was held at Easthampstead Park, Wokingham on 24th May. Regrettably, due to social distancing protocols, the venue would only take a small number of mourners, so the service was shown on live webcast. Douglas provided a glowing eulogy and two Royal Marines.. Cpl Bugler Ben Paine and LCpl Bugler Ross Tomkins paid Mick the ultimate honour with a fine rendition of the Last Post & Reveille.
RIP Mick