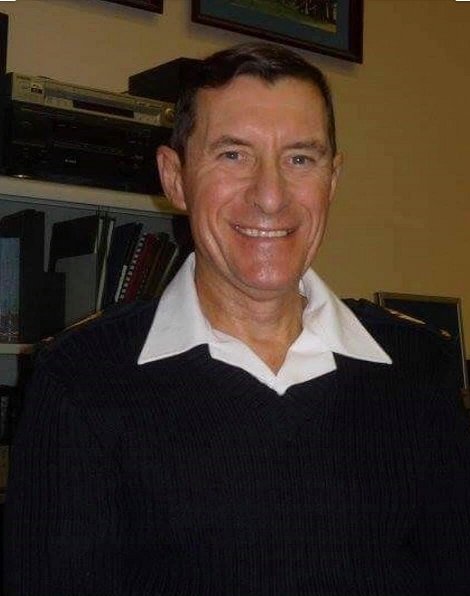 Roy W Kaighin was born on 15th July 1951, he was adopted and raised by Annie Ellen and William Kaighin in Peel on the Isle of Man. When he was just five years old, young Roy began playing the piano and violin. The family moved to Fleetwood in Lancashire when Roy was nine and as a pupil at Chaucer Primary School in the town he began learning to play the trombone and trumpet.
Sixteen years old Roy travelled to Deal and joined the boys of 3/67 squad Royal Marines Band Service on 5th September 1967 as a flute, piccolo and piano player.. he was an extremely talented pianist. On completion of training in 1970, Musician Kaighin's first draft was to the extremely busy Royal Marines Band Commander in Chief Western Fleet, based at HMS Pembroke, the band was extremely well travelled and amongst many other places in 1971 under the renamed RM Band CinC Fleet, they visited Stockholm, Helsinki and Kiel. It was at Chatham where Roy was awarded the nickname Alf!
Roy was then drafted to the Royal Marines Band Flag Officer Scotland & Northern Ireland (FOSNI) at the latter end of 1972. His first step towards promotion came in 1974 when he was selected for the Junior Command Course at the Commando Training Centre.
He was drafted away from FOSNI in 1976 and went on to perform at the 1977 Royal Tournament. In addition to his Band Service role he generated a bit more beer money when he was a member of the JG Seven group of the 1970's that played in the local pubs around Deal.


BCpl Kaighin was discharged from the Band Service in 1979.. but rejoined in 1981.
Roy taught music at Deal Secondary School and one special pupil of his there was Mark Petch who was tragically taken in the bombing of the barracks in 1989.
Roy was successful on the 1983-84 Bandmasters course and along the way he gathered his LRAM diploma. In 1984 he was the recipient of the coveted Silver Medal from the Worshipful Company of Musicians. Roy was a prolific composer of many pieces of music including the Slow March Litchfield that was used on many occasions.. including the 1984 Royal Tournament
BSgt Kaighin joined the Royal Marines Band Flag Officer Third Flotilla (FOF3) in 1984, where he assisted Bandmaster Alick Harwood. Roy served onboard three ships during his time with the Band, firstly HMS Fearless put to sea with a trip to Scandinavia Copenhagen and Kristiansand in Norway before a return to Copenhagen and Amsterdam with the carrier HMS Illustrious. The year concluded with a return to the Fearless and warmer climes when the ship basked in the Mediterranean, enjoying the delights of Barcelona, Piraeus Greece, Cyprus, Istanbul and Gibraltar.

The new year of 1985 began with a Caribbean adventure and runs ashore in Barbados, Martinique, Tortola, Puerto Rico, Mayport Fl, Ponta Delgada in the Azores. A brief trip to Lisbon on HMS Intrepid preceded a trip across the Atlantic onboard HMS Illustrious, where the bright lights awaited of Philadelphia, New York, Norfolk VA, Portsmouth VA and Virginia Beach. Roy's final encounter with FOF3 Band was at the end of 1985 and back on the Intrepid, visits to Cadiz and Lisbon followed seventeen days in Gibraltar due to ship repairs.
Roy was awarded his Long Service & Good Conduct Medal in 1984.
Roy was a very keen sportsman.. in the late eighties he completed many marathons and at the same time raised much needed funds for various charities: Townsend Thoresen disaster fund, Malcolm Sargeant Cancer Fund for Children, The British Heart Foundation and UNICEF.
He took nine Royal Marines Cadets and three Instructors on a seven-day seamanship cruise in Majorca. He entered the London-Brighton cycle race and the Royal Marines Deal Tri-athlon finishing a very respectable third.
On Christmas Day 1990.. Roy married his Canadian bride Diane Alton onboard a cruise ship before travelling with Staff Band on their cultural visit to Russia in 1991 prior to the infamous Australia trip of 1991. In 1992 he became an Instructor at the Royal Marines School of Music in Deal Roy found a little side line to supplement his income when he became a rep selling Amway cleaning products.
Drafted to Fleet Band.??????
Roy Kaighin retired from the Royal Marines Band Service in May 1994, but that was far from the end of his military career with music. Roy and Diane actually moved to North Vancouver in Canada a few weeks earlier on Friday 18th March 1994.. and just four days later, he took over as Conductor of the Royal Westminster Regiment. A year later and he was in addition appointed Assistant Director of Music for the Band of the 15th Regiment Royal Canadian Artillery. He was also invited to teach at the Conductor's Course in Borden Ontario.
In October 1998, Roy who assumed the rank of Petty Officer took over as Pianist and Staff Music Arranger for the Navy Band in Victoria (the NADEN Band), a position he held until his retirement on 15th July 2011.. his sixtieth birthday.
Roy & Diane moved to Salt Spring Island in 2008, there they ran a B&B overlooking Fulford Harbour in preparation for their retirement. Away from his love of music, Roy was an avid sailor, hiker, marathon runner and a keen astronomer. He loved spending time with his family and his beloved dogs.
Roy was a gifted musician, composer and musical arranger, he composed and arranged hundreds of pieces of music. In 2009 he cleverly wrote the festive concert piece 'Santa's Journey' and his description of the score... As Santa starts his journey bringing "Joy to the World" by delivering presents to children and adults he sets off on his majestic sleigh driven by his reindeer. A few elves have snuck into the sleigh to help. With a whoosh he flies across the sky and over the snowy mountains. The music is in continuous motion just like Santa's sleigh as he has many presents to deliver before morning. The quiet moments in the music depict Santa's arrival in small villages away from the hustle and bustle of the big cities touching the hearts of people everywhere. During his journey Santa discovers the elves who have apparently lost some of the presents. Santa offers a gentle reprimand before the presents are eventually found by Elfie the youngest Elf. After all the presents have been delivered Santa heads back home as he calls out "I'll be back next Christmas.
On 14th January 2010, Roy became the only musician in Canadian Military History to be awarded the esteemed Navy Bravo Zulu award for his legacy of music. The BZ awards are presented to individuals who have demonstrated outstanding dedication and performance. For his contribution to Canada, Roy was presented with the Diamond Jubilee Medal by His Honour the Lieutenant Governor of British Columbia at a ceremony at Government House in Victoria on Friday March 30th 2012. The Queen Elizabeth II Diamond Jubilee Medal was created to mark the 60th anniversary of Her Majesty's accession to the throne.
Sadly.. Roy Kaighin was diagnosed and suffered from Parkinson's Disease for a long time. He was receiving palliative care in Lady Minto Hospital on Salt Spring Island before he passed away on 2nd December 2016 aged 65.

He left behind Diane, daughter Sharron and two grandsons Joshua & Sean.
Roy was a true gentleman who touched the hearts of many and is sadly missed by people from all around the world.
RIP Roy