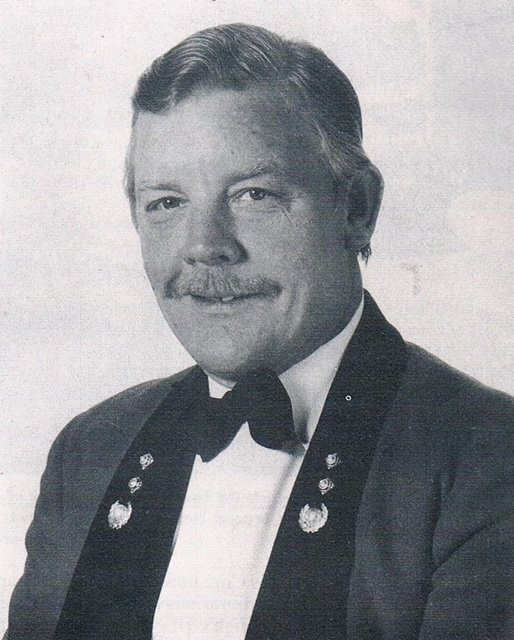 Ronald James Patrick Kempton was born in Hendon Middlesex on Wednesday 11th March 1936 to parents James and Veronica (Keane). He travelled to the Depot RM Deal to enlist as a Band Boy at the Royal Marines School of Music possibly in 1950, where he studied to be a Euphonium & Cello player.
From 1955-56, Ron was a member of the Band of the Commander in Chief East Indies Station, under the leadership of Staff Bandmaster Graham Shipway. The band were flown out to Ceylon on 4th October 1955 to join the light cruiser HMS Gambia and to relieve the band that had completed the first half of her commission. The new band were set for a cruise to the Persian Gulf, Pakistan and India... On 19th October, Gambia left Trincomalee, the main naval base in Ceylon heading for the capital Colombo. They spent two days in the city before sailing for Khor Kuwai in Oman, before moving onto Bahrain, where the band played for the radio at the Broadcasting Studios of Radio Bahrain in 1956. It was then on to Kuwait. On 14th November, the ship departed and navigated the Shat Al-Arab river, Iraq where they reached Basrah in Iran, Muscat Oman and Karachi, culminating with a five-day jolly in Bombay. The ship left India on 15th December to head back to Trincomalee, where they would spend Christmas and New Year. The band was then billeted at HMS Highflyer.. a Royal Navy shore base just north of Columbo for a three-month stay.
In 1958, Ron and the rest of the band led by James Mason appeared in Indiscreet.. a film starring Grace Kelly and Cary Grant, they attend a dance at Greenwich Naval College, where the Royal Marines Band were playing the music.
Ron was posted to join the RM Band Britannia Royal Naval College in late 1957. Ron was then assigned to the band onboard the light fleet carrier HMS Centaur until 1961, before his next task to the position in the Drafting Office.
Ronald met Teresa Tobin, although she was known as Teresa Allen because it was her stage name.. she was a singer herself which is how they met. The couple were married about November 1963 in Dover.. Ron and Teresa.. who already had a son Paul from her previous relationship went on to have another two children.. a daughter Ginny and Lolly, who they adopted.
Ron was an influential musician.. the principal euphonium and cello player in the Royal Marines School of Music Staff Band in the mid-sixties. He filled all his playing, whether it be euphonium or cello with true emotion and expertise and was a key figure in the early EMI recordings under the direction of the PDM, Lt Col Paul Neville. Ron also loved performing alongside George Simpson, Chris Sheppard and Len Bramidge in the band's string quartets. He travelled extensively with Staff Band including the Royal Marines Tattoo band tour of the North America in 1965.
Ron was appointed to role of Bandmaster of the Royal Marines Band Flag Officer Naval Air Command based at HMS Daedalus from 1965-69. It was the main training establishment and administrative centre of the Fleet Air Arm situated near Lee-on-the-Solent in Hampshire. Elevated to Staff Bandmaster, Ron gained plenty of seas time with a draft to HMS Ark Royal, occupying the post from 1969-1972, in that time, the Ark covered many nautical miles and visited numerous ports including Naples, where the band were treated to an outing to the ruins of Pompei in 1970.
Ron was Commissioned to Lieutenant in 1972, before his appointment to the office of Director of Music at Flag Officer Plymouth in August 1973. When Ron was at Raleigh he met Wren Officer Anne Minard. They were married about February 1976 in St Germans, Cornwall.
Ron was awarded the Licentiate of the Royal Academy of Music diploma (LRAM). He studied at the RAM at the same time as a certain Simon Rattle in July 1973, Ron was awarded the Rocordi Prize for conducting, finishing ahead of runner up.. Simon Rattle, who was knighted in 1994. In 1973, Ron was installed as instructor at the Royal Marines School of Music, the family made their home in Telegraph Road, Deal.
Lt Kempton was appointed as the Director of Music at the Royal Marines Band Flag Officer Scotland and Northern Ireland in 1978. He was a superb DOM to work for and a great time to be in FOSNI Band, he insisted on complete professionalism from all members of his band. A great number of musicians would have had the pleasure of being led by Ron, who was a very experienced musician, liked and very well respected by all. He challenged so many young musicians in the band to play better and he achieved his aim. John Aylmore, George Tate, Rod Stewart, Ian Milne, Malcolm Payne and the great Mac McDermott were just some of the very talented young musicians who made up the FOSNI Band and benefited from Ron's expertise. The Band blew hard and played hard and it was a great time to be in FOSNI Band. Ron never did mediocrity and under his leadership the Band gave some fantastic performances, notably a concert in the Manchester Free Trade Hall played to a full house.
Ron split with Ann and in November 1980, was married for a third time to Christine Lomas in Bakewell, Derbyshire.. Ron's best man was former Royal Marines Musician Malcolm Paine.

Ron retired from the Royal Marines Band Service in 1982 and returned to live in Deal. He later developed a long-standing relationship with council administrator Barbara Fraser. In 1986, Ron and Barbara became publicans when they began running the Crispin Inn, situated in the historic Cinque Port of Sandwich. The couple who were partners for twenty-seven years had an apartment on the Dover Road.
In January 2011, Ron was admitted to the QEQM Hospital in Margate with severe lung and serious heart problems. Sadly, on Christmas Day 2012, Ron Kempton passed away in Deal aged 76. Ron's funeral service was held at St Marys Church, Deal on Friday 11th January 2013. A brass quintet played at the service and included 'Georgia on my Mind'.. a wonderful piece performed by former Musician George Morrison. Ron's final journey concluded with a short service at Barham Crematorium and concluded with the playing of the Regimental March.
RIP Ron
Thanks to Paul Kempton who sadly passed away in April 2022.