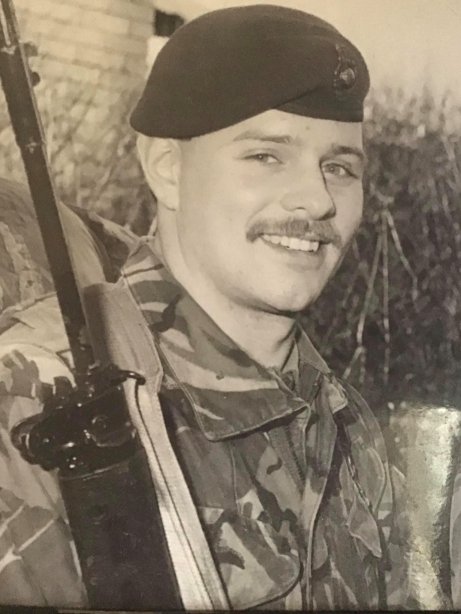 Roderick Iain Stewart was born on Monday 8th August 1960 in Rangiora near Christchurch in New Zealand. His Scottish parents travelled to the other side of the world, effectively hitch hiking their way around the country. They had all four of their children before returning on the ocean liner SS Northern Star, the inquisitive young Roderick came perilously close to falling overboard during the passage to Liverpool.
The family returned home to Scotland where they lived in the village of Birnam next to Dunkeld in Perthshire, the village appears in Shakespeare's play Macbeth as Great Birnam Wood. The area also inspired Beatrix Potter, who spent her childhood holidays there and from where she wrote Peter Rabbit... the Stewarts lived across the road.
Roderick was raised with older brother Robert (Bob) who became a Royal Marines Officer, Alisdair.. a forester turned Police Officer and their sister Careen.
Young Rod and his siblings were all educated firstly at Royal School of Dunkeld Primary School before progressing to Perth Grammar School.
On 13th September 1976... Roderick travelled to RM Deal to join the Royal Marines Band Service as a trombone player and a junior musician of thirty-two strong 3/76 Troop. They began their training under Instructor Sgt Heal, a prominent figure to the boys, who was rarely seen out of full lovats for the whole of basic training, he was firm but fair and someone the troop could aspire to. From then on and throughout his service life he was better known and always referred to as Rod, Jock or 'Roo'... Harry Harding had a nickname for everyone... his name for Rod was 'Guinea Pig`...

"All the local girls used to want to dance with him up at the Churchill Club discos (NAAFI Bop), they all thought he was essence"!
Part of training was the trip to Loch Ewe in the top end of Scotland... the train stopped at Dunkeld on the way up there and Rod managed to spend a couple of minutes with his mum and dad with the remainder of the troop hanging out of the windows!
While in Training Company he was rewarded with the role of Section Commander before progressing to the House Captain and was awarded the trombone class prize for 1977.
Rod was part of an extremely busy Junior Band throughout 1978... the young musicians and buglers ventured out of the United Kingdom for the very first time with a two-week long trip on HMS Hermes to Copenhagen, in fact no Junior Band had ever travelled overseas before. This was followed up in June with a coach trip to Deal's twin town Vlissingen in Holland, where they were met and accommodated by local families. The juniors also returned onboard the Hermes for a visit to Hamburg in October 1978. The following month Rod was selected to join the Royal Marines School of Music Staff Band for their support of 41 Commando's Ceremonial Duties in London between 4th-30th November, the first time since 1935 that the Royal Marines were tasked with the London Duties. Also taking part in the duties was his older brother... 2nd Lieutenant Bob Stewart who was an officer in the colour party.
On completion of training in 1978... Musician Stewart returned north of the border when he was drafted to the thirty-five strong Royal Marines Band Flag Officer Scotland and Northern Ireland (FOSNI), the band was based at HMS Caledonia before their move to HMS Cochrane (Rosyth Naval Base) a year later. He travelled down to London a few months later to take part with the Massed Bands featuring Portsmouth, Fleet, FOSNI and CTC, for the sombre occasion of the funeral of Lord Mountbatten on 5th September 1979.
Rod became part of a very excitable FOSNI Band between 1978 and 1982. He was a quality bass trombonist and renowned for his big deep tones, he was a member of the band that included other talented young musicians like John Aylmore, George Tate, Ian Milne, Malcolm Payne and Mac McDermott... an absolutely fantastic bunch of guys, led by influential Director of Music Lieutenant Ron Kempton. Following a concert in Kirkcaldy... the write-up in the local newspaper described the flute player (Dave Clements) as excellent and the bass trombone player as 'enthusiastic'!
The said trombonist travelled with the band on their first ever trip to Reykjavík in Iceland as guests of the United States Marine Corps... the first by FOSNI band or any other RM Band... the trip then became an annual event.
The band made regular trips over to Northern Ireland... and as a result, Rod and the majority of FOSNI ranks were presented with the General Service Medal with Northern Ireland Clasp, awarded for a minimum of thirty-days service in the Province. FOSNI Band regularly gave concert performances in Belfast city centre during the 80's and usually in camouflage rig. It was such a dangerous place to perform at the height of the troubles, they were a sitting target for the terrorists. Bob was the Royal Marines Officer and the head of a team responsible for Naval related intelligence so he had the unenviable task of providing their security for these visits.
In 1981... Rod was in the band that visited Bangor in Northern Ireland onboard the Leander-class frigate HMS Cleopatra (F28), FOSNI Band were there to take part in the celebrations to mark the linking of the ship and the town. The climax of the visit was a beat Retreat on the seafront... the crowd applauded after every single march!
One quality Rod didn't possess was punctuality... he was at the Royal Albert Hall performing in the 1984 Mountbatten Concert, his proud parents had travelled from Scotland to see the concert and took their seats eager to see their son on stage... he was absolutely nowhere to be seen, the lights came up and still there was nothing but an empty chair in his position, then just as the music started they saw what appeared to be a dark shape moving slowly and stealthily at low-level crawling on all fours... he quickly sat himself down and was ready to play his first note! ... He was then referred to as 'The Fox' after that incident!
Rod owned a Triumph motorbike while he was at Cochrane... and a Mark I Motorguzzi Le-Mans... in fact half a dozen of the band members had bikes... they called themselves FOSNI's Angels! They would set off on them and go on mini tours around Scotland.
On one particularly scorching hot day the lads went on a ride, they stopped in a cafe for a fry up and parked their bikes opposite. Looking out the window a while later they watched each bike in turn sink sideways and slowly crash to the ground like dominos as the tarmac melted beneath them!!
Rod delighted in taking his elderly grandmother on the back of his Ducati for adventures in the hills of Scotland, she'd be kitted out in her leathers, helmet and red leather boots... they would take additional resources including fishing rods, a flask of tea and sausages.. Onlookers would look surprised when at petrol stations, they would expect a glamorous young lady riding pinion... she would then remove her helmet to reveal a white haired little old lady!
Rod was a keep fit fanatic and would regularly be seen in the gym. He was also an important cog in the band rugby team... and like many of the lads in the band... he represented HMS Cochrane too.
In 1982 Rod returned south to join the Royal Marines Band Commander in Chief Naval Home Command based at Eastney Barracks in Portsmouth, under the direction of Captain Peter Heming.
Rod was amongst the musicians on stage for the 1983 Mountbatten Concert.. and one of the pieces that year was Peter Rabbit & Tales of Beatrix Potter... casting his mind back to his boyhood years at Great Birnam Wood.
Rod was selected for Royal Yacht duty in 1984 and because of his muscularity, his uniform had to be re-tailored, but it didn't return to him in time, so the boat literally sailed without him.
As a consequence of missing the trip on the Yacht... Rod left Portsmouth in 1984 and was drafted to the Royal Marines Band Commando Training Centre (CTC), where amongst his highlights were enjoying two trips to Belize. Rod... like many ranks at CTC lived in nearby Exmouth where he shared a house with fellow musician John Hart.
As fate dictated... missing the boat was a good thing, consequently Rod met Anne in 1985 while he was based at Lympstone... He was a real fitness freak... and Rod joined a gym called 'Willows' in Exeter along with some of his band mates... Anne worked at the gym. It was love at first sight for her and Rod's oppos helped orchestrate a date with him... and so their adventures together began. Rods keep fit sessions at 'Willows' matured into serious body building sessions. The band's fitness improved dramatically, especially Rod who seemed to get stronger and bigger every time he was seen... Bodybuilding was definitely the order of the day. He would often play in and around Exeter and Exmouth with the Oompah Band and rumour has it his star turn was to perform a little strip tease at the end, which delighted the ladies no end... and quite a few men apparently too!.. the moustache in those early eighties may have helped!
Rod decided to give up his leave entitlement and opted to attend the eight-week long 'All Arms Commando Course' in 1985, only three ranks had previously earned their green berets in the whole of the Band Service.
The course officer in command was nonother than his brother Bob... who looks back fondly at the amount of time he and his brothers' paths crossed during their time with the Royal Marines. Rod found the physical aspects of the course relatively comfortable as he was so fit... however, he continued to struggle with his time keeping! and Bob performing his officer duties to the book had to offer suitable punishments... For Rod it meant carrying the so called Bishops Crook (intended to represent the size and weight of a rifle but used by chaplains doing the course since they could not carry weapons). It was a serious badge of shame for a regular course member... Roo carried it a lot. Despite this he did exceptionally well, apart from being battered and bruised with weeping rope scars on his neck and losing his toenails. The considerably leaner Rod was successful and determinedly earned his coveted green beret... he was very pleased and proud that he had done it... and done it well. Rod also took time out to complete the Devizes to Westminster canoe race... a seriously gruelling event.
Many qualities were spotted in Rod during this time, but his eyesight wasn't perfect, he was headhunted to be an officer with the Gordon Highlanders... During an interview when he was offered a position. he politely refused saying if he could not be a Royal Marine officer, he would not be an officer at all. He wanted to stay with the Royal Marines and remained doing what he loved... playing in the band. Rod would have made a brilliant officer and would have gone far as he had all the qualities required.
He really was quite an all-round sportsman... excelling in virtually everything he took part in; he represented the Royal Marines at both rugby and hockey... and was an incredibly fast cross-country runner... breaking many records.
He took the difficult decision to leave the Royal Marines after nine and half years so he and Anne could take a year out travelling around the United States and Canada. He'd performed at many high profile engagements, notably the Charles & Diana's 1981 Royal Wedding and many Massed Bands including Horse Guards Parade, Mountbatten Festival of Music, Royal Tournament, the Royal British Legion Festival of Remembrance and the Lord Mayor's Show… Musician Rod Stewart's terminal date was 15th April 1986.
Whether having a famous pop star with the same name was the catalyst for having his name shortened.. who knows..
However.. whilst living in Las Vegas, Anne lost him in a casino, so she put out a tannoy call... "Would Rod Stewart please come to the front foyer"... around five hundred people, stampeded to the front of Caesars Palace! cameras were poised as Rod appeared and wondered what on earth was going on!
When Rod and Anne returned from their North American adventures... they both moved to Scotland... living in his parents' caravan in Cromdale near Aviemore.
Rod applied and was successful in joining the Metropolitan Police... undertaking his police training at Wanstead in London, meanwhile Anne took the decision to return to Exeter to continue with her studies. On the day of his pass-out from police training in 1988... he was presented with the award for 'Outstanding Achievement in Sport and Physical Training'. For the next two years Rod commuted on his motorbike from London to Devon whenever possible to spend time with Anne.
Rods' grandmother, with who he had so much affinity said to him before she died, that Anne was very special and he should marry her and not let her get away. Rod promptly posted a letter to Anne asking if she fancied being Mrs Stewart. Her heart burst when she opened the letter, but she made him propose again in person the week after just to make sure!
Following the couples' four-year romance Rod and Anne were married at Dunkeld Cathedral on 16th September 1989, which is situated on the north bank of the River Tay in Scotland. Following their marriage, they occupied police accommodation in London, before buying their own property in Richmond Surrey.
PC Stewart was initially based in Brixton, an extremely delicate place to work given the riots of 1981. There he worked with disadvantaged and troublesome children, taking them out on mini-bus excursions and day trips, as part of the Brixton Youth Project and to encourage them towards a more positive attitude in life. He engaged so much with locals and young kids with various schemes on Brixton's Stockwell Park Estate and it was no coincidence that the crime-rate decreased during his time there. Rod took part in numerous police operations, riot control and other major events. He was a highly respected policeman before progressing to the Metropolitan Police Mounted Branch, a unit consisting of 110 horses and 135 officers, he had no enemies and was very popular with all his colleagues, a real team player. His qualities amassed in the Royal Marines stood him in good stead throughout his life. Moving to the Mounted Branch of the Met was the best career move he ever made... he loved the job, especially when patrolling his neighbouring Richmond Park... some guys have all the luck!
Rod hated technology and was a very private person, he refused point blank to work in any role that involved a desk or a computer!Unsurprisingly... Rod played rugby for the mounted branch, he also entered the Scottish Islands Peaks Race representing the branch. This adventure race is for teams of sailors and fell runners and is held annually on and around the most beautiful parts of the west coast of Scotland. The race begins in Oban with a short hill run, then a sail to Salen on Mull, run over Ben More, sail to Craighouse on Jura, run the Paps, sail to Arran, run Goat Fell, then sail to Troon. The race would take three to four days and catered for multihulls, racers, and cruisers. Each team consisted of five.
Rod was seriously injured in a riding accident while training at Imber Court, the sports club of the Metropolitan Police and as a result he was retired from the Force in 1999. Following his retirement on medical grounds... Mr Rod Stewart had a variety of job opportunities... he was employed in film and TV security with the Corps of Commissionaires, then worked for London Ambulance. He also had a role delivering hugely expensive Ferrari's, Bugatti's and top of the range Porsche's round the country... He tried to convince Anne that it was work...
He finally took up a role as a 'Cycling Proficiency Instructor' in London. Due to his passion as a motorcyclist, he was very committed about the role of road safety for children and was a stickler for rules of the road and potential danger. Rod was an excellent driver, somehow every trip on a motorway involved getting quite irrate about drivers misunderstanding the 'lane merging rule' You use both lanes!
Rod remained a motorbike fanatic, especially classic motorbikes... he spent most of his beer tokens on them! His last pride and joy was a Ducati Superbike 996. The day he bought it, he went for inaugural eighteen- mile show off ride to Box Hill where hundreds of keen bikers meet and admire each other's bikes, he revved the beast up... in front of the biker café audience.. all eager eyes were focused on his superbike, he slowly pulled out of the carpark opened the throttle and unceremoniously slipped on an oil spill, skidded sideways several metres into the kerb... Rod busted his shoulder and bruised his ego... the rider and bike were embarrassingly carted off rather worse for wear, a shiny new custom painted top of the range Ducati... crumpled on its first day out!Anne bought him a beautiful sounding Edwards Bass Trombone for his birthday, to try and rekindle his musical enthusiasm... which it did. He played regularly with local bands, at local fairs and he helped raise many thousands of pounds by playing weekly at Charing Cross Hospital, the last count ten years ago was over £35,000.
Due to his upbringing... Rod always supported the All Blacks... he collected every New Zealand shirt throughout the years and watched every sport he could. He was interested in history... especially military history and was extremely knowledgeable. He would watch every Mountbatten Festival of Music, anything on television anywhere in the world that had the Royal Marines in it, quite often with tears in his eyes...usually playing his air trombone.
A few months before he died, he was absolutely over the moon to receive an email out of the blue trying to trace him to attend 3/76 Troops Fortieth Reunion in the forthcoming October, he was so touched and happy beyond belief and so looking forward to meeting all his mates again, sadly he died before he could see them. His favourite saying was "Cheers... All the best" when he said goodbye... he would have loved to have had the chance to say that again one last time.
Rod sadly passed away on 13th August 2016, he'd just turned 56 years old and died suddenly of a heart attack while at home in Richmond. His funeral service was held on Thursday the 8th September 2016, at a packed Mortlake Crematorium in the London Borough of Richmond upon Thames. Many Royal Marines made it from near and far to attend and members of 3/76 Troop paid tribute with a beautiful white wreath. Rod's coveted green beret lay proudly on his coffin, a eulogy was presented by Bob and a Bugler from Royal Marines Band Portsmouth played an excellent Last Post and Reveille. The 1984 Mountbatten Concert recording of 'Soldiers of the Sea' that Rod featured in was played as the recessional music... When the music began... Anne and his children tearfully played Rods' famous big bold notes on their air trombones, they turned round to see his bandmates sitting in the pews behind also playing along with him with their own air instruments one last time... it was very moving.
Rod was charming, respectful, industrious and brave, he was always very well mannered, polite and he had time for everyone, always had a twinkle in his eye and a wide cheeky smile and he genuinely cared. He was always smart and Immaculately turned out throughout his life, but just ten minutes later than everyone else!
He was first and foremost a family man, who was a proud and devoted father to Lauren and Callum (who has joined the Royal Marines Reserves), they both adored him and he managed to live long enough to see them both grow into remarkable adults. He was a wonderful, loyal, supportive and loving husband of twenty-seven years to Anne, he possessed a heart of solid gold and was quite simply an outstanding human being who was taken far too soon.
RIP Rod..."Cheers... All the Best"
Paul Foley