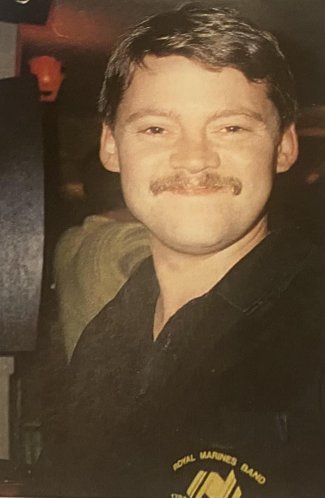 Richard Mark Jones was born on Wednesday 18th July 1962 in Swansea and was raised in the Mumbles area of the city, on the western edge of the bay. Following his successful audition at the Royal Marines School of Music, where he was offered a position as a flautist, Richard made his way from South Wales to Deal at the same time as another sixty-two young boys, where they joined the Royal Marines Band Service on 10th September 1979. Their arrival signalled the formation of the large 3/79 Troop, where they were guided through training by their DI Sgt Tony Martin.
After successfully making it through training, Taff joined the Royal Marines School of Music Staff Band, before he was drafted in November 1984 to the Royal Marines Band Flag Officer Plymouth at HMS Raleigh, under the direction of Lt John Perkins. However, at least six months of his time with the band were spent nursing rugby injuries.
Richard married Wendy Hook early in 1985 and together the couple made a formidable team, Taff later rejoined Staff Band and they made their home in Middle Deal Road, they didn't have any children. Away from band duties, his love and commitment to sport was huge, his passion for rugby union was unquestioned and it played a key role in his life, spending many afternoons playing scrum half for Deal Wanderers. He was also a great fan of cricket, turning out for Betteshanger Staff Cricket Club. He gave up many evenings throwing darts for both the 'New Plough' and 'Admiral Keppel' pub teams, the latter included fellow musicians Bob Simmonds and Tim Reeves. They played on Monday nights in the 'Blind Dog League'. The lads in the team were also collecting money to purchase another guide dog. Taff was also a keen fisherman who especially looked forward to the yearly run of cod through the sea off Deal each November... it's difficult to believe he had the time for music.
While he was with Staff Band, Taff would have performed at many prestigious engagements, including the Mountbatten Festival of Music, he featured prominently at the Royal Albert Hall in 1988, when the Massed Bands played through the very first video recording of the concert.
Sadly, Richard was one of those eleven musicians cruelly taken in the cowardly attack at the Royal Marines School of Music on 22nd September 1989, aged just 27. Fellow troopers David McMillan and Mark Petch were also named as victims of the atrocity. "His enthusiasm was contagious and as the months went by, Richard developed a unique tone, instantly recognisable as Richard's sound. Music aside, Richard asset was his irrepressible personality, whether on the sports field where he was multi-talented, in a cold and wet military training situation or on the coach going on engagements, he was always centre of things" (John Perkins). Richard's funeral service with full military honours was held alongside that of Bob Simmonds on 3rd October at St Michael and All Angels church in South Barracks, their two coffins draped in Union Flags were carried from the Officers Mess to the church. The service which was attended by around four-hundred mourners culminated with a moving rendition of Land of My Fathers and the Naval Hymn. The service was followed by a committal service at Barham Crematorium.
Darts professional Jockey Wilson later attended the Admiral Keppel to perform in a darts exhibition.. the money raised that evening went towards two blind dogs, who were appropriately named Taffy and Bob.
In 2018, ladies and gentlemen from the Swansea Bay Branch of the RMA travelled to Deal for the weekend in order to walk the Royal Marines Heritage Trail and to participate in a ceremony that was held at the Memorial Bandstand in remembrance of all those lost... in particular their own Richard 'Taff' Jones.
RIP Taff