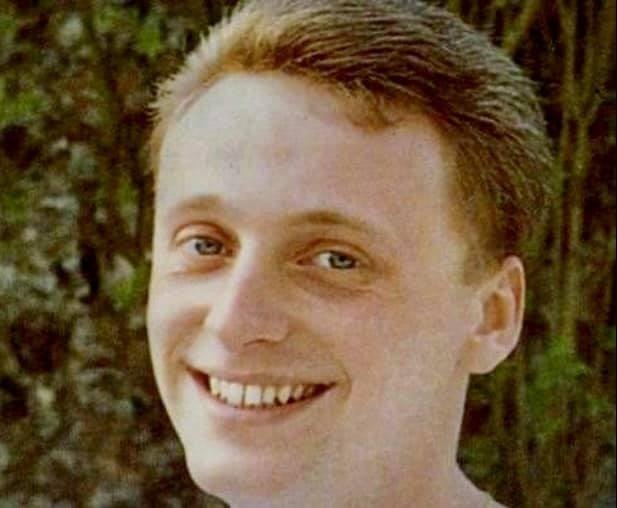 Richard George Fice and his identical twin brother Stephen were born to parents John and Marcia on Tuesday 31st January 1967 in Cardiff West Glamorgan.

As a youngster, Richard learned to play the cornet through the county brass band system. He first became interested in joining the Royal Marines during a visit with the South Glamorgan Youth Brass Band whom he was the principal cornet player. Richard met his girlfriend Helen when they both pupils at Whitchurch High School, the school that later boasted other talented pupils like footballer Gareth Bale and rugby legend Sam Warburton.
Richard's ambition was realised when he joined the Royal Marines Band Service on 30th April 1984 as a solo cornet player, he was one of only three members of 2/84 Troop... one of the trio (N Barker) left early in training, leaving only Richard and Colin Hughes.. Richard was under the instruction of BSgt Keith Davies and Professor Syd Rose for the duration of his time in the wing. He was only a year into training when Dickie.. as he was known in training, was awarded the 'Brian Johnson Memorial Trophy'.. presented to the best cornet player of the year.. he retained the accolade the following year.
On completion of training, Musician Fice was drafted to the Royal Marines Band Commander in Chief Fleet, based at RAF Northolt in Middlesex.. the band under the Director of Music Captain Mick Goss travelled extensively in 1988 with Richard taking in trips to Gibraltar, Malta and Belize. He twice experienced massed bands in 1988 with performances in February at the Mountbatten Festival of Music and in June for Beat Retreat on Horseguards Parade.
Richard was honoured to be Best Man at fellow trooper Colin and Kay's wedding in July 1988.. the following month Richard was one of the lucky twenty-five ranks that earned selection for the four-month deployment 'Outback 88'. Flying out initially to Hong Kong for a five-day sojourn onboard HMS Ark Royal, the band then transferred to RFA Olwen for a week-long sail to Singapore, it was then on to Brisbane for World Expo 88, before travelling down to Sydney to take part in the Bicentennial Fleet Review.. Further stops in Melbourne, Adelaide and Perth completed a memorable trip for Richard and the Fleet Band lads.
In the spring of 1989, Richard was drafted to the Band of HM Royal Marines Commandos at the Commando Training Centre, Lympstone Devon.. as close to his hometown as a band could be. However, CTC wasn't for him and he completed his drafting preference form with Deal as his preferred option as he wanted to be able to travel up to London regularly for further music lessons.. that was the sort of focused and dedicated man he was. His stay in the West Country didn't last too long before he was granted his wish and drafted to the Royal Marines School of Music Staff Band, joining the band on 5th September 1989.
Sadly... and with just over two-weeks in his new band, Richard George Fice aged only twenty-two was one of the eleven musicians murdered in the atrocity at Deal Barracks at 8.22am on 22nd September 1989. His funeral service was held at Llandaff Cathedral in Cardiff, with full military honours. A memorial service for the victims was held at Canterbury Cathedral on Wednesday 22 November 1989, attended by the Duke of Edinburgh the Captain General of the Royal Marines. The Royal Marines Orchestra played at the service.
The Richard Fice Memorial Award is awarded annually in his memory.. following the outrage, the conductor of the South Glamorgan Youth Brass Band Dewi Jones organised a public subscription to pay for a prize for young players. It continues to be a success and is open to members of Cardiff County and Vale of Glamorgan (CCVG) music ensembles up to the age of nineteen. The award which was first presented in 1991 has helped promising local players further their careers by enabling them to purchase instruments, pay for tuition or attend residential courses. The Memorial Award is presented along with a prize of £2,000, with many previous winners of the award going on to become professional musicians. Whitchurch High School also hold an annual Richard Fice Memorial concert.
Work began in August 1992 on a memorial bandstand which was erected on Walmer Green, the opening concert was held on 2nd May 1993 and included a fanfare played by the Trumpeters of HM Royal Marines. Eleven sides of the twelve-sided Bandstand structure have engraved tablets bearing the names of those who lost their lives.
In December 2010, Richards' parents and twin brother Stephen, were present at City Hall in Cardiff to receive the Elizabeth Cross and Memorial Scroll.. a mark of national recognition for the loss suffered by the next of kin of Armed Forces personnel killed on operations or as a result of terrorism.
At the time of the bombing, Rick and Helen had been together for six and half years... "You never get over it, I still miss him, I still love him and there is a part of me that still belongs to him."
Helen went on to marry, she's blessed with two sons and lives in South London.
Tragically Colin Hughes was killed on 22nd September 2012 in Australia, unbelievable coincidence that he and Richard, troop buddies, best man and best friends were so needlessly taken on the same day twenty-three years apart.
RIP Richard