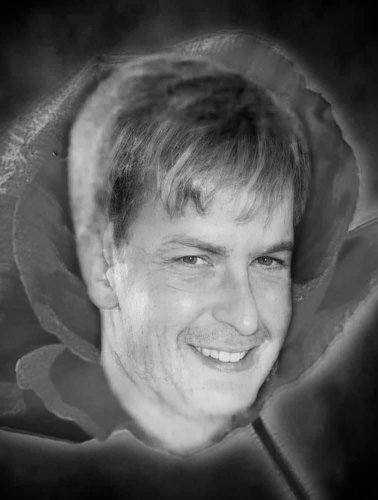 Timothy John Reeves was born on Monday 16th November 1964 and originated in Shaw near Oldham, where he was raised by parents Kenneth and Carol (Robinson). Tim grew up as the joker in the family with his older twin siblings Simon and Janine, the family lived most of their childhood in Shaw, where they were pupils at Rushcroft Junior School then Royton & Crompton Secondary School.
Tim, like many other children began his musical journey playing the recorder, but he wanted to progress and had a desire to learn the trombone. His parents sourced a quality used trombone.. so from that point Tim was hooked.. he had to have an extension bar fitted to the instrument as his arms were not long enough to play all the notes. Whilst still at junior school, Tim's musical foundations were set when he attended Oldham Music Centre.. the local municipal music service who were committed to supporting and fulfilling musical aspirations in young people. His music teacher and band leader George Thorpe realised Tim had some talent and eagerness to learn and allowed him to play with the senior band from time to time to aide his progress even further. In 1977, Tim played with the senior band at the opening of the new Queen Elizabeth Hall in Oldham by Her Majesty Queen Elizabeth The Queen Mother.. she made a b-line for twelve years old Tim.. remarking on his age and his small stature compared to his adult band mates. When Tim left secondary school he had successfully passed musical exams to grade eight.
Tim travelled to Deal and joined the Royal Marines Band Service on 7th September 1981 as a Junior Musician and a member of 2/81 Troop, a large intake that included Mick Ball. Tim had previously made the trip to Deal for his audition but unfortunately, the School of Music were at the time oversubscribed with trombonists, so he was offered and accepted a place on clarinet and violin.
On completion of training, Tim joined The Band of HM Royal Marines Commandos based at the Commando Training Centre at Lympstone in Devon 1987 under the baton of Captain Jim Ryder. While he was at CTC, he travelled to Norway for ski training, he was also selected for tours to Belize, Northern Ireland, Cyprus, Genoa and the South of France, he also performed in the successful Oompah Band. He played in FA Cup finals, at the Edinburgh Tattoo, Queen's Garden Parties and Beating Retreats on Horse Guards Parade. Tim lived ashore with Matt Gates and others in the band at 24 Roseberry Road in Exmouth. He sold his maroon Vauxhall Chevette to fund his old red Ford Fiesta van.. given to him by his dad.. He drove everywhere in it.. including many occasions on leave to Shaw with Matt, he had to stick some carpet on the inside panels to reduce the noise. Tim was a very fit sportsman and successfully represented the Royal Marines at hockey.. winning the Halse Cup and Clarke Trophy.
Following a short period of time with Raleigh Band, Tim was drafted to the Staff Band of HM Royal Marines School of Music. His partner Louise Lowe who he met in Exmouth accompanied him when he made the move to Deal, they found a home to rent at Jarvist Place in Kingsdown close to the beach and soon after they celebrated their engagement. Tim became a member of a local darts team.. the 'Admiral Keppel' in Manor Road along with Bob Simmonds and Taff Jones. Deal's oldest pub 'The Farrier' was built in 1662, but renamed the 'Admiral Keppel' in 1778.. Keppel had gained fame for the capture of Havana in 1762. The pub reverted back to its original name 'The Farrier' in 2016. Tim was also big mates with Andy Cleatheroe.. they loved waterskiing on the back of Andy's speedboat.
Musician Tim Reeves was sadly a victim of the atrocity at the Royal Marines School of Music on 22nd September 1989, aged just 24. On that fateful morning like a few others, including fellow trooper Mick and Andy, he was late to turn to, otherwise he wouldn't have been in the changing grot.. He arrived at the building just seconds before the blast at 0822. Tim's body was the last to be recovered at 1.15pm. Meanwhile, Tim's parents had already began their dash down to Deal in the afternoon, leaving the other members of the family at home, where they spent the day avidly watching the news, hoping for something positive.. they were woken by the police who called at the family home in Shaw to inform them of the tragic news at 1am… There wasn't a mark on him, just a little bruising and he just looked asleep.
Tim's private funeral service was held on 2nd October 1989 at Oldham Crematorium in Lancashire. "Music was replaced with Mayhem, harmony with discord, death instead of life"... words of The Reverend Howard Moore who officiated at the service. The local British Legion branch later added Tim's name to their corner of local armed forces lost lives.
Every year, the Royal Marines Band from Portsmouth travel to perform a concert and rededication service at the Memorial Bandstand in Deal. Over the years, the concert has become an annual pilgrimage for many musicians, buglers and their families past and present to go and to pay their respects to those brothers who were so tragically taken in 1989. The Reeves family are regular attendees.
RIP Tim