Ray John West Career History
RMB/x-2111
1944 - 1959 RMBS
Joined the service as a Band Boy / Musician, 10/01/1944, initially in Isle of Man with Joe Simm & then on to Burford with Maxie Beare et.al. (Later also with Michael Hutton)
R.M. School of Music until 16/03/1947
HMS Sussex 17/03/1947 – 16/12/1948
HMS Belfast 17/12/1948 - 17/04/1949
On passage 18/04/1949 – 21/05/1949
R.M. School of Music 22/05/1949 - 05/10/1949
HMS Ganges 06/10/1949 – 05/03/1952
R.M. School of Music 06/03/1952 - 28/04/1952
HMS Glasgow 29/04/1952 - 02/08/1953
HMS Phoenicia 03/08/1953 – 10/01/1954
R.M. School of Music 11/01/1954 - 03/04/1957
HMS Terror 04/04/1957 – 12/08/1958
R.M. School of Music 13/08/1958 - 05/05/1959
1959-1971 RNZN Band Service
(Evidently and this has been confirmed by Vince Harris, HMS Blackpool (F-77) would spend time with the New Zealand Navy, on loan for five years and actually commissioned into the New Zealand Navy as HMNZS Blackpool from 1966 to 1971) Ray got a lift home to the UK when the Blackpool was returned in 1971, but as a civilian on what was termed as an "Indulgence Passage" and we believe he was signed up as a canteen assistant!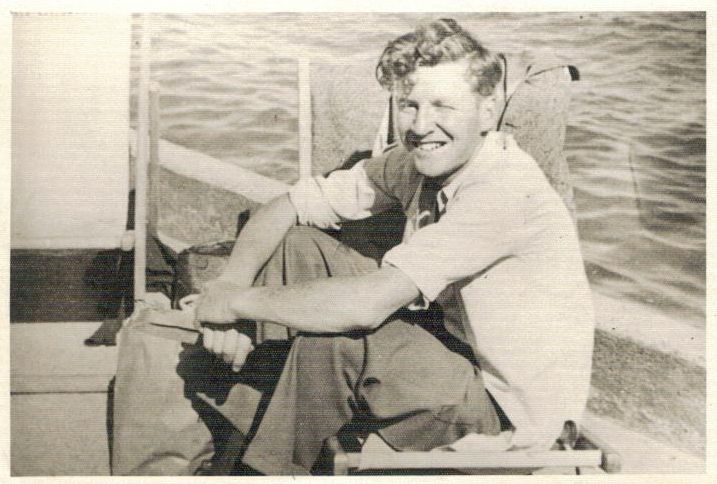 Ray West at sea 1953
That's all we have but would welcome any history / old shipmates recollections.
Hope all ex RMB's had a Happy Christmas and are looking forward to a safe & prosperous New Year!
My best contact is:
adkinssteve@outlook.com
Best Wishes
Steve Adkins
(07884-021452)