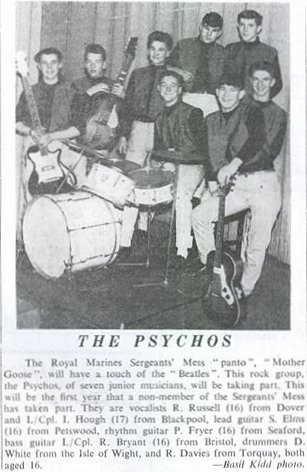 Hi Richard,

Came across this photo of Junior Wing group Psycho's Feb 1964. Apart from Russ Davies who I'm constantly in touch with, where are they now?

Many thanks for your unfailing work keeping this magnificent web site up to date.
With very best regards.
Dave White

[Editor's Note] Literally only the day before, did I receive an e-mail from Stu Elms and I quote:
"Dear Dickie,

Part I Rumour has it that what with Paul McCartney, Led Zeppelin and Queen comebacks, The Psychos (Deal 63-69) are also - at the RM Reunion in October!
If you could spread the word Dickie - I need contact numbers for Tufti Bryant and Russell Davies.

Hope all is well with you mate.......Stewart"