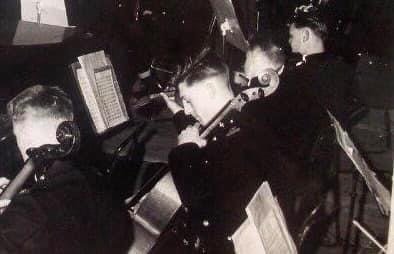 Paul Randolph Tilden Smith was born in 1942 and from East Grinstead in West Sussex. He joined the Royal Marines Band Service around 1956 as a euphonium and Cello player. He was rated in April 1960 along with the likes of Mervyn Durrant, Willi Watson and Bernard 'Taff' Pierce in No 31 CG Squad. Harry Prescott was in the same Neptune house room as Paul (Smudge) and Dave Mullan who was the Corporal. Paul was around 6ft and a black belt in Judo, he was also a great admirer of the Cellist Pablo Casals and as a result.. he was given the nickname Pablo. Willi Watson also shared the same room in Neptune house.. and Dvorak's Cello Concerto.. always reminds him.. (with a lump in his throat).. of his long lost friend.

Musician Paul RT Smith was tragically killed in a car accident on the sharp bend at the Sportsman's Arms at Hemborough Post on the Dartmouth to Totnes road in March 1966.
Paul who was married was only twenty-four years old.. and had just been drafted from the Royal Marines Band Britannia Royal Naval College to the Royal Marines Band at HMS Drake in Plymouth. He had returned to Dartmouth for a run ashore along with his pal Leslie John Miles.. they went everywhere together. The lads were socialising in the Market Tavern in the town on Saturday 5th March.. also ashore with Paul that fateful night in the Tavern were Dartmouth ranks: Paul Roberts, John Fawcett, Onge Morris and Eggy Hobbs.
Paul (a learner driver) and his close friend Leslie who was an aircraft handler based on HMS Hermes and a former school pal from East Grinstead, were returning to Plymouth in the early hours of Sunday 6th March 1966 when the terrible accident occurred. There's is a very sharp bend which wasn't taken in the accident, the vehicle collided with a hedge and resulted in the car crashing straight into the wall of the pub with tragic consequences. Leslie was seriously injured and taken to Torbay Hospital before being transferred to the Royal Naval Hospital Stonehouse in Plymouth.
He shared a mess in HMS Drake with eight beds to a room, they were all woken early on the Sunday morning to be given the sad news.
The BRNC band all attended Paul's funeral which was held at the church in HMS Drake.
A verdict of accidental death was given by the jury at the inquest at Totnes, Leslie told the inquest that they'd gone to Dartmouth on 5th March to collect some suitcases before going into town, where they each consumed a pint each in four separate pubs. They left Dartmouth just before midnight to return to Plymouth, as far as Leslie could remember, Paul seemed sober and driving satisfactory.

RIP Paul