Hi Richard,

I hope that you are well and that you enjoyed the reunion.
I found this photograph the other day and thought it might be of some interest.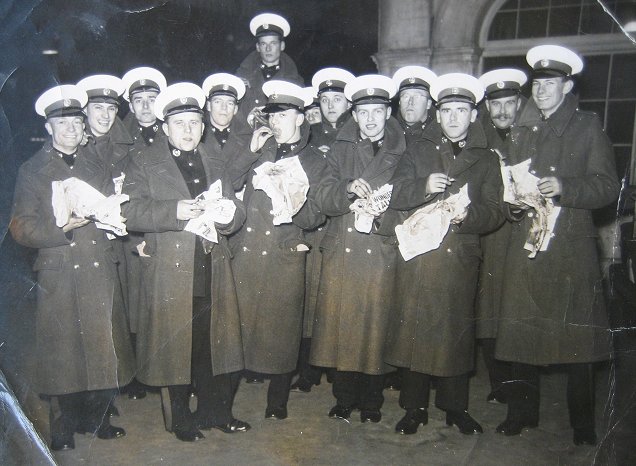 The Home Fleet Band (H.M.S. Tyne) Exeter Station Friday 5th. February 1960. We were travelling from Plymouth to Portsmouth by rail to join H.M.S. Tyne which was in Portsmouth.

(Some names I can't remember but I have got the majority)

Left to Right)

Dave Fillingham, John Whelton, Stan Hacking, Tex Herd, Bob Stevens, Bob Chumley, Jimmy Kay, 'ME" Dave Elliot, Ginge Howlett, Paddy Fullerton, Colin Sharp, Roger Smith and Ken Wilson. Not in that particular order.

Hope you can use it. Take care
Best wishes.


Erick
Dear Erick,

I saw your article and photos on Dickie Valentine's website - it was me you forgot!
You forgot that little face in the very back (as always!). I have some fond memories of the Tyne. There are a few of us out here and if you click onto the Australasian Reunion you will probably see people that you have heard of or served with. Hope this fills in the gap...

Regards,

Bob Chumley
[Editor] Just looking at the newspapers hanging from the guys, whets ones appetite for good ol' fish and chips the only way they ever tasted so good. Whether the Daily Mail, or News of the ****** that was the only way to eat our national dish.