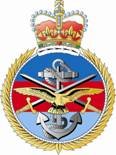 My name is Adrian Breen and I have just taken over as VBI at Northwood HQ. I was scanning the internet to see what advertising was out there and I stumbled upon your website. I was wondering if it would be possible to update Dave Boorers' plea for ex-bandies at all? I would be most grateful if it is at all possible as numbers are waning and it would be a shame if there were former members of the RMBS in the area and weren't aware of the band.
I am currently the volunteer band instructor of the Northwood Headquarters Volunteer band, and I am writing to you to ask if you could post through your website a request for any ex-bandies living in the Middlesex area, or North London, who would be interested in joining this band.
We are particularly weak in the cornet,trombone and percussion sections.
Out of all the Volunteer Bands, Northwood is the newest, having been formed eleven years ago by two ex-bandies, John Woodrow and Glen Thompson. We have about 40 on the books, with around 20 turning up regularly for the twice a week rehearsals.
You may add my contact details, as below, to the request.
Best wishes,
Adrian Breen
B/C/Sgt Adrian Breen RM
Northwood Volunteer Band Instructor
Northwood Headquarters
Sandy Lane
Northwood
HA6 3HP
Tel:01923957890
Mob:07595228790
PJHQ-JSU-OPS-BAND