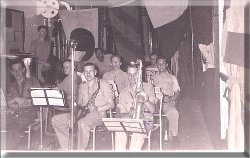 This photo, (left) is of most of the replacement HMS Terror band en-route to Singapore October/November 1952, aboard the trooper Empire Fowey.
Front row R to L
Sax's: Bill Williamson
Freddie Mills, Jock Middleton:
Trumpets: Maxie Beare, Keith Turton
Piano: Myself
Behind Maxie??
Drummer: A soldier helping us out
(Don Swann was already out in Singapore)
Double Bass: Wally Shillito
Hope these photos will revive a few memories.
Gerry Taylour