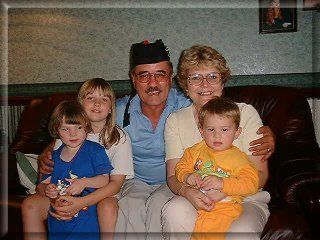 Jim - Marion - Charlotte 11yrs - Sarah 3yrs - Alex 2yrs
Hi Rich,

Just a quickie to attach a photograph of my wife Marion and I with our three Grandchildren taken on my 60th Birthday in January of this year.
Hope I'm still recognisable to some of our old Oppos.
Best wishes,
[Editor] I'm sure Jim will agree to keep this lovely photograph on the site in spite of the passing of dear Marion. A moment of joy to reflect upon as life deals its hefty blows. March 03 2008.