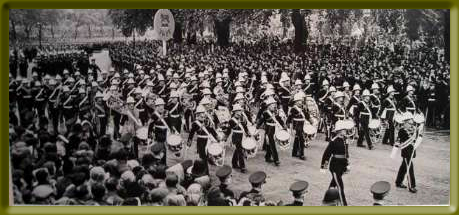 Hi Rich.
Long time now since I was in touch. Time taken up researching the Family Tree which is going well, and have gone back as far as 1731 on my immediate family, but going through the photo's again have found this one which if I do remember is in Battersea Park while doing one of the Royal Tournaments, memory is dulling a bit now at 70.
Nice to see Fred and Charlie looking so fine. Hope you are well, as we are and enjoying life. So sad to see the passing of Dave Walton such a great person. Also heard from Bob Chumley in Adelaide not seen him since 1964 at Manadon with Mick Hutton, also at his gathering was Barry Baker have not seen him since we were boys in J wing 1952.
Must make a big effort to get to the reunion this year as there are still a lot of us still going.
Our very Best wishes to you and your helper on these wonderful pages.
God Bless you.
Noel & Sheila