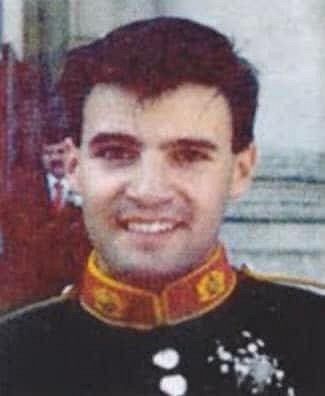 Michael Francis Patrick Ball was born in Rochford Essex on Sunday 9th May 1965. He was raised along with his younger brother Trevor by their Irish parents Marie (Dunne) and Ernie, who himself had a career as a serviceman with the Irish Guards. The family moved to Portsmouth in 1972, where they ran a fish and chip shop.
Michael took up piano lessons at the age of six and joined the Royal Marines Cadet Force as a fife player two years later. He served with the detachment until the age of sixteen when he made his way to Deal to join the Royal Marines Band Service on 7th September 1981. He joined as a brother of 2/81 Troop, who initially had to undergo sixteen-weeks basic training.. the first extended basics for any troop. Michael then went on to spend a further two and half years studying as a flute player, he was also very proficient on piccolo, tenor saxophone and was brilliant with the penny whistle.
Mick's first draft on completion of training was to the Royal Marines Band Commander in Chief Fleet, based at RAF Ruislip. He was instrumental in the Fleet Band recordings in 1985 & 86. Away from his music.. Mick was a car enthusiast and a popular figure in the band, he was always very smart and dressed in the finery of the eighties with his unmistakable long black overcoat. His new romantic hairstyle was a sight to see when going ashore with his fringe falling over his eyes, before taking off in his red sports car…
It was while he was at Fleet Band that he met Maureen Grant.. a local bank clerk for Nat West. Mick returned to Deal in 1987 with a draft to the Staff Band of the Royal Marines, before he and Maureen were joined in marriage in Middlesex in August of 1988. They purchased their own home in Turner Street Ramsgate, after Maureen had secured a transfer to the bank's branch in the town. Mick enjoyed a trip to Florida with Staff Band, the purpose of the engagement was the launch of a cruise liner.
Michael Ball made it known that he wanted to complete twenty-two years' service in the Royal Marines.. sadly, he wasn't given the chance.. aged just twenty-four, he was cruelly taken in the cowardly bombing at Deal Barracks on the morning of the 22nd September 1989. He was a little under the weather on that dreaded Friday morning.. Maureen had advised him to call in sick and stay in bed.. although he was running a little bit late, he dismissed it and went into work as normal. The bomb detonated at the recreational centre changing room and the building collapsed. Michael and eight of his colleagues were killed instantly, including his troop brother Tim Reeves, another musician died soon after in the operating theatre, another passed away twenty-six days later and the atrocity left another twenty-one injured.
Michael's funeral service was held on 4th October at St Michael and All Angels Church in South Barracks and he was laid to rest in Northwood Cemetery, Middlesex.
RIP Michael