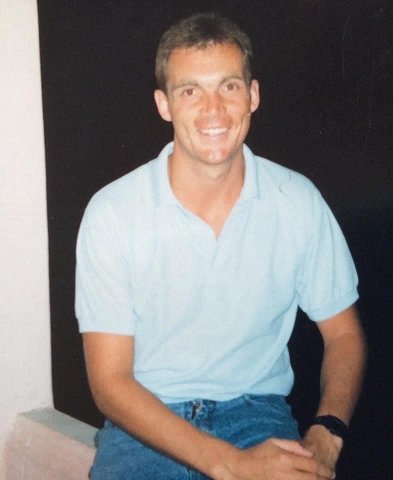 David 'Mac' McMillan was born on Monday 4th February 1963 in Edgware North London, Middlesex. David was the only beloved child of Margaret McMillan and for twenty-six precious years. The Prime Minister at the time was Harold Macmillan (No relation)!
David's love for music started at a young age, when he became a member of the local battalion of the Boys Brigade. He was a pupil at Kenmore Park Middle School and Cannons High School in Edgware, before progressing to Harrow School, which specialised in music and where he was initially taught how to play the tuba by teacher John Malcolm. Harrow on the Hill is a locality and an affluent historic village in the borough of Harrow. The name refers to the four-hundred foot Harrow Hill and is located some half a mile south of the modern town. Dave was always proud that he lived in Harrow prior to joining up, but he would clarify this by always saying he lived at the bottom of the hill !
David passed his audition at the Royal Marines School of Music (RMSM) in Deal to become a tuba and string bass player. He travelled from his home to join the Band Service as a Junior Musician on 10th September 1979, becoming a member of the sixty-three strong 3/79 Troop and the largest intake of recent times. His ability on Double Bass was finely tuned with the guidance of Professor Bill Hoare.
On completion of training in April 1982, Musician McMillan was drafted to the Band of HM Royal Marines Flag Officer Naval Air Command, based at HMS Heron in Yeovilton. He wasn't there for long before moving on to a similar spell with the Band of HM Royal Marines Commander in Chief Naval Home Command at Eastney. He soon returned back to Deal with the Staff Band of the Royal Marines School of Music. Having settled in back at Deal, Dave took the opportunity of moving ashore and found a property to rent along with Ian Quirke, Simon Morgan and fellow trooper Paul Weston in St George's Road at the other side of town. Highlights for Dave with Staff Band included his selection as a member of the fanfare team for the North America tour in 1985. The Staff Band of the Royal Marines School of Music, accompanied by the Pipes and Drums of the Argyll and Sutherland Islanders, began their grand tour of the United States in September, visiting a total of 78 towns and cities. Dave also enjoyed London Duties at Buckingham Palace and in July 1986, he was selected for the fanfare team at the royal wedding of Prince Andrew and the Duchess of York in Westminster Abbey.
Aside from his talent as a musician.. Dave was a keen all round sportsman, representing the Staff Band at athletics, football and rugby. In February 1987, Dave lifted the Montague Cup as captain of the Staff Band football team, following their 2-0 defeat of Portsmouth Band. He also represented the RMSM in the Tunney Cup. However.. it was on the rugby pitch that he excelled.. turning out for the Band, RM Deal and in the position of flanker for local team Deal Wanderers, alongside fellow musicians Bob Simmonds and Richard Jones.. it was a commitment they all made until their passing.
Dave was married to freelance hairstylist Mandy Lee on 6th June 1987, at St Michaels and all Angels church Deal, their best man was Ian Quirke. The happy couple made their home in Hamilton Road, Deal.. It always amused some of 3/79 Troop, that he met and married the daughter of one of their PTI's.. Tansy Lee.. Dave was a brave man! Mandy was also in her spare time the Chairman of the Deal, Walmer and Kingsdown Regatta Association.
Following his superior pass on the Junior Command Course.. Dave was promoted to BCpl early in 1989. During summer leave that year, Dave and Mandy enjoyed a holiday to Kalkan in Turkey (main photo).
BCpl David McMillan's life was tragically cut short when he was one of the eleven musicians killed in the bombing of Deal Barracks on Friday 22nd September 1989.. he was just 26. Ten Royal Marines were killed instantly and another.. Chris Nolan, passed away thirty-six days later as a direct result of the wounds he suffered in the blast.
Dave's funeral service with full military honours was held on 3rd October at St Michael and All Angels Church in South Barracks.. just over two years after their elegant wedding. His funeral service was followed by private committal at Barham Crematorium.
A memorial service for the victims was held at Canterbury Cathedral on Wednesday 22nd November 1989. The Duke of Edinburgh.. the Captain General of the Royal Marines along with the Prime Minister and other dignitaries were present. More importantly, The Royal Marines orchestra played at the service in the presence of the families and friends of those taken.
In January 1990, The Harrow School for young musicians held a memorial concert, the proceeds of which raised enough money to purchase a tuba that was inscribed with Dave's name and is still in use today in his memory.
Construction began in 1992 of the Memorial Bandstand on Walmer Green dedicated to the memory of those who only ever wanted to play music. The opening bandstand concert was held on 2nd May 1993 and included a fanfare played by the Trumpeters of HM Royal Marines. Eleven sides of the twelve-sided Bandstand structure have engraved tablets bearing the names of those who lost their lives. Dave and his colleagues are never forgotten, their names are also inscribed on a tablet in the Memorial Garden.
Mandy continued and found herself fortunate to have an amazing relationship with Dave's mum. She met and married Dave knowing there was another lady in his life. She knew exactly how Dave felt about his mum and in his absence, Mandy did all the right things by him for her. Sadly, Margaret passed away in 2018, Mandy misses her every single day, she was the only little bit of Dave that she still had left and now takes comfort knowing she is reunited with her beloved son.
RIP Dave