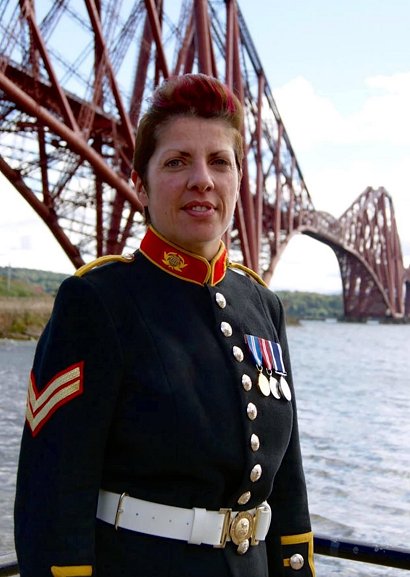 Shona Swanson was born to parents Hazel and Jim on Monday 16th February 1976, she was brought up with her brother Calum in Dyce... an area in the city of Aberdeen.. She was a pupil of Dyce High School.
She became one of the first women to enlist into the Royal Marines Band Service when she was one of ten recruits of September 1993, she studied as a clarinet and violinist. Following a successful training period, Musician Swanson was rewarded with a first draft to the Royal Marines Band Commando Training Centre (CTC) and with it a first trip.. one of the longest.. to the Falklands.
On 29th August 1999.. CTC Band including Shona departed Devon for the Mediterranean and Black Sea on a three-month (Exercise Argonaut) tour of duty.. The band were deployed onboard HMS Ocean.. and flew back home on 2nd December... She also had the novelty of being involved in the last ever Royal Tournament and a trip to Singapore rounded her time off at Lympstone.
Shona was then drafted down the road to the Royal Marines Band Plymouth for a short time, before she made the long journey back to her homeland in 2003 and to the Royal Marines Band Scotland based at Rosyth.
Shona was a regular at the Royal Navy Ski Championships, she later furthered her qualifications by successfully training as a Royal Navy and Royal Marines ski instructor.. teaching for around five years.
In 2009.. Shona returned to CTC to successfully complete her Junior Command Course on her way to gaining promotion to Band Corporal.
Shona was diagnosed with a brain tumour in 2011.. and was to signal the beginning of her biggest fight. She spent many years waiting for the right man to come along.. her wishes were granted when she and Frank McKeown got together in 2013. They met online and matched due to their shared interests.. Shona's major pastime was skiing and Frank was into snowboarding. She played in the band and Frank played music and was studying sound engineering. Shona told Frank on that first date that she'd been battling the tumour... Around a year after meeting.. the couple went on holiday to Spain with friends, Frank proposed in a beachfront restaurant and she said yes... They bought a house together in Dunfermline and on 12th September 2015 they were married in Shona's local church in Dyce.. Musician Victoria Brown was one of her bridesmaids. In the run up to their wedding the couple were given the devastating news that Shona's cancer was terminal.. but they decided to keep the news to themselves until after their celebrations.
Shona McKeown aged thirty-nine had been married to Frank for just twelve weeks when she sadly passed away on 10th January 2016 in Dunfermline Hospice. She was only a month away from returning to civilian life and retirement from the Royal Marines Band Service on 16th February which would have been her fortieth birthday.
Shona's funeral service was held at a packed Cairney Hill Church in Dunfermline on 22nd January 2016, with family, friends and many service colleagues paying their respects.
Shona spent a large part of her career in Scotland Band, so her passing was a huge loss to all the members of the band.
A charity auction was organised by the Band to raise awareness and funds for 'The Brain Tumour Charity'. It was a fitting event to mark her passing... Scotland Band were away on a tour of the US and Canada early in 2016 and consequently were unable to attend Shona's funeral, so the fact that they were able to contribute nearly £9,000 and present it with a memorial service in her honour was the band's way of celebrating her life and career.
Frank honoured Shona's memory by setting up a coffee shop that they'd dreamed of opening on her release from the Royal Marines. Frank said "We had talked about having a little coffee shop somewhere"... With help from his Aunt Marion.. Frank opened Cowane's Café at Cowane's Hospital.. a seventeenth century almshouse and one of Stirling's most beautiful historic buildings and close to Stirling Castle.
Frank and his six-year-old son Declan were joined by former colleagues of The Scotland Band who provided a fanfare team at the opening ceremony on 13th June 2016.
Shona was a very good musician, she was blessed with a great sense of humour and an infectious laugh.. She epitomised the standards of the Royal Marines in every aspect. A hugely determined lady.. she was professional and highly committed in everything she took part in and continues to be missed by everyone that had the privilege of knowing her.
RIP Shona
Franks story:
https://www.dailyrecord.co.uk/news/real-life/meet-widower-who-set-up-8183726.amp