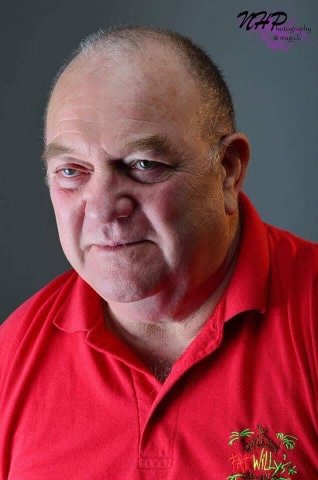 Born in 1951.. Geoffrey McGarr was educated at Harraby Secondary School in his home town of Carlisle in Cumbria.
He joined the Royal Marines Band Service as a member of 2/67 squad on 25th April 1967 and studied the trombone.
On completion of training in 1970, Musician McGarr's first draft was to the extremely busy Royal Marines Band CinC Western Fleet, based at HMS Pembroke, where in 1971 he visited Stockholm, Helsinki and Kiel under the renamed RM Band CinC Fleet.
Although not sure how much time.. motorbike enthusiast Geoff was part of the Royal Marines Band Britannia Royal Naval College Dartmouth.. around 1973.
He was a member of the band of HM Royal Marines Flag Officer Plymouth (FOP) in 1977 and the same year that he successfully negotiated his Junior Command Course. Not long after the course.. he was amongst many other members of the Band Service that was deployed on Operation Burberry, the armed forces including members of Flag Officer Plymouth Band were deployed nationwide to provide emergency cover on 14th November as the first UK firefighters strike commenced. FOP Band weren't initially required, but as the strike dragged on, they were called in to cover over the Christmas and New Year period mainly in Plymouth.
BCpl McGarr was one of the original members of the Royal Marines Band Flag Officer Third Flotilla Band (FOF3) that formed at Deal on 30th January 1979. The band flew from Gatwick to Gibraltar on 9th February where they immediately boarded HMS Hermes (R12). He didn't enjoy flying and the experience of the flight was such an ordeal for him, to Geoff it was more like a white-knuckle ride. They enjoyed runs ashore in Naples, Piraeus and Athens, before spending ten days at sea enroute to Norway.
On their return following the first trip and while on Easter leave.. Geoff married Patricia on Saturday 31st March 1979 in Plymouth.. a few months later on 18th August their son Martin was born.
Following his time at sea with FOF3, Geoff returned to Plymouth Band where he was promoted to BSgt. He was then drafted from FOP to become Volunteer Band Instructor on HMS Glamorgan in 1986, before returning once again to Raleigh.
Geoff made a return to Royal Marines Band Commander in Chief Fleet, now based at RAF Northolt in 1988.
Amongst many overseas trips for Fleet Band, Geoff enjoyed the annual trip to Gibraltar in 1989, then the following year the band flew out to Hong Kong to embark on HMS Bristol in 1990 visiting Tokyo, South Korea and back to Hong Kong.
Geoff who had a great passion for photography retired from the Royal Marines Band Service in February 1991. He opted to take on a second career by becoming an officer with the Metropolitan Police, serving from April 1991 until November 2008, he was based at Earls Court Police Station and later in the Domestic Violence Unit. Geoff latterly worked for Compass Group as the Hall Porter at HMS Drake in Plymouth.
Geoff was diagnosed with terminal cancer and sadly passed away a few weeks later on 19th October 2016, his funeral was held at Weston Mill Crematorium in Plymouth on Tuesday 1st November 2016.
RIP Geoff