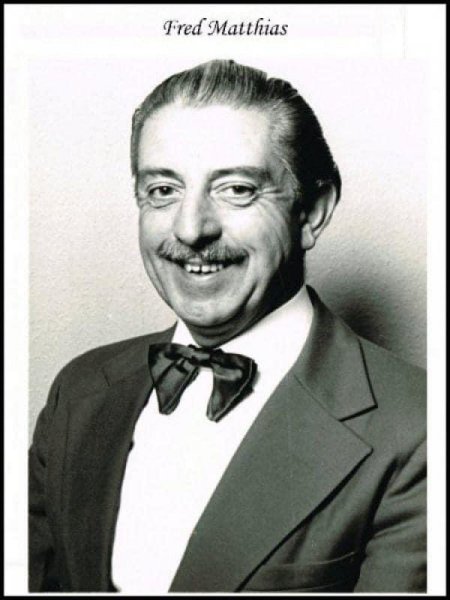 Fred Matthias was born on 19th July 1930, he was raised by his parents Frank and Alice (Rostron) at 80 Georgina Street, in the Daubhill area of Bolton.
At just fourteen years old.. Fred joined the Royal Naval School of Music at Burford Oxfordshire on 28th May 1945 as a trombone player.
He gave service with the Band of HMS Ark Royal and became an Instructor at the Royal Marines School of Music in Deal J Wing in and around -1957-. BSgt Matthias then went on to take the role of Volunteer Band Instructor at HMS Condor before returning to Deal to take his place in the Bandmasters Class.

In the sixties.. -1966-69.. he was a much respected Bandmaster with the Royal Marines Band Flag Officer Scotland & Northern Ireland, based at Arbroath.. the home of 45 Commando.

Fred retired from the Royal Marines Band after twenty-five years' service in 1970. Fred's love of music allowed him to continue following his retirement from the Marines, he relocated to Stainton Close, Moss Bank in his beloved town of St Helens, where he began a music program, teaching children in schools and various other organisations. He became involved with many functions associated with St Helens Council, culminating in on-stage appearances at the St Helens Town Show.
Recognition of Fred's musical talent led to a Europe-wide network of friends whom he used to meet regularly, but St Helens was his real passion and he was especially proud to be closely associated with the Citadel Arts Centre and with local ex-servicemen's groups who benefited from his enthusiasm and organisational skills.
Fred was a member of the finely clipped military moustache and swept back hair brigade, immaculately attired and with his baton skilfully whisking the air as his St Helens Concert Band performed at various local functions. These included legendary charity garden parties and various fetes, parades and concerts held in and around St Helens.
Like most he a loved pint and a tot (special occasions) otherwise a nip of the old proverbial Scottish water would suffice.
Although born in Bolton.. Fred always regarded St Helens where he lived for decades after his Royal Marines days as his real home, he was a real character, who had a hand in everything. Always keen to unearth, nurture and promote the musically gifted. A bachelor throughout his life.. Fred selflessly volunteered his services with judging panels at countless talent shows.
Fred.. even in his seventies, still had four local school bands under his baton... the latest in a succession of youngsters who benefited as Fred lent an educated ear and dispensed advice in his quiet measured way.
Fred, was also well known for his weekly Band Call column which appeared in the local newspaper the St Helens Star for a number of years. He was also a regular contributor to the 'Blue Band Magazine' and spun many a dit.
Fred Mathias sadly passed away in his sleep on 28th March 2004 aged 73, after a brave and prolonged battle with an increasingly painful and debilitating illness. His funeral was held at St Helens Crematorium on Tuesday 6th April 2004. The service was well attended by associations from within the area, as well as members of the Royal Marines Association Northern Region where he served as a committee member, there were also members and standards from the RMA, RNA, RAFA, Burma Star and Royal Marine cadets. The service was followed by a buffet at Royal Naval Association, Mill St, St Helens, where Fred was a founder member and held the position as Secretary.

For his final resting place, his ashes were scattered from the Mersey Ferry 'Royal Iris' into the Mersey on the Zeebrugge Day Parade which takes place every year, of which Fred was a regular attendee.

Fred's spirit will live on among several generations of local musicians who came under his expert tuition.
Parts of Fred's story are provided by Barry Wales, one of Fred's comrades who he served with at FOSNI Band.
RIP Fred