If you read Part II of 'Memories' you will recall that it ended at the point where I had recently (officially) become a Musician and been drafted to the band of HMS Euryalus, destined for the Mediterranean. Euryalus was one of a specialist class of ships, known as 'Dido Class Anti-aircraft Cruisers' and had itself been launched almost as war was declared. The class were designed for fleet and convoy protection, having a fairly potent armament of heavy calibre anti-aircraft guns. Originally they were fitted with 5 twin gun turrets of 5.25" high-angle guns, (three of these turrets being forward of the bridge) plus the usual lighter armaments of Bofors, Oerlikins etc. During the latter part of the war in the Pacific, Euryalus unfortunately achieved unenviable notoriety by accidentally hitting the aircraft-carrier 'Illustrious' with two 5.25" bricks, instead of the low-flying Japanese bomber they were aiming at. It caused considerable damage as well as killing twelve men and leaving more than twenty wounded. Such 'own goal' mistakes in the heat of action were one of the unfortunate consequences of a shooting war.
However, back to the ship itself. The uppermost twin 5.25" gun turret was removed soon after the war ended, having proved to be something of a liability. It had created a colossal weight high above the usual centre of gravity and, due to its height above the forward magazines, the guns were somewhat slower in firing rate. The main improvement following their removal was greater stability (although we didn't always think so!) Nonetheless, they were relatively small ships being of only 5500 tons. Consequently, the band size was also small, originally 18, later cut to 15, then 12 which was barely viable.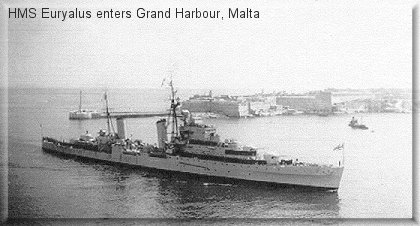 Being a new commission, the whole band was sent to Plymouth for training in the operation of the Gunnery Transmission Station (T.S.) After much T.S. practice we were sent on the long rail journey (via London) to Rosyth where the ship had completed its commissioning and from where it sailed for the Mediterranean on the 19th March 1948.
Hover mouse pointer over images for more information.

Some names. The Captain of Euryalus was a Captain Hardy, an austere man - to us at least. The Commander was an ex-submarine hero, one Commander M.R.G. Wingfield, who had achieved considerable success both in the Mediterranean and later in the Far East. He was now having to readjust from the informal life on submarines to the spit and polish life on a (slightly) bigger ship.
Apart from the band there was also a small Royal Marine detachment under the command of a Captain Hughes (of whom more later) and a very tall newly commissioned 2nd Lieutenant. Our Bandmaster was a small, dark Welshman called 'Polly' Hopkins. There was also a B/Sgt. 'Tanky' Boyes and two B/Cpls. I don't remember much about the voyage out to Malta, which I see from my brief diary, took ten days. It was mostly fine weather, although there was quite a swell across the Biscay. There were many 'working-up' exercises carried out, including gunnery which involved the band in the T.S. I also recall an actual 'run ashore' in Gibraltar despite there being no official shore leave. It wasn't the usual sort of run ashore, as the ship had only called in briefly for fuel and fresh provisions. I had earlier volunteered (I was young and inexperienced then!) for the Euryalus Cross Country team. There was to be an inter-services cross-country foot race in Malta a few days after we were due to arrive, so Euryalus had entered a team. Running up and down a rolling deck is not very good training, so only the team were allowed ashore at Gibraltar where we ran up and down hills and round and round the miles of quays - before returning aboard just before we sailed, considerably more knackered than we would have been after a traditional run ashore! A day or so after arrival in Malta the race took place. I haven't the faintest idea now as to where it was we ran, the whole island being new to me at that time. I clearly recall being passed by many runners, but I did finish and I wasn't last, although the Euryalus team certainly was.
I do still clearly remember the tremendous impression seeing Malta for the first time made upon me. The weather when we arrived was one of those typical Malta days with clear blue skies and sunshine. And the glare from the gleaming sandstone almost hurt the eyes. For those who may not know it, Grand Harbour is the main harbour in Malta and cuts right into the island. There is enough deep water to comfortably contain the pre-war fleets of battleships and all the numerous lesser vessels to moor without congestion. The capital, Valetta, is on one side and various small townships and numerous creeks cluster around the harbour. Motor ferries, naval boats and the local one-oared 'dghaisas' (pronounced 'die-sews') ply for passenger trade and criss-cross the water.