For many former and serving Royal Marine musicians the name of Leon Young will be familiar as the composer of the 'Dedication Fanfare', which is played each year to mark the memory of those musicians killed on active service during both wars. Many will not know however that this fanfare has a title : 'To Comrades Fallen'.*
Prompted by an email to me from ex-B/Mr. Michael Hutton I have decided to write this short account of Leon Young's service in RMBS during the war. Michael, who played the fanfare many times during his service, was not aware that Leon had actually served in the RMBS during WW2 and he felt that he and others would like more details of his service and his illustrious musical career.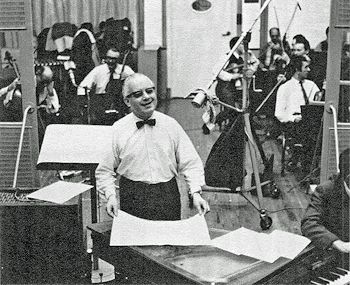 When I was appointed Principal Flute in the BBC Radio Orchestra in 1974 one of the first names to appear on our weekly schedule of conductors was Leon Young who, like others, brought their own musical arrangements with them. Here on the podium was this charming man in his late 50s with a beaming smile. Quiet and unassuming he was the epitome of the English gentleman, neatly combed silver hair and always wearing a smartly ironed long-sleeved shirt and a black bow tie…
I approached him after the first recording session to enquire if he was the Leon Young whose name was so familiar to me. He confirmed this and when I told him I had served 7 years in the RMBS we became friends and colleagues which engendered countless tales and anecdotes from him about his wartime service and subsequent life as a staff arranger for music publishers Francis, Day and Hunter of Charing Cross Road—-becoming one of London's finest arrangers.
Leon Young was born in Dover the son of Leon Snr, a railway signaller. A few years after his birth the family moved when Leon Snr became the railway signaller at the signal box in Strood near Rochester. The family were devout Salvationists so the young Leon was surrounded by music from an early age as his father played cornet in the SA Band, where he too would learn the cornet and later the trombone…..which was to be a significant factor in his later life.
Leon was clearly academically inclined as he attended the Rochester Mathematical School with a view to becoming an electrical engineer. One teacher, May Baker, presciently noting his natural musical talent, referred him to the assistant organist of Rochester Cathedral, Percy Whitlock…..later a noted composer of light music. Leon studied piano and organ with him from age 13 years to 19 years, when once again the Young family moved due to father's new appointment to the signal box at Tonbridge in 1935. At 19 Leon became organist at the Baptist church and conductor of the Co-op choir which was very large at that time. He also started to play piano in the local semi-pro dance bands. In 1939 Leon married Grace Harvey, the daughter of the Baptist deacon (who had appointed him to the position of organist) and who sang in both church and Co-op choirs so would readily have caught Leon's eye!
Shortly after the outbreak of war in 1939 the Royal Marines advertised for ' Musicians to serve on HM Ships'. Leon duly picked up his trombone again and enlisted at the Royal Naval School of Music in Deal as 'Hostilities Only'…meaning he would be released from service on cessation of the war. Like many Leon thought the war would be over by Christmas. Someone in the MOD had decided that anyone with the intelligence to read musical notation, which to the uninformed seems very complicated, would be able to calculate the trajectory of shells and thus Royal Marine bandsmen were consigned to the Gunnery Transmitting Stations deep in the bowels of HM ships at sea and, being close to the munitions, were the most vulnerable crew members if hit by enemy fire or torpedoes with the resultant huge loss of life we recall each year on Memorial Day.
After some basic training in drill and gunnery in Plymouth Leon was sent to Glasgow to embark on a newly built and commissioned Light Cruiser: HMS HERMIONE and immediately sailed to the Denmark Straits in pursuit of the famous German battleship: BISMARK. The ship was seen in a snowstorm and duly sunk on May 30 1941. 'Hermione' was involved in action almost without cease, downing enemy aircraft, shelling enemy ships and shore batteries and generally protecting aircraft carriers, enabling them to safely deliver 200 aircraft to Malta. So not much time for music! However Leon had made friends with another RM bandsman, Max Nicholls and together with a few more they formed a dance band which was much in demand on shore in Gibraltar clubs, officers' wardrooms and even managing some broadcasts on radio. Leon also played the organs in the cathedrals in Gibraltar and in Valetta, Malta.
On the night of June 16 1942 the German U-boat U-205 sent Hermione to the bottom of the Mediterranean 90 miles from Tobruk. Rommel was ecstatic having called Hermione 'the terror of the Mediterranean'.
Meanwhile poor Leon and Max were paddling around in, and swallowing, oily water for 45 minutes until rescued by the destroyer HMS Beaufort and taken to hospital in Alexandria….where incidentally my own father was taken after his ship HMS Southampton was sunk in 1941. After a week the two cheeky young bandies secretly discharged themselves from hospital and leapt aboard the battleship, HMS Queen Elizabeth, bound for Cape Town via the Suez Canal. What prompted this spontaneous and impulsive action? Well Hermione had been to Cape Town before and the boys knew what it was like! Earlier that year they had been part of the British forces who captured the Vichy-French island of Madagascar to prevent it being taken by the Japanese.
After several more calls in port HMS Queen Elizabeth sailed the Atlantic to America and Chesapeake Bay and Portsmouth, Virginia. Still aboard the ship, but later in USMC barracks, Leon and pals formed 'The Hermione Three' and spent several months entertaining in numerous venues before being sent by train from New York to Halifax, Nova Scotia to embark on the Queen Elizabeth bound for Greenock….but this time the Cunard liner and not The Grey Funnel Line!!

Band Cpl L.E.S. Young RM spent his remaining service at the Royal Naval School of Music in Scarborough where his main task was arranging music for the musical extravaganza 'Tokyo Express' one of two official Royal Navy shows which opened at the Lyric Theatre, Hammersmith in June 1945 with Leon as Musical Director. He also appeared in Item 17: 'Six Hands in Harmony' together with a RN signaller, Trevor Stanford….later to become Russ Conway.
The war made men of boys they often say but in the case of Leon Young the metamorphosis from grocer's assistant in 1939 to leading British musical arranger on his demob in 1945 was unique. Surrounded by good capable and often experienced musicians, many of whom had established careers at the outset of war, presented ideal conditions for the embryonic arranger to develop into the adult form. It was a test of the arranger's skill and imagination when you had strange combinations of players to deal with. On a ship you lived in very close proximity to each other, and each other's instruments, and could learn a great deal about instruments you did not play and what was difficult….a practical lesson in instrumentation.
So next year in Portsmouth Cathedral when the order is given: 'Sound the Dedication Fanfare'……which ought be announced as 'To Comrades Fallen' in my view….you will all know something of the life of its composer and his service in the RMBS as Band Corporal L.E.S.Young RM.
* There is some conjecture over the title and is being verified as you read this note.