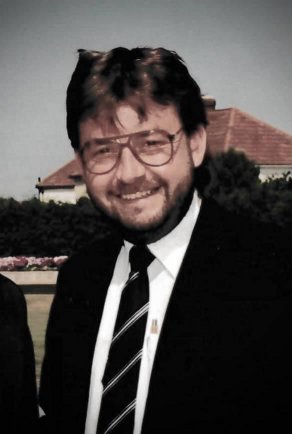 Kevin Kay was born on Friday 4th December 1959 in Middlesbrough, but he was raised in the nearby village of Marske-by-the-sea. Kevin realised his musical capability when he and his older sister Karen played for the Marske and District Prize Silver Band, one of the oldest and longest running bands in the region. Kevin was a good cornet and trumpet player in the band which also boasted future Royal Marines trombonist Dave Thornber.
Young Kevin was playing soprano cornet by the time he auditioned at the School of Music, the horn professor Walter Hargreaves obviously saw a star in the making and he was offered a place on french horn. He joined the Royal Marines Band Service as a Junior Musician on 13th September 1976.. thus, becoming a member of 3/76 Troop with DL Sgt Heal shouting in their ears. With the superb guidance of BCSgt Wally Hart and the inspiration of Professor Hargreaves, the horn section of training company was in very good hands. Kevin's talent was becoming finely tuned and he reached the pinnacle in training when he was awarded the coveted Cassell Prize silver medal in 1978 ahead of bronze medal recipient John Durant, he played Richard Strauss First Horn Concerto, which brought him to the attention of the Principal Director of Music and resulted in a draft to Staff Band following his successful M3's exam.
Musician Kay cemented his talent to become a brilliant french horn player, his musicianship was outstanding... Kev was a good all round cricketer too, playing for RM Deal and Betteshanger Staff Cricket Club. He shared Staff Band horn duties with other section members John Wale, Vic Faulkner, Kev Horner, Eric Austin, Billy Walker and Neil Fletcher Jones.. Kevin travelled the world with the band for the next ten years, including sharing rooms with Billy on the three-months tour of the United States and Canada in 1985 along with the Argyll and Sutherland Highlanders. It was one of the most absorbing tours ever, where the band clocked 16,000 miles and performed 75 times in 68 cities.
Kev had his demons, he had money issues and his problems with alcohol were evident, the Staff Band lads tried desperately hard to help him overcome them, but he often chose to try and hide them instead. Kevin and his partner Wendy produced a daughter, Emma in 1988, while at the same time he was tasked with working in the Central Music Library at Deal. Kevin left the Royal Marines Band Service at the end of 1989 due to his continuing health problems, a few months later the couple's second child Lewis came along in 1990.
As a civilian Mr Kay found employment driving taxis, unfortunately his drinking got in the way of his driving, he lost his licence and he ended up as a cab controller in Deal. Kevin then relocated for a while back in the North East, there he took up bowling.. becoming particularly good at it, to the extent of playing for Yorkshire 'C' Team. He did however make his way back to Deal where he paired up with Allen Adshead at the Betteshanger Bowling Club. Kevin rapidly improved and became an outstanding bowler, both he and Allen formed a formidable doubles partnership and gained their county bowling badges when they represented Kent against Middlesex in 1995.
Soon afterwards Kevin vanished, he never seemed to inform anyone of his plans.. he would just disappear without a word and leave others wondering.. He'd moved into a flat along the coast in Folkestone. Kevin Kay was tragically discovered deceased at home on 24th December 2001 aged just forty-two. Kevin should be remembered for what a tremendous french horn player and thoroughly nice guy he was, given the opportunity, he would easily have made it as an orchestral player in civvy street but unfortunately he trusted his life to alcohol. The biggest tragedy of all was he left behind two children, Emma and Lewis, who never really got to know their father.
RIP Kevin