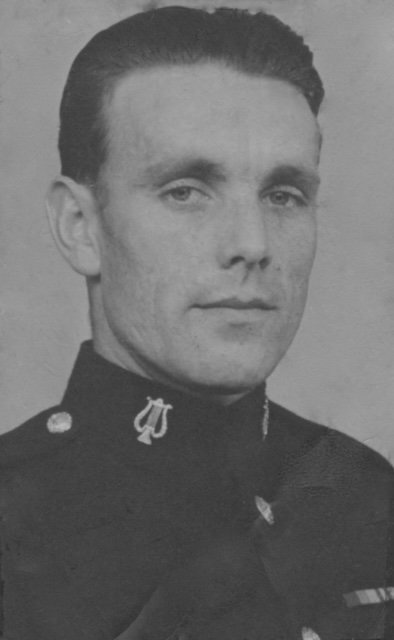 Kenneth (Ken) Tyler, RMB X 1883, passed away in Huddersfield Royal Infirmary, West Yorkshire, on 24 October 2022, aged 95.

Ken was born in Dorking, Surrey in 1927 and he signed up in London to join the Royal Marine Band on 23 February 1942, aged 14. He spent the early years in training at Scarborough and the Isle of Man. He left the Isle of Man in October 1944, and returned to Scarborough where he was put into a newly-formed band, as a cornet player. That band then went to join HMS Glory on 17 February 1945: on embarkation she was so new that the paint was still wet and Ken got white paint all over his new uniform! It was a few weeks before she was handed over to the Royal Navy and officially commissioned: she then set sail for the Pacific, visiting many countries where the band undertook a variety of duties.
Whilst docked in Sydney news came that the war was over, and on 6 September Glory sailed to Rabaul to accept the surrender of the Japanese South East Asia command: Ken was present on deck at the signing of the surrender documents. The next trip was to to take ex-POWs to Vancouver via Pearl Harbour, an experience Ken found very moving. There were many other ports of call during this tour of duty and Glory began her homeward journey when she left Sydney for the last time on 8 August 1947.
Once back in England an eventful few years followed as Ken continued his RMB career. He spent time at HMS Royal Arthur in Corsham with the Band, and it was here that he met his wife, Esde, who was in the WRNS and also stationed there. Following this he spent time at HMS Gamecock, Deal, HMS Vengeance and finally HMS Swiftsure.
On the Swiftsure's return to Chatham the band was paid off and returned to Deal. Shortly after that Ken was invited to join the Staff Band, during which time his varied engagements and duties included playing at the Royal Tournament, the Edinburgh Tattoo, the funeral of King George VI and the coronation of Her Late Majesty Queen Elizabeth II.
Ken finally left the Band in January 1956 before settling down and raising a family in West Yorkshire. He continued to follow his musical interests by joining a number of nearby brass bands and subsequently a local orchestra and various string quartets, playing the viola and violin, the latter of which he'd been taught to play many years previously on the Isle of Man.
Ken was incredibly proud of his time in the RMB and always said he loved every minute of it. Until the last he followed its activity on video, social media and television, never missing a major event at which it appeared.
He was played to his rest on 14 November 2022 by a selection of music from his beloved Band of the Royal Marines.
Carole Adams - daughter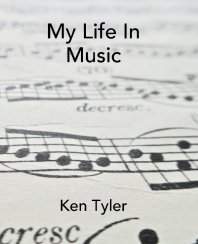 About the Book

Ken Tyler recounts his relationship with music which began when he was a mere boy of 14 years old and joined the Royal Marine Band. We follow him across the Pacific during the closing years of WW2 and then we join him in Kent in the fifties. From there he moves to a mill town in West Yorkshire and thus begins his orchestral experiences which he recounts with gentle humour and fondness.