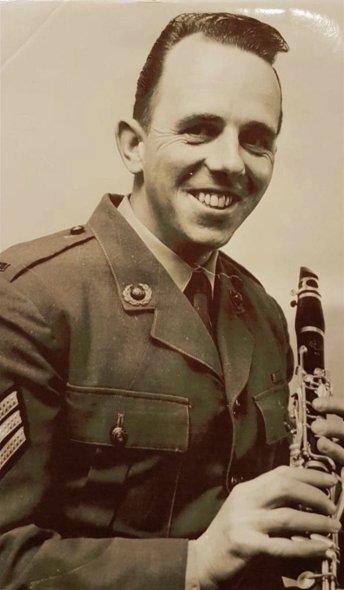 Kenneth Keast was born in Redruth Cornwall on Thursday 4th November 1937.. the son of Elizabeth and the wonderfully named Wellington Garfield Keast. Young Kenneth gained a great insight into a military life when he reached to rank of Flight Sergeant in the Air Training Corps. Aged just fifteen.. Kenneth joined the Royal Marines Band Service at Deal as a Boy Musician and saxophone player on 8th June 1953. The boys were under the guidance of squad instructor Sgt Buckingham and during his time in Boys Wing, Ken was Captain of the Royal Marines School of Music Rugby First XV.
Ken passed for duty in August 1955.. a member of No 17 Commandant General's Squad. His first drafting from the training wing would have been departing with the entire band from Deal by train with newly assembled replacement RM Band of Commander in Chief East Indies 1955-56.
They arrived in Ceylon before embarking onboard HMS Gambia and then onto HMS Superb. His time onboard was spent along with shipmates Ron Kempton, Pete McRoy and run ashore oppo Eric Hayward. Their adventures included visits from their base at Aden.. to Kuwait and Bahrain. For his duties carried out in Aden, Musician Keast was awarded the General Service Medal.
Ken's career path took him to the Royal Marines Band Britannia Royal Naval College on at least four separate occasions, firstly around 1957, although it's unclear how long he was at Dartmouth the first time round. At only twenty-years old.. Ken met the love of his life Maureen Smith during his first stint at the college.. the couple wasted no time and married on 31st May 1958 at St Saviour's Church in Dartmouth. Ken and Maureen had two children.. Karen was born in 1960 and Andrew came along in 1962.
In October 1963, Ken was given a posting to the Royal Marines Band Commander in Chief Far East Fleet based at HMS Terror in Singapore, the band was under the direction of Captain Doug Haigh.. but it was Ken who did all the organising!
His service overseas came to an end in May 1966, and he secured a return to Dartmouth during Bandmaster Jim Robertson's time.. again, it was Ken who single-handedly ran the band. Ken was promoted in 1968 to BSgt and later rewarded with a place on the 1969 Bandmasters Course at the Royal Marines School of Music, before returning to Dartmouth in early 1970 for three years. He was duly awarded his Long Service & Good Conduct Medal in the same year. Ken was not only appreciated for his musical role within the band, but he gave up an extraordinary amount of his time to ensure that the band administration ran smoothly. Ken had many strings to his bow.. and was often referred to as 'The General' by those who knew him. He also spent many hours away from band duties.. firstly, as a popular and well-regarded Rugby Union Referee, officiating at many top matches for the Navy and all over the southwest. In addition, he was the wicket keeper and secretary of the Dartmouth Cricket Club.. where many of the band members were players in the team, including Vice Chairman Andy Crofts. Ken was also known in the band as 'Mr Kleeneze' as he was employed as a rep for the company selling brushes and other cleaning products.. one of the commodities was the magic spit and polish in a spray can.. Which explains why wrote the BRNC articles for the Blue Band with the pseudonym of Basil Brush!
In 1972, Ken earned his crown with promotion to BCSgt and in January 1973, he was drafted up the road to the Royal Marines Band Commando Training Centre at Lympstone, under the direction of Lieutenant Peter Heming. He was instantly installed as the leader of the CTC Dance Band and also continued with his rugby officiating.. on the way he earned the accolade as Devon's number one referee and also passed his coaching qualification. In addition...within a few weeks he had formed a CTC Band Cricket Team.. and furthermore, he spent many hours umpiring.. Ken really was an all-round sportsman.
Ken returned to Dartmouth for a fourth time in May 1975, where he would ultimately spend his final three years of service life.. becoming a pivotal member and organiser of the BRNC Dance Band. Ken's swansong in the Royal Marines came in October 1977, when BRNC.. the least travelled of the bands flew out to play at the Silver Jubilee Tattoo in Berlin. BCSgt Ken Keast retired from the Royal Marines Band Service on 3rd November 1977.. the eve of his fortieth birthday.
A tireless workaholic.. Ken maintained the standards in which ever band he was at and would pack more into a day than most could manage in a week.. all for the good of the Band Service.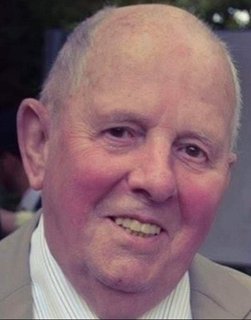 On his release into civilian life.. Ken and Maureen settled over the River Dart in Brixham, where they took up successful careers as newsagents.. 'Ken's News'. He was also a passionate education provider, he wanted to make a difference for youngsters in the area when he started up Brixham's own youth training scheme, designed to assist young people in the town into work and further education.. giving them an excellent start in their working lives. Ken maintained his hectic schedule.. he continued to officiate at Rugby Union matches, before he was rewarded with the Presidency of the Devon Rugby Referees Society, a position he held from 1984-85.
For many years Ken was a brother of the Provincial Grand Lodge of Mark Master Masons of Devonshire in particular Dartmouth Masonic Lodge. In 2019 Ken stood down as Lodge Secretary after thirty-four years. In that period, he held the posts of Master, Grand Steward, Provincial Secretary and Past Grand Junior Warden. Nothing was more important to Ken and Maureen than their loving family.. in addition to their children.. they had the pleasure of eight granddaughters, one grandson and four great grandchildren.
Ken Keast sadly passed away at home surrounded by his family on 15th May 2022, following a lengthy battle with illness aged 84. Maureen had been Ken's wife for over sixty-three years and she cared for him over the last couple of years with absolute devotion. Ken's funeral service was held on 6th June at All Saints Church in Brixham, followed by a reception in celebration of his life at Berry Head Hotel. Donations in memory of Ken were received on behalf of Rowcroft Hospice.
RIP Ken