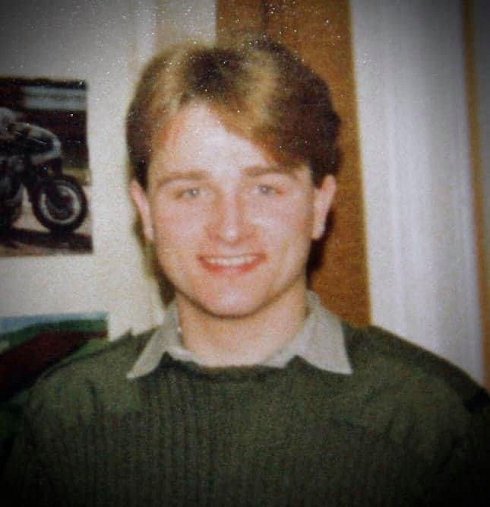 John Andrew Cleatheroe was born on Wednesday 22nd April 1964 and was raised along with his little sister Janice Anne, by parents John Andrew and Jean Ann in the village of Crofton near Wakefield, Yorkshire. A unique situation where all the members of the family had the same set of initials. Young John inherited both of his christian names from his father and maybe it was the reason he was more commonly known by his middle, possibly to avoid further confusion.
While he was at school.. Andy and his pals decided to dress up as witches and hold a Tarot card reading session, a practice used to gain insight into the past, present or future. Andy returned home to inform his parents that he wasn't going to live very long, but his life would be full and adventurous...
Andrew made his way to Deal to enlist in the Royal Marines Band Service on 8th September 1980 where he became a popular member of 3/80 Troop and Neptune House. He joined as an alto-saxophone and violin player, gaining his musical expertise under the guidance of influential instructor BSgt Frank 'Wiggy' Bennett... Frank would call him 'Jimmy' after the comedian Jimmy Clitheroe.. Frank remembers a rather embarrassing moment when Jimmy's (Andy) parents came down for open day and entered his classroom office, wanting to know if he knew where he was likely to be drafted. When they sat down.. Frank noticed a look of horror on Jimmy's face and realized he hadn't taken down a sign which he used frequently... It was a large picture of an anchor with a W over the top!
Forty-one trainees entered the Cassel Prize in 1982, Six members of 3/80 Troop including Andy were successful in making it to the final, which was won by Neil Ogley.
Andy's leadership skills were evident midway through training when he was tasked with the role as a Section Commander and it would seem a transfer to Gloucester House. He was also one of the first guys in the troop to pass his driving test.. and own a car.. he was deeply in love with his orangey/yellow Ford Capri.
On completion of training Musician Cleatheroe was drafted across the parade ground to the Royal Marines School of Music Staff Band.. the only Royal Marines Band that he would serve with. Andy loved his rather large head of hair and by the time he got to staff band he had perfected the art of hiding lots of it under his cap, much to the annoyance of Drum Major Dawson.
Andy crammed so much into a short space of time at Staff Band.. one of his first gigs as a trained rank was the massed bands at the 1983 Edinburgh Tattoo.. Andy's family, who were reasonably well off as a result of their haulage business, had recently exchanged Andy's Capri for a red Ford Mustang and a speedboat.. he was in his element water skiing with his pals under the Forth Road Bridge. In addition to his music.. Andy was a qualified HGV Driver and would help out with the family business whenever he was on leave.
Andy was a participant in the Royal Marines School of Music tour of North American in 1985, where the band featured in seventy-four shows over a sixty-nine day period.. a tour shared with the Pipes and Drums of the Argyll and Sutherland Highlanders.
The month-long London duties were also on his list of engagements, Staff Band were performing their duties at Buckingham Palace.. as of yet though there have been no reports of Andy water skiing under Tower Bridge!
Andy would have performed at most of the massed bands engagements during his six years.. his highlight would certainly have been in the 1987 Mountbatten Festival of Music when he performed the saxophone solo in the jazz piece 'Harlem Nocturne'.
Andy was on the passenger list for the month-long trip to Sydney Australia in 1988, for the Australian Bi-Centenary celebrations, which included the main event.. The Royal Sydney Easter Show.
The following year Andy was selected to attend the Junior Command Course around Easter 1989.. As a result of his success on the month-long course, he was promoted to Acting BCpl.
Andy was enjoying life to the full that he was sharing with his girlfriend Natalie Sparnon.. until he went to work one morning and never returned home..
BCpl Cleatheroe was sadly and tragically killed in the atrocity which occurred at Deal Barracks on 22nd September 1989... he was aged just twenty-five. Andy's funeral service like many others with full military honours was held at St Michael's and All Angels Church in South Barracks, followed by a private cremation at Barham near Canterbury.
It's difficult to imagine the feeling of utter devastation that would suddenly engulf the relatives of our comrades that were so cruelly taken. John and Jean were extremely busy with their business, that they were intending to wait until their retirement to go and see their son perform in the band... that day never came.
In the days and weeks following the atrocity.. they received numerous letters of condolence from all around the world.. they still have them.
Andy and his colleagues will never be forgotten by the Band Service family.. their names are etched on a plaque in the Memorial Garden and each of their names inscribed on a tablet that surround the twelve-sided Memorial Bandstand on Walmer Green.
For the majority of the ranks that served in the Band Service, those names will be engraved in our minds forever.
RIP Andy