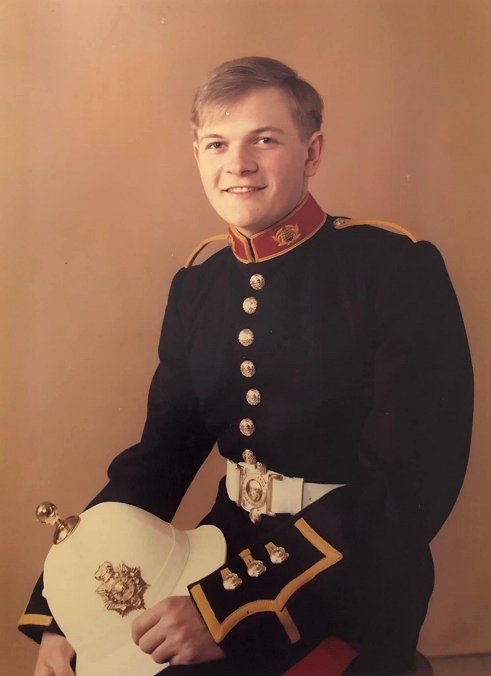 Jeffrey Anthony Taylor was born on Monday 13th July 1964 to parents Tony and Barbara, sharing his childhood in Somerby Road Leicester with his sister Steph. He was a pupil at Fernvale Primary School, just a short walk from home on the same road before moving on to Manor High in Oadby Leicester where he graduated in 1980.
His musical knowhow came from Mr Ted Bottle... his music teacher at Manor High, it was he who inspired young Jeff to take up the trumpet... managing to achieve a grade 3 on the cornet.
Both Jeff and his father took up music at the same time, Tony had little musical knowledge and it was his son that ultimately inspired him to take up playing the trombone.
Tony Taylor formed the 95th St Chads Scout Band in 1975, Jeff became a trumpet player in the band and along the way proved to be a great support to his father in the organisation.
Young Jeff suffered following an unfortunate accident on a bike, he lost his front teeth and as a result he had to have crowns fitted. He was informed on his audition at the Royal Marines School of Music at Deal that his embouchure was no longer suitable and would probably not meet the high standards required for a cornet player... as an alternative he was offered a place on saxophone and violin.
Having just turned sixteen, Jeff travelled to Deal, the home of the Royal Marines Band Service on 8th September 1980, he was allocated a place in Neptune House and became the youngest Junior Musician of 3/80 Troop... passing out of the initial six-week training period before inspecting officer Lt Col James Mason on Friday 17th October 1980 in the presence of his parents and other families who had travelled to Deal for the parade.
He then spent the next two and a half years in East Barracks studying sax and violin under the instruction of BCSgt Frank 'Wiggy' Bennett... during those couple of years he undoubtedly and mischievously became one of the biggest characters in the troop, he was an absolute fanatic of Madness.. a top group of the eighties, he would usually accompany their songs with his air saxophone.
One particular element of Royal Marines training was the thoroughly enjoyable thirteen-hour coach trip enroute to Loch Ewe in the Highlands for the troop holiday (outward bound course...) labelled as 'character-building training'!
In February 1983 Jeff was on the brink of completing his training when he was selected as part of Junior Band that took to the stage for the Mountbatten Concert at the Royal Albert Hall, he also paraded on Horseguards for the Burma Star Association Parade. However, the above engagements became his highlights of a short stay in the Band Service... he'd completed over seven terms of training... unfortunately though he did not pass his M3's (final exam)... two very new instruments was probably the reason for his disappointing exit... especially his attempts at mastering the violin... Junior Musician Jeff Taylor was released from the Royal Marines Band Service in 1983.
When he'd left the Corps... Jeff along with his Dad and friend Richard managed to find a place in the Royal Navy Reserve Band... that appeared at the Royal Tournament at Earls Court, he was full of 'bright-ideas' and this proved to be another one of Jeff's escapades!..
He didn't lose touch with his scout group either.. by the time Jeff had departed to join the Royal Marines, the Scout Band had established itself as a brass band instead of the traditional drum and bugle band. Jeff inspired & encouraged many of those in the band.. passing on much of his valuable knowledge that he'd gained from his training with the marines and because of the way the band developed it also attracted a boy of the same age who became a lifelong friend to the Taylor family.. he is still serving in the Royal Australian Navy following his retirement from the Royal Navy. Jeff also played with two brass bands in Leicestershire, 'The Foresters Brass' in Coalville and 'Unity Brass' in nearby Markfield.
Jeff went through some turbulent times in the eighties following his departure from the Royal Marines, he set up his own gardening business, before taking up employment as a door-to-door salesman selling fire extinguishers, he certainly found plenty to occupy his time... He also married for the first time.
He then gained employment in 1992 with Tuffnells Parcels Express, remaining with 'The Big Green Parcel Machine' for three years.
He also took up playing rugby and turned out for a local club side called 'Aylestone St James'... known as 'Jimmies'... they had a group of musicians called 'Jimmie's Rhythm'... Jeff joined the band and they proved to be a popular group in the local pubs. At that time, a local farmer staged concerts at 'The Barn', 'Jimmie's Rhythm' played as support group for various bands such as Leicester group Showaddywaddy and American rock singer Suzi Quatro amongst the more notable... so his musical career continued.
Jeff became a father for the first time to Anna, who is now happily married and living in Australia.. . she has since presented Jeff with two grandchildren Charlie and Lily. He then became a father to son Jacob who was born in 1998... the product of another relationship.
A new employment opportunity arose for Jeff when he secured a position as a procurement administrator with Honeywell (formerly Intermec Technologies), a global high-tech company associated with the production of barcode scanners & readers, mobile computers etc... Jeff had finally found his right career path and with a company that everyone knew him for... he ultimately progressed in the company to the role of Sales Director Transport & Logistics.
It's fair to say that Jeff struggled to make his mark in the Royal Marines Band Service, but he did make his mark with his fellow 3/80 Troop members... In September 2000, Troop 3/80 decided to commemorate their 20th anniversary year by holding a reunion in the RMA which was attended by twenty-three ranks. The get together was partially instigated by Jeff who from then on was always at the helm of any troop reunion organising committee. A comment made by Jeff who was attempting to convince another troop member to attend... "Sometimes there are more important things in life than work... 3/80 Troop is bigger than a mere job".
Now in his late thirties... Jeff it would appear had finally decided to settle down... he made his home in Radcliffe on Trent on the outskirts of Nottingham with Claire Tudor... they were married in 2002 and together they produced a daughter Libby Mae born in 2003 and a son Finn MacKenzie in 2005.
Jeff became a devoted family man, always putting Claire and his kids first above everything else, including jetting off on many family holidays... though when he found time, he loved a round of golf and he was a passionate rugby fan.
In May 2016.. Jeff and his family's world was turned upside down when he was informed he'd developed cancer and that it had spread to a few places. He'd had a biopsy and following his prognosis which stated that his chances of survival were not good, he underwent treatments including chemotherapy.
Jeff and his family and friends embarked on an enjoyable barge trip during the latter days of his illness.. he was extremely poorly and in tremendous pain, but he gritted his teeth and was up on deck steering the barge as much as he could, he was up and about when the kids were opening the locks and on more than one occasion he had to jump off his sick bed to sort them out when they got themselves in some tricky situations.
Jeff Taylor sadly passed away on 1st September 2016 aged 52, the cancer had finally taken him, he did everything he possibly could to fight it and battled to the very end.
Jeff's funeral service was held on 16th September at Wilford Hill Crematorium, followed by a social gathering at Ruddington Grange Golf Club.
The chapel was full, with many stood at the rear, attended by family, friends, work colleagues and five members of his beloved 3/80 Troop. Donations of nearly £2,200 were raised in memory of Jeff for Ochre, a charity that was formed to promote awareness of oesophageal cancer. A fund was also set up for Libby and Finn's future to enable them the best possible chance to fulfil their hopes and dreams that would have made their daddy proud. Jeff's mother sadly passed away six months later.
RIP Jeff