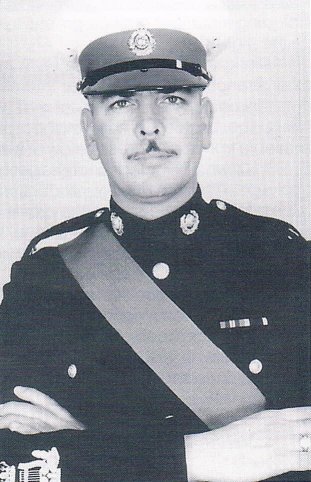 James Arthur Robertson was born on Friday 18th January 1929 and raised in Newbury Berkshire. He joined the Royal Naval School of Music at Scarborough in September 1943, where he enlisted as a member of 87 Squad.

Musician Robertson gave service onboard the cruiser HMS Euryalus in South Africa in 1954, she had been transferred to the South Atlantic 6th Cruiser Squadron stationed at Simonstown, South Africa and acted as Flagship.. during this period, she was docked in the Selborne dry dock. In September, HMS Euryalus sailed for the UK and arrived back at Devonport on the 19th September, before her decommissioning. James was then posted to band at HMS Terror, Singapore in 1959.
He was selected as a student for the 1961 Bandmasters class along with the likes of Terry Freestone, Ben Finney and Fred Mathias. James was appointed as the new Bandmaster of the Royal Marines Band Britannia Royal Naval College in 1965, when he took over the baton from the departing Bandmaster Donald Drake. Michael Hutton was best man at Jim's wedding in approx 1965-66. The day to day running of the band however still fell largely on the shoulders of BCSgt Ken Keast.
It was fair to say 'Robbie' was an extremely sociable character, Michael Bartholomew was always his first choice for babysitting.. when he went on a bender.. he'd always return home with a bottle of whisky for him as a reward. The Bandmaster was at one time spotted walking around Dartmouth with a blow up animal on a lead !

Mike Griffiths became Jim's unofficial chauffeur while at the college and here's one of his memorable dits... "At two o'clock in the morning the band mess telephone rings and I get out of bed to answer it. On the other end of the phone is our Bandmaster Jim Robertson who asks me to go and pick him up from the bus shelter at the bottom of Totnes by the Harris bacon factory. The band had paraded in a march in Torquay the previous afternoon, Jim decided not to return to Dartmouth with the rest of the band following the gig and was last seen heading off with a young female. It was later learnt that after some action with the young lady... Jim had decided to try and hitch hike back to BRNC... By the time he arrived in Totnes he'd had enough, so he phoned me. Following his call, I got dressed, revved up my little Ford van and headed off to Totnes. When I arrived at the bus shelter, there was Jim fast asleep fully booted and spurred with a package of fish and chips on his lap. After convincing Jim that the fish and chips were now cold we ditched them and got into the van for the trip back to the college, we'd only got halfway up Totnes High street when Jim shouts stop... he gets out and manages to retrieve two bars of chocolate from a vending machine. We were now set for the trip back in which Jim (who by the way had had a few drinks) kept repeating what a good bloke I was...!!
On arriving outside the Chiefs and PO's Mess I was ordered to stay in bed and not to go on parade. Jim was a definite character, a one off, but a really decent bloke".
Jim did have a serious side to him and had a very good heart. If any member of the band had a problem of any kind.. he would always make time to sort it out...
James's thirty-two months stay was up at the college in January 1968, it was fair to say he left an impression as the popular Bandmaster departed in a blaze of glory when the band played him off his last parade to 'Auld Lang Syne' and 'Will Ye No Come Back Again'... The parade was followed by the presentation of a tankard in the CPO's Mess. Bandmaster Robertson was succeeded at the helm by Staff Bandmaster David Walton.
James married twenty-three year old Shirley Tedder from Harwich in Colchester in 1968. Following a twelve month spell at HQ (M) Company, he retired from the Royal Marines Band Service in early 1969. He was deservedly awarded the WWII British Campaign and Long Service & Good Conduct medals along the way.
James A Robertson sadly passed away on 21st April 1997 aged 68 in Abingdon Berkshire, having lived with Alzheimer's Disease. James and Shirley have a son named Andrew.
RIP James