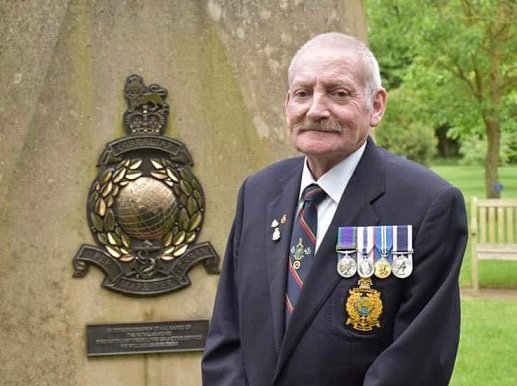 John Christopher Puddle was born in Hackney, London on 13th July 1954, although the family moved twenty miles away to the relatively new town of Harlow in Essex when he was a young boy. He was raised alongside his older sisters Joy & Barbara by parents Christopher and Joyce. Young John was a pupil at Brays Grove School in Harlow until 1970, he also dedicated his youth to the Cubs & Scouts movement. The association provided fun, adventure and skills for life and gave young John and his friends the opportunity to enjoy new adventures, experience outdoors and take part in a range of creative activities and ultimately have the opportunity to reach their full potential.. the ideal preparation for youngsters for a life in the armed forces.
On 12th May 1970, John travelled the five miles to board a train at Charing Cross and travel to Deal, where he enlisted into the Royal Marines Band Service and thus became a member of the twenty strong 1/70 Troop. He joined as a Junior Bugler at the School of Music under the watchful eye of the Corps Bugle Major John Satchwell. His leadership skills were put to the test midway through training when he was awarded the role of Section Commander. Despite a six-month layoff in the wing due to illness.. JC completed his training in July 1972 and with the majority of young buglers at the time, he was drafted across to the Staff Band at RMSM, his highlights were a trip to Washington DC in 1974 and an appearance on Bruce Forsyths Generation Game in 1977. Indeed, John would go on to spend the majority of his time at Deal, with just a few forays away from the town. In September 1978, he stitched on his first stripe when he was selected for the Junior Command Course (B) at the Commando Training Centre (CTCRM) at Lympstone.. he was of course successful. As LCpl Bugler.. he served with Support Company 41 Commando for their duration of Royal Duties at Buckingham Palace in 1978, before he was promoted to Cpl Bugler the following July.
He didn't have to wait long for his first move away from Deal.. John was drafted to the Royal Marines Band Commander in Chief Fleet, based up the A2 at HMS Pembroke, Chatham. JC endured a difficult first twelve months under the command of Captain Terry Freestone.. but he won him over to become a popular and influential figure with the Fleet Corps of Drums. While he was there, John was unfortunate that he had to spend eight months at the Royal Naval Hospital Haslar due to illness, he eventually recovered and resumed his role with the Corps of Drums, visiting Hamburg onboard HMS Hermes and many other places. He went on to serve for nearly four years at Pembroke until 1983, when the band moved lock, stock and barrel to RAF Northolt, however JC was only in North London for a few months before returning to the RMSM Staff Band.
In 1984, he was given the opportunity to assist with the Corps of Drums training in East Barracks.. Cpl Bugler Puddle was then selected for the 1985 Senior Command Course (B) at CTCRM.. a success once again, he returned to Deal where he continued his instructor role on a more permanent basis and subsequently promoted to Sgt Bugler on 1st January 1986. A few months later in June, he was drafted north of the border to the Band of HM Royal Marines Flag Officer Scotland and Northern Ireland (FOSNI), where he was a frequent visitor with the band to Iceland and Northern Ireland during the troubles, which rewarded him with the NI General Service Medal. It was while he was based in Scotland, that he returned from to Kent be married at Dover Registry Office to Alison Page on 22nd December 1986. Together they bore two sons.. Christopher and Timothy.

On 13th January 1987, JC was presented with his Long Service Good Conduct Medal, he then returned to his beloved Deal in January 1988, where he was to spend the remaining six years of his career. He was tasked once again with the role of Corps of Drums Instructor in East Barracks, where he became the guiding light for many young buglers through the years. He was also a welcoming figure to visiting cadet bands that visited and attended courses at Deal. In February 1992, JC was promoted to CSgt Bugler.. this was soon followed by his advancement to the role of Bugle Major Training. He was hard working and an extremely good organiser, amongst other things.. he was a highly valued House SNCO and he was the administrator for many of the winter concerts performed in the concert hall by Staff Band. Following an admirable career of twenty-four years, JC Retired from the Royal Marines Band Service on 12th July 1994.
He jumped from one uniform to another when he joined the Kent Police in 1994. He worked various capacities throughout that time, including as a Detention Officer in the late 1990's at Dover Police Station. He also worked in Folkestone, Margate and Canterbury, plus he was tasked with roles at Magistrate's and Crown Courts and with prisoner escorts.
John first began encountering problems with his health way back in December 2008, when he began coughing and having difficulty breathing in the early hours, his long time partner of seventeen years Elaine dialled for an ambulance and they took him straight to Intensive Care Unit at Margate Hospital. He was told that he had picked up a nasty little bug called strep-pneumonia and had double pneumonia. He recovered and they discharged him with a bucket full of medicine late on Christmas Eve. JC blamed it all on the Navy issuing him three hundred blue liners each month! John and Elaine (Dowsett) were married a few months later at Ramsgate Registry Office on 30th September 2009.. Mick Hughes accompanied him as his best man and the happy couple made their home together at Astrid Road in Walmer. His well earned retirement from the Kent Police came in 2014 after dedicating over twenty years exemplary service to the Force.

Once a Bugler, Always a Bugler and JC was an eager volunteer to carry his drum once again and thus became a member of the 'All Stars Corps of Drums' in 2015, 16 and 2018. The concerts were performed in aid of the Memorial Bandstand and other various organisations that had been held annually at Margate Winter Gardens since the atrocity at the Barracks in 1989. JC was also a regular member of the backstage crew at the Sgts Mess Pantomimes that were performed each year at the Astor Theatre in Deal.

JC was a big fan of jellied eels.. he enjoyed shooting and fishing with his best buddy Mick back in the day. JC and Elaine loved their caravanning holidays especially the trips to Pembrokeshire and Yorkshire, where they would go to visit their son Christopher, Hydi and their two grandchildren Roman and Autumn. JC was of course as we all know an avid dog lover, he was fully behind support in the fight to preserve the former Royal Marines training area at Coldblow Woods, where he regularly walked his dogs.. all springer spaniels of course.. he always referred to them as his best friends.

Over the years, JC developed vast knowledge of the Royal Marines and later became a Trustee of the Royal Marines Heritage Trail in April 2017.. a self-guided two hour heritage walking trail, which celebrates the rich history of the Royal Marines and their unique relationship with Deal and Walmer. It was a proud morning for JC as he took his place with his fellow musicians and buglers when they marched at the Cenotaph in November 2020.. a first occasion for the Royal Marines Band Service.
JC began to encounter further problems with his health and was admitted to Margate hospital on multiple occasions.. or as he described it 'God's waiting room' ! He went for X-ray's, CT and MRI scans and had tubes inserted into every orifice.. yet he still managed to retained his unique sense of humour. The diagnosis was that he had a marble sized cyst on his right kidney. John was released from hospital following a four-week stay.. he was only home for a couple of days before he was readmitted. He was administered loads of medication, had more scans and faced many investigations before they let him go home again. After a couple of days, JC received a phone call requesting him to return to hospital for more scans and test. They then discovered a growth on his pancreas and he was sent to Kings College Hospital London for tests and a biopsy. The results were shattering, he was informed that he had developed pancreatic cancer. He underwent an eleven-hour operation in October 2021 to remove a section of his pancreas, spleen, gall bladder and a section of his stomach. After a five-day stay in hospital, JC returned home, before being administered a course of chemotherapy. Despite the major surgery which took most of insides away, John became infected by Covid 19, which was further complicated by Secondary Pneumonia. John JC Puddle knew his time was coming to an end.. sadly he couldn't fight his illness any longer and passed away on 3rd August 2022.
JC's funeral service was held on 8th September at Barham Crematorium, with the service broadcast on webcam. It was testament to his popularity that the RMA Standard Bearer Paul Hardy and five legendary buglers were on parade to drum his coffin into the chapel, supported by family, friends and many other colleagues. A wonderful tribute was given by Derek Lindars and JC was honoured with a superb rendition of the Last Post and Reveille by Cpl Bugler Jo Barnes and Bugler Sarah Burbery. The wake followed at the RMA Deal and donations were received on behalf of the Branch and the Royal Marines Charity. Later in the evening, John's wreath was laid to rest in the Memorial Bandstand, before the RMA toasted JC and Her Majesty Queen Elizabeth II, who had sadly passed away that afternoon.
RIP JC