One of our many cruises was on HMS Forth where for a change we were made very welcome and had plenty of room as it was the Med Fleet Submarine Depot Ship. When at sea we had about ten mess deck spaces to ourselves and even when in harbour with 4 or 6 Submarines alongside we still had room to breathe and space to practice, it was wonderful to be appreciated. This trip included Gibraltar and various ports in France, Italy and Turkey with big band displays and concerts combining with other ships from the Med & Home Fleets plus foreign Navies. Gibraltar was a particular favourite at that time as there were many clubs, dance halls and theatres to visit and of course many beautiful Spanish girls! Cricket & Hockey were still my main sporting activities and I was in the ships teams for both games and there were many of those during our visits to Gibraltar.
During sea time we were all involved in the usual duties of ship life although to my knowledge in the 50s there was no need for RM Bandsmen to train for or be considered for TS duties unlike our colleagues of ten years before. (TS is Training Station in the very bowels of ships where the guns were automatically sighted in the last war during battle. Many bandsmen lost their lives as it was almost impossible to get out of the TS if a ship was hit by bombs or torpedo's.) Our action stations were as sick-bay attendants, stretcher-bearers or look outs on the bridge and in our tour of duty on HMS Glasgow we were fortunate not to see any action of a too serious nature. We were involved in a trip down the Suez Canal to the Red Sea and even journeyed from Asmara to Adis Ababa for a memorial service and Beat Retreat at the then Emperor's Palace. He was Haile Selassie emperor of Ethiopia. A four hour rough drive in open lorries over mountain passes is an experience never to be forgotten.
The ship also starred in a couple of movies - 'Single-handed' which starred Jeffrey Hunter and 'Battle of the River Plate' with a host of well known actors of the 50s. Many parties and dances were held at the Phoenicia Hotel in Valetta (at that time the only hotel on the island, tourism was a long way off in the future) where the ships dance band was involved, sometimes a 12 piece, at other times a quartet. At one of those I met a lovely girl Pam who was a WREN (that's the women's side of the Navy) and she was one of my regular girl friends that year.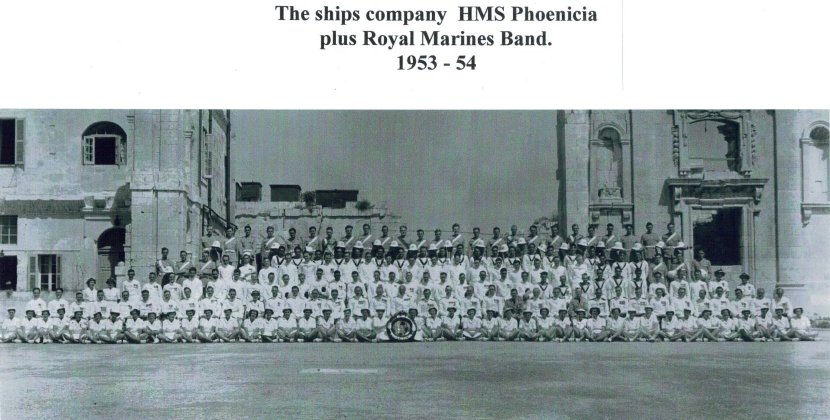 After about a year or so of hard slog we were lucky to get stationed ashore in Malta, and all due to the insistence of Lord Louis. Take note all you young guys and girls who perform at the Royal Albert Hall, it was during the 50s that Mountbatten became obsessed by the Royal Marines Band Service which led later to the wonderful concerts that you are privileged to be involved in. Our new ship HMS Phonecia was on Manoel Island in Selima. Those of you not familiar with Malta, it was a small base where the Naval Pay and Records section had it's HQ and quite near the WRNS quarters which was quite a bonus for all us young unattached bandsmen! Very handy for me as Pam worked in the pay office at Phonecia. The commanding officer Captain Rump RN made us very welcome and the band was very pleased to be there even though the workload had increased. From that time HMS Phoenicia became a sort of depot for RMBs coming and going from the RMSM to ships in the region. We still had to do our duties on the Glasgow when required, but guys from other ships bands got involved as well.

During this period we prepared for and performed a Coronation Concert combined with other bands in the Med Fleet and the RM Cdo Band all conducted by Sir Malcolm Sergeant, yet another buddy of Lord Louis. Sir Malcolm was of course at that time musical adviser to the band service; no doubt Lord Louis was influential in that appointment.