The first term up to Easter was very hectic for everyone as we were all having to get used to living in a very different environment living and working with the raw recruits of the Royal Marines. Deal was totally different to Burford in the heart of Oxfordshire, much more exciting for all us band boys as we could just walk out of the barrack gates and there we were in the town. There were many places to visit even though we had to be in uniform. There were many pubs with back rooms and friendly landlords, but as we didn't have much money it would only be for a couple of drinks! The sea front ice-cream parlours were very popular, and with three dance halls and two cinemas in the town there was plenty to keep us occupied.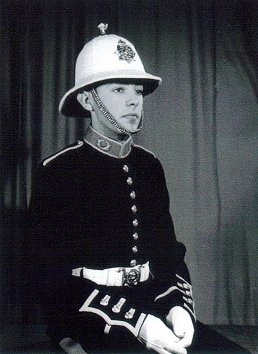 During that first term the 'Band Boy' title was done away with and we all became 'Boy Musicians' which we all felt was much better. Soon it was Easter leave and it was nice to go home for a few days and tell all that was happening to Mum, Dad and Eileen. The big news at home was that Eileen was to be married to Alf Morley in June so I would have to get special leave for that day.
Back to work after Easter and now into spring and summer. Music studies intensified alongside normal school work. I didn't mention earlier that as well as three main barracks there was also a swimming pool and sports facilities away from the barracks at Cold blow and Kingsdown, and our own infirmary (a sort of small hospital) including a dentistry department. Also in the infirmary grounds were the school buildings for our general schooling and handicrafts. At the back of East Barracks there was an area that many years before had been a cemetery (remember the Napoleonic hospital?) but was by 1950 deconsecrated ground and this is where we were able to set up cricket nets and practice facilities for tennis and 5 a side hockey and football.
During the summer term I was promoted to a section leader - there were 8 within the junior wing and we wore a red diamond badge on our sleeve meaning that we were responsible for about 50 boys. My particular responsibility was the Euph & Cello, Basses and Trombones classes.

I was made captain of the boys cricket team and we had a very successful season playing against local schools and service teams in the Kent area. A particular favourite of mine was against the Duke of Yorks Army school in Dover. Mick Stone and I opened the batting and in about 20 overs we had put on over 140 then we were both out and the rest of our team only managed 25 between them! No matter we still won by 60 runs. My own total was 85 in that match and apart from scoring 91 when playing in India many years later they were my two highest scores.

My own particular favourite cricketer at that time was Len Hutton of Yorkshire and England (no relation of course) and most of the guys in the boys and School of Music teams called me Len. I also played for the RM Depot team a few times that season, but as I was still only 17 and quite slight for my age I didn't make much impression in that class.
Big day in June was my step sister Eileen's and wedding so there is a picture of myself with Mum and Dad along with Michael Walters looking our best in white gloves etc; Also a photograph of the boys cricket team. The officer in the middle Major Martin Pound was a great all round sportsman, having played for the Royal Marines Corps and the Royal Navy at both cricket and hockey and he was instrumental in getting me trials for both which I played for a bit later in my career.