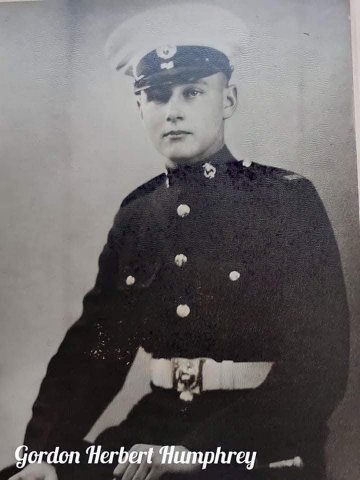 Gordon Herbert Humphrey was born in Reigate Surrey on Monday 21st March 1921. His RM service records contained a letter of recommendation from the local vicar stating that as a youngster, he'd learned the clarinet with a local group and regularly hid under the stage in the village hall listening to a band, who provided Gordon with some tuition. He also loved listening to music on his grannies radio. As a young man, Gordon loved the 'new jazz' scene and was honoured to have played in London one evening with Stéphane Grappelli.. who was a French-Italian jazz violinist and Jean 'Django' Reinhardt.. a Belgian-born Romani-French jazz guitarist and composer.
Gordon told his children about his Uncle.. Herbert Wheatley Humphrey.. his father's brother and a Sergeant of the Royal Marine Light Infantry (CH13922), who was killed in action in the Battle of Antwerp of 1914 aged 29. He was partly the reason why Gordon wanted to join up.. hearing stories about Wheatley from his grandma.
Young Gordon enlisted as a Band Boy just short of his fifteenth birthday on 11th March 1936. He joined the Royal Naval School of Music at the Depot in Deal to study the cello & clarinet with one of his squad oppos.. Sidney Walkden RMB/X 922. The letter X on their service numbers indicated that the rank enlisted on the revised scale of pay.. the squad would have been one of the last entries to have had the letter before it ceased being issued. On completion of training in April 1939, Gordon was posted to the RM Band onboard the light cruiser HMS Glasgow, she and her sister ship HMS Southampton accompanied the ocean liner RMS Empress of Australia, which was chosen to function as the Royal Yacht for King George VI and the Queen Elizabeth's Royal tour of Canada and the United States in 1939.. The ships sailed from Portsmouth on 6th May, arriving at Quebec eleven days later. The tour included a royal visit to the World's Fair, held at Flushing Meadows in New York… the trip of a lifetime for Gordon at just eighteen years old.
World War II was generally considered to have begun on 1st September 1939, when Nazi Germany under Hitler invaded Poland. In September 1939, Gordon joined the RM Band onboard the light cruiser HMS Edinburgh, who's sister ship was HMS Belfast. The bands onboard ships those days would have had to multitask as they were only about twelve strong and usually composed of a Bandmaster 2nd Class, Band Corporal and ten Musicians.. 1 piccolo/Flute, 1 Alto Saxophone, 2 Clarinets, 3 Cornets, 1 Trombone, 1 Euphonium, 1 Bombardon and 1 Drum. While at sea, musicians were responsible for operating the fire control and communications systems deep within a ships. The Edinburgh was in the Firth of Forth, around five-hundred yards east of the Forth Bridge, when the Luftwaffe made their first raid on the naval bases at Rosyth on 16th October 1939. The ship sustained minor damage in the attack from splinters when bombs were dropped but suffered no direct hits. HMS Edinburgh left Rosyth on 23rd October, on escort duties with the convoys heading to and from Narvik in Norway.
In June 1940, Gordon received a shore based posting to the Royal Marine Band at HMS Drake in Plymouth as the Edinburgh was undergoing a lengthy refit, he was only there however for four months before returning to HMS Edinburgh. After these repairs, the ship was re-attached to the 18th Cruiser Squadron and on 18th November, she left Faslane Naval Base on the Clyde, escorting a troop convoy as far as Freetown (now Sierra Leone) before returning to Scapa Flow. Gordon and the band onboard HMS Edinburgh were part of 'Operation Claymore', during the successful Commando raid on the German-occupied Lofoten Islands of Norway, on 4th May 1941. Gordon's best friend was Sydney Kerwin Parnell.. who sadly died after an incident in Rosyth dockyard on 29th June 1941 and rests in Douglas Bank Cemetery Dunfermline Scotland Sec. A. Grave 153. Sydney came from Southsea, born to a single mum and was fostered by a lady by the name of 'Ma Burton'…
The Edinburgh was later ordered to support 'Operation Substance', a British naval operation in July 1941, detailed to escort GM 1.. the first of the series of convoys from Gibraltar to Malta. The convoy defended by Force H, which the Edinburgh attached itself to, was attacked by Italian submarines and aircraft.
The crossing the line ceremony is an initiation rite that commemorates a person's first crossing of the Equator.. 'Crossing the Line' is one of the oldest traditions in the Royal Navy and takes place when a ship crosses the equator. Royal Navy tradition dictates that any ship crossing the equator must pay its respects to the Lord of the Seas, King Neptune, to gain his acceptance. The ceremony involves sailors being assessed to ensure they are capable of handling rough seas and, as per tradition, can see them being painted, fed a less than appetising snack and being dunked. HMS Edinburgh crossed on 24th August 1941.
The Edinburgh participated in 'Operation Halberd'.. a naval operation that took place on 27th September 1941, the British were attempting to deliver another convoy from Gibraltar and the largest Malta resupply effort of the war. She was one of several escorting ships deployed to provide an anti-aircraft screen and deter interference from the Italian surface fleet. The Italian fleet sortied after the convoy was detected but turned back after learning the strength of the escorting force. Air attacks by Italian bombers and fighters damaged several ships and forced one of the merchant vessels to be scuttled. The rest of the convoy arrived at Malta and discharged their cargo. Eight allied men were killed in the resulting battle.
HMS Edinburgh served and saw a great deal of combat during the Second World War, especially in the Norwegian Sea and the Arctic Ocean during the Arctic-convoys. Generally.. the weather was extremely poor with thick mists and heavy seas resulting in poor visibility.. the cold was beyond belief.. each morning the crew would have to chip the ice away from the deck. On 6th April 1942, the three years old HMS Edinburgh, which was anchored at Scapa Flow, was the detailed cruiser and ready to escort the largest convoy (PQ14) of ships that had assembled at Reykjavik in Iceland fully loaded and equipped to sail to Murmansk.
Convoy QP 11 was made up of merchant ships returning from the Soviet Union to Britain after delivering their cargo. The convoy consisted of thirteen merchant ships, escorted by eighteen warships.
On the afternoon of 30th April 1942, HMS Edinburgh was struck by a torpedo while escorting Convoy QP 11.. from Murmansk.. a city in north-western Russia to Scotland. The German U-boat U-456 fired a torpedo that hit the Edinburgh just forward of the bomb-room. The Edinburgh crew immediately swung into action, closing the watertight bulkheads, so the ship did not sink quickly. The cruiser was torpedoed twice.. crippled, she was taken in tow, in an attempt to reach Murmansk, but was pounded continuously by German bombers. As a consequence of the attacks.. the vessel's stern was blown off, but she was however able to continue under her own power at reduced speed. The convoy was attacked a total of five times.. the enemy also suffering casualties with the sinking of a destroyer and another suffering severe damage.. a number of aircraft were also shot down. On 2nd May during heavy weather, HMS Edinburgh which was in tow, was struck again by a third torpedo and later had to be sunk by our own forces with friendly torpedoes on the orders of Admiral Bonham-Carter. It was obvious that there was no hope of saving her.. Sadly.. fifty-seven souls were lost during the attacks.. astonishingly, none of them were Royal Marine Bandsmen. Edinburgh was not only serving as an escort but was also carrying a cargo of $20 million in gold, nearly five tons which was being sent to Britain by Stalin to pay for American arms in the Second World War. Gordon said "We weren't supposed to know that they were carrying gold on the ship.. but we all knew"! This is because when the wooden crates were being lowered by crane, one of the straps snapped causing a wooden crate to fall onto the deck and smash open which revealed all the gold.
A large number of crew were rescued including Gordon and fellow RM Musicians:
Bandmaster Henry Smith RMBX101
Musician Leonard A H Mizen RMB/X645
Musician Dennis Dent RMB1028
Musician Thomas Hember RMBX1027
(Thomas also doubled up as ship's barber)
Musician Chris Roselyn
Musician Gordon Cowley
The survivors were taken to Murmansk, which served as the main port for Anglo-American convoys carrying war supplies to the U.S.S.R. through the Arctic Ocean. All the survivors were interned there for 6/7 months until another convoy could repatriate them back home. The Russians had nothing and lived in sub-human conditions and were being hard pressed by the Germans at the time whose front lines were only twenty-miles away with air raids by the Luftwaffe a daily occurrence. The British sailors were given warm clothing and taken to bathhouses once a week and what little the Russians had was shared. The food on the British ships, although not brilliant would have been far better than was available ashore. On the contrary.. Gordon told of his shocking treatment by the Russians.. they were kept under armed guard, very little food and denied medical treatment even by their own doctors.
Musician Gordon Humphrey had sustained severe injury due to the attack and also suffered from illness, he was discharged from the service on 13th November 1943, as being physically unfit for RM Service. For his endeavours throughout World War II, Musician G.H. Humphrey was awarded The War Medal 1939–1945, The 1939-1945 Star, The Atlantic Star, which was awarded for operational service in the Atlantic, and The Africa Star..
Between August 1941 and the end of the war, a total of 78 convoys made the perilous journey to and from north Russia, carrying four million tons of supplies for use by Soviet forces fighting against the German Army on the Eastern Front. In summary, about 1400 merchant ships delivered vital supplies to Russia. In total, 104 Allied merchant ships were sunk with the arctic convoys, along with 18 warships; 829 merchant mariners and 1,944 navy personnel were killed aboard them.
Following his return from Russia, Gordon was discharge from the Royal Marines, and spent a couple of years in Stoke Mandeville Hospital, he then returned home but for various reasons the family couldn't look after him, so he moved to a convalescent home in Bournemouth. He hated the home so he discharged himself and went to Ma Burton's house where she was only too pleased to take him in. They remained friends until Ma Burton died.. they often went to her for holidays after the war.
After a period of time, Gordon was well enough to go working with his father in the building trade. He enrolled at night school learning building, roofing, plastering, tiling, carpentry, gas heating, plumbing, lead work etc, Gordon met Patricia Hayes when he briefly worked for her father.. who'd set up a building company after the war which failed, but Gordon continued with the contracted work for him and then continued on by himself in Coulsdon and later Caterham.. turning it into a very successful business. Gordon and Patricia married in 1952. Gillian was born in 1965.
Gordon didn't continue playing music but never lost interest in listening and regularly took his family to shows, recitals and operas.
HMS Belfast was brought to London
and was moored on the River Thames near Tower Bridge. She was opened to the public in October 1971 and it was a special day when he took his family to see his sister ship in London, he knew all the in's & outs, imparting some of his knowledge to the guides! In the 80's Gordon took his family round the south coast, visiting Deal, Portsmouth & Plymouth, he made it all so interesting.. showing them all his 'old haunts'.
HMS Edinburgh lies in nine-hundred feet of water, 170 miles north of Murmansk in the Barents Sea and is believed to contain thirty of the crew that perished. In 1981, a team of divers working at incredible depths in the Barents Sea found and recovered the gold bars from the wreck.. valued at about £50 million.
BSgt Leonard Mizen passed away on 3rd July 1994. Gordon and Patricia retired to Corsham in Wiltshire prior to the millennium.
The Arctic Star Medal was a retrospective award and formally approved by HM The Queen, it was commissioned after more than seventy years after campaigners fought for long-awaited recognition of the British Commonwealth forces, who served on the Arctic Convoys north of the Arctic Circle. The medal was instituted on 19th December 2012.
Gordon Humphrey sadly passed away on 7th April 2020 at the ripe old age of 98, he died of natural causes at Bybrook Nursing home in Box, Wiltshire. In addition to their four children.. Gordon and Patricia boasted seven grandchildren and eleven great-grandchildren, a remarkable legacy for a hero who cheated death on many occasions throughout the war. His medals were specifically left for safe keeping to his grateful daughter Gillian Hazell, who has committed to extensively researching her father's time during WWII.
RIP Gordon