1935 - Immediately on joining the school of music at Deal, as a 15 year boy from the Barbican, Plymouth I was asked at an interview, about my previous experience of playing a musical-instrument.... Each one of my fellow-recruits except from good old 'Ginger Ferris' perhaps; had been able to relate experience with at least one musical-instrument or another; Therefore, when it was my turn to tell of my 'experience' in the field
of music - well; I could only relate to my skills with the 'Mouth Organ.' The Music - Director told me he was 'impressed', but did make the observation that - '...well Jan, at this moment in time, we don't actually make use of the harmonica in the Royal Marine Band.... but if ever we do, we will, rest assured; call on your experience...'

I served onboard warships in each of the Theatres of Combat, several Russian Convoys which saw the tragic sacrifice of so many of our brave Merchant Seamen. 'Armistice Day' saw me off on yet another 'Jolly' in the continuing Far East Conflict.... But I also have rich memories which I prefer to hold dear to my heart:

- Cometh the Lord Mayor's Show in London, the parade paused, the Drum Major rested his Mace on the lorry in front, then walked through the band - returned to his position and lo and behold! The lorry had moved on, so he had to do a doggy-trot to recover it...

Another instance, again in the 'Smoke'... 'Drummy' saw a Woodbine-packet which had been placed on the top of the Bass-Drummers helmet. He advanced to him and said ".... there's a Woodbine packet on your helmet" - To which was replied ".... lucky you, you have a packet of Players on yours..."

Then there was the Bandsman who 'borrowed' the admirals car, without thinking to ask permission, nor top-up the petrol..... Nobby, the artful-dodger!!!

Manadon Ward Room, Mess Dinner - The M.D. asked a Musician to sing the - 'Roast Beef Song' in Musicians-words.... If old enough - you will know the lyrics...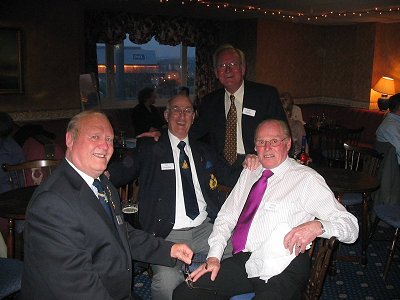 On a more serious note - Sadly I must share the news of the recent 'cross over the bar' of Sergeant Richard (Sticks ) Howard PLX5445
Sticks joined The Drum Company 14th November 1947, aged fourteen years. Retired with 40 Cdo RM at Seaton 1973. Going on to work as Security Officer for the Foreign and Commonwealth Office.
He has been laid to rest at Drake Memorial Cemetery 5th December 2011.

See You in the Counter-march Sticky-Blue.....
Eric Greenleaf




Pictured at the 2007 West Country Reunion
Left to Right: Richard 'Sticks' Howard, Eric 'Jan' Greenleaf, Ivan Petters & Ray 'Ginge' Watts.