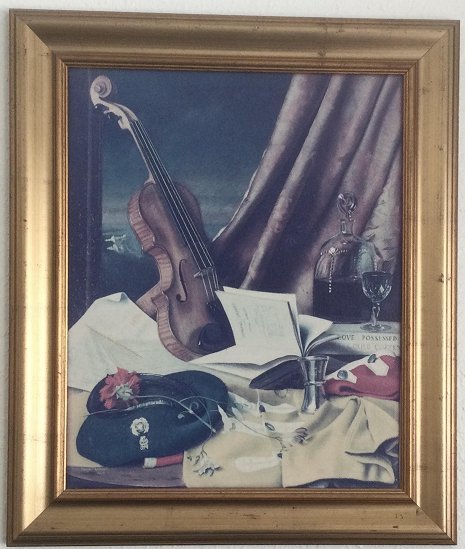 This is a photograph of an oil painting that hung in the dining room of the Officers' Mess in the Royal Marines Barracks in Deal for many years. It was painted by Dennis Ramsey, an Internationally known artist, who lived locally on the Clifftop at Kingsdown.
The picture depicts the Royal Marines' historic links with Deal since they were formed in 1664 by King Charles 2nd as 'The Duke of York & Albany's Maritime Regiment of Foot'. One of their first duties was to garrison North Deal's Sandown Castle whilst providing military support along the coast. This was at a time when Deal had dockyard facilities adjacent to the Time Ball Tower (still in situ) and the fleet sheltered from inclement weather in the downs between the Goodwin Sands and the beach.

Middle Street was then a hive of activity with pubs, ship's chandlery, banking, and the provisioning of ships highly important. In the picture various historical aspects of life in the Barracks that eventually housed the RM School of Music are depicted. The hint of nearby white cliffs, draped curtains of the Mess, original yellow 1664 uniform coat, red 1805 uniform, wine with silver and crystal tableware, the open pages of articles of war and a letter from Buckingham Palace, modern green beret with officers' pattern split cap badge, a carnation from a ladies night dinner and finally the stringed instrument in recognition of the School of Music where training in support of the Naval Service was carried out.

The Barracks closed in 1996 when, after an IRA bomb attack had killed eleven musicians in 1989, the Royal Marines School of Music transferred to Portsmouth.