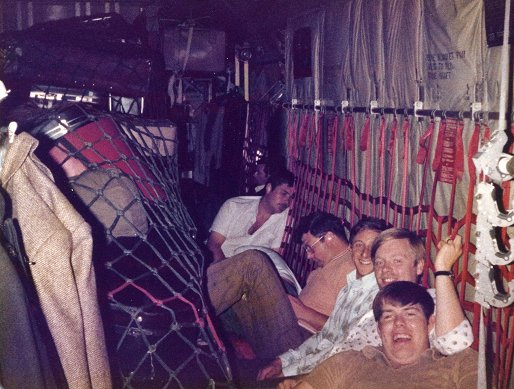 C in C FLEET Band RAF Economy Class.

After five hours sat in a seat designed to accomodate parachutists - on short one way trips - I began to question my choice of career. It must go down as one of the worst journeys I ever experienced!

From front to back : Andy Wall, Clive Sproston, Roy Smith and Geoff Bishop. Not sure of the name of the next chap after Geoff but I think its Roy Fleming. This photo turned out to be good fun. Within seconds of the flash going off the cargo bay was crawling with desperate worried Crap Fats. No idea what all the fuss was about.

The Band was on its way to join HMS Blake in Los Angeles following a hold over in Toronto after the World Scottish Festival Tattoo in '77 or '78 with the Massed Bands.